Best volunteering projects for hooking up
Young, single people flock to these service projects.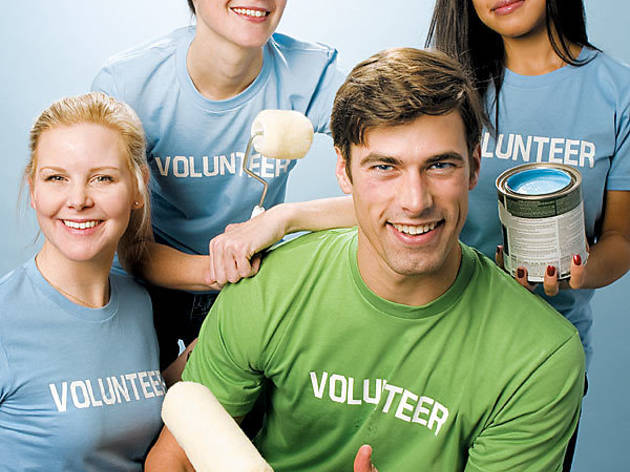 Sure, volunteering should be about giving, but would it hurt if you got a little something in return? Pitch in at these volunteer gigs and you'll sweat alongside scores of friendly, civic-minded young sweethearts—some of whom might even be up for more mingling once the work day ends.
Hoof it for PAWS
Animal lovers are sexy. But animal lovers with runners' bodies? Sign us up. Last year, the 450 members of the PAWS Marathon Team raised $370,000 to help prevent the killing of homeless pets. For 2010, the team has added a triathlon to its marathon and half-marathon training repertoire. In exchange for raising $600, runners receive free training through Chicago Area Runners Association and bonuses such as monthly dog-friendly happy hours, weekend fun runs, a prerace "PAWsta" party and a heated, private tent on race day. "This opportunity can help [singles] find a whole new network," says Jessica Busch, special-events manager at PAWS. "Plus, it makes every mile that much more meaningful." The fun runs are held monthly starting in March, drawing about 30 to 50 people to jog with their pooch or a PAWS pup. Are you listening, guys? This is girl-magnetism in the bank.
Go back to school
If literacy is your issue, consider broadening your influence—and your social circle—with the WITS (Working in the Schools) Junior Board. WITS increases the reading proficiency of low-income and minority students in Chicago Public Schools through consistent, one-on-one tutoring and mentoring. About 50 young professionals pay a $100 annual membership fee to attend quarterly board meetings and plan the annual Blackboard Affair fund-raiser. Most also volunteer for the 100-member Saturday tutoring program at Walsh Elementary and attend mural projects or school-supply drives held at happy hours throughout the year. "Board meetings are pretty chill, and there's usually a bar involved afterward," says Kristen Berlacher, WITS communications and development manager. "We get a lot of people who are new to the city or just moving back after school." Need more incentive? According to Berlacher, one couple who met through the board just welcomed their first child.
Paint me a match
A mainstay of the city's volunteering landscape, Chicago Cares (312-780-0800) has played matchmaker to volunteers, project leaders and even a few staff members during its 19 years. Volunteers looking for well-run group projects that don't require weekly commitments can complete a quickie ten-minute online orientation and choose from 200 opportunities each month. From providing homework help to socializing with seniors, there's a project to fit just about every interest. For maximum flirting potential, however, follow program director Kris Smart's advice and stick with projects where you roll up your sleeves. "Love connections tend to happen at environmental projects or events…where you're painting next to someone for five hours," she says. She recommends cooking projects such as the Senior Breakfast Club, projects such as cleaning up Garfield Park Conservatory or the 6,000-person Serve-a-thon, which improves 40 Chicago schools every June.
The power of happy hour
New to the scene last year, Give Back Chicago (312-733-7520, info@givebackchicago.com) matches nonprofits with skilled volunteers to tackle projects such as graphic design, event planning, grant writing and accounting. The twist? Everything happens via a live auction during happy hour at a restaurant or bar, allowing volunteers to mingle with representatives from participating nonprofits—and with each other. Follow-up happy hours gather everyone for progress reports and additional elbow-rubbing. Whether happily employed or between jobs, this opportunity will keep your professional skills sharp while letting you flex your networking muscles, says cofounder Barbara Talisman. November's inaugural auction drew 100 participants, mostly from the 30-plus set. Volunteers pay a $10 attendance fee, all of which is donated to a participating charity at the end of the night. Give Back Chicago will kick off its quarterly 2010 auctions on Feb 18.
Make a lube connection
When it comes to getting your flirt on while giving back, volunteer org One Brick is a one-stop shop. "We definitely think we're the best place to meet people by volunteering," says event manager and former executive director Amy Sheren. One Brick's 3,500 local volunteers pick from about 20 projects per month, and each one wraps up at a local pub. The org hosts about four events weekly but try breaking the ice on February 9 with a One Brick favorite: Cookies & Condoms at the Night Ministry. If bagging condoms and lube next to a civic-minded hottie doesn't inspire some exciting conversation, we can't help you.