Big Draw comes to Chicago
A monthlong festival of drawing-related activities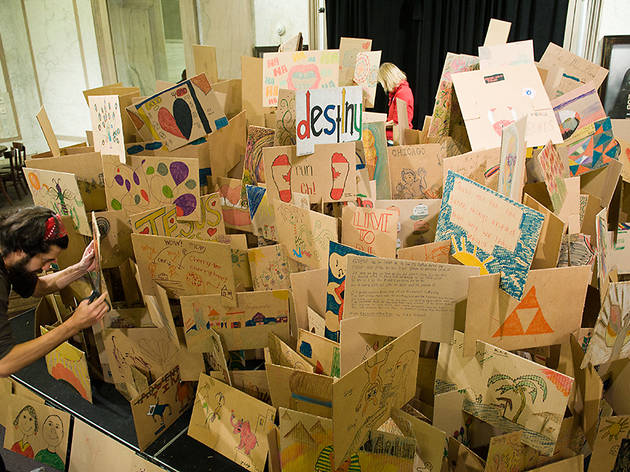 1/10
Photograph: Max Herman
Big Draw Day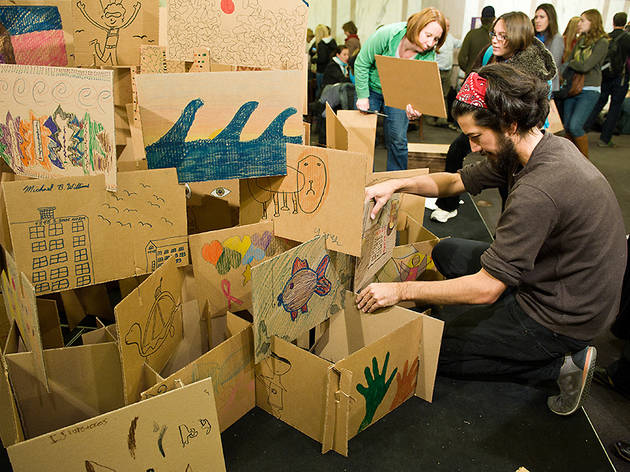 2/10
Photograph: Max Herman
Big Draw Day volunteer Ryo Yamaguchi adds a finished piece to the sculpture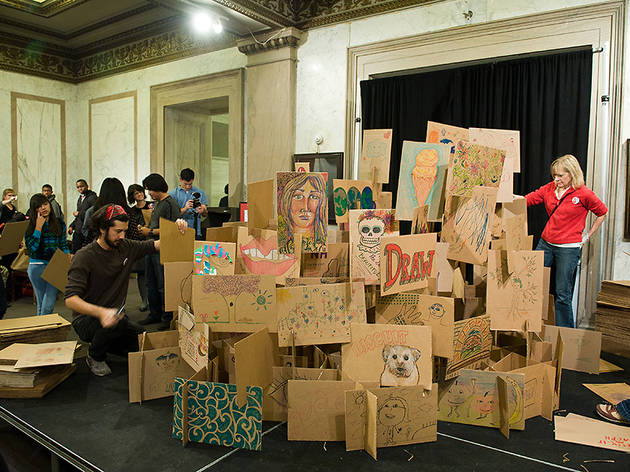 3/10
Photograph: Max Herman
Big Draw Day volunteers Ryo Yamaguchi and Jill Wachholz add finished pieces to the sculpture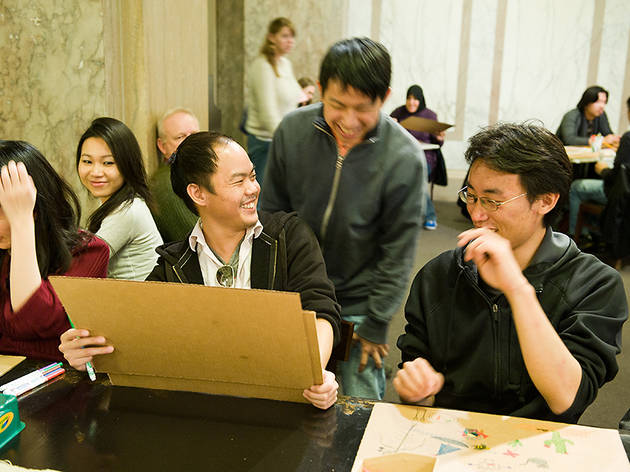 4/10
Photograph: Max Herman
Big Draw Day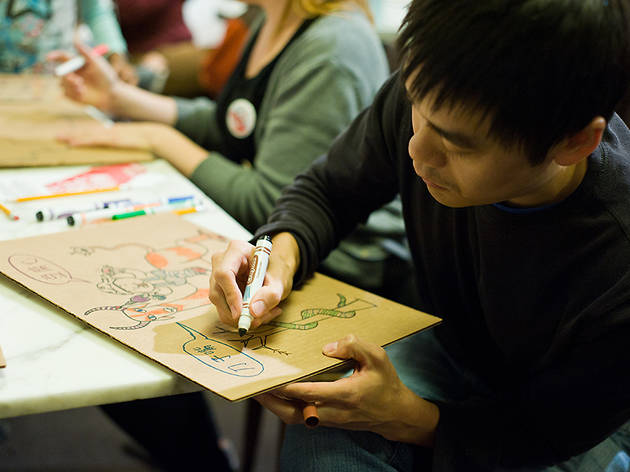 5/10
Photograph: Max Herman
Big Draw Day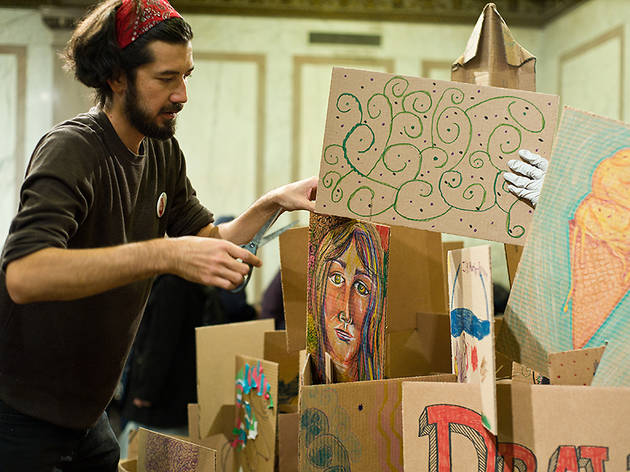 6/10
Photograph: Max Herman
Big Draw Day volunteer Ryo Yamaguchi adds a finished piece to the sculpture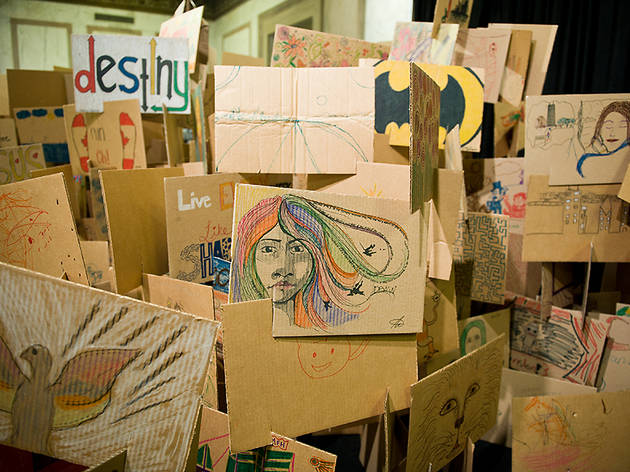 7/10
Photograph: Max Herman
Big Draw Day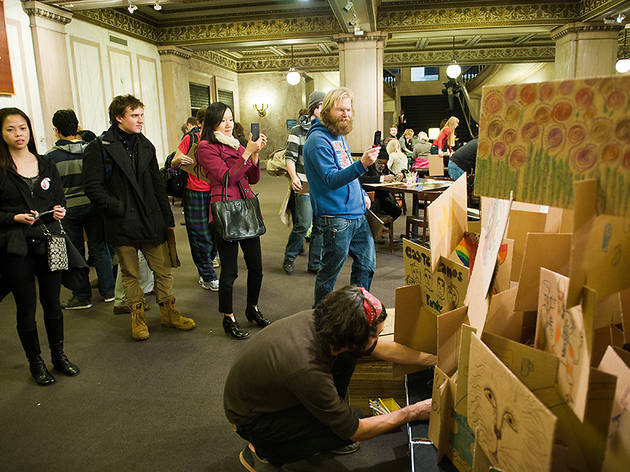 8/10
Photograph: Max Herman
Big Draw Day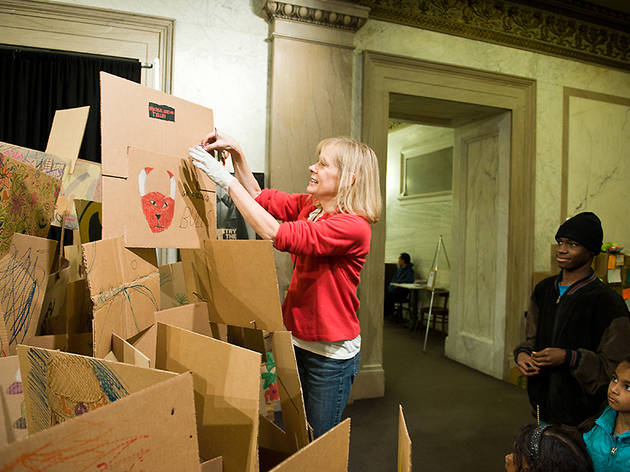 9/10
Photograph: Max Herman
Big Draw Day volunteer Jill Wachholz adds finished pieces to the sculpture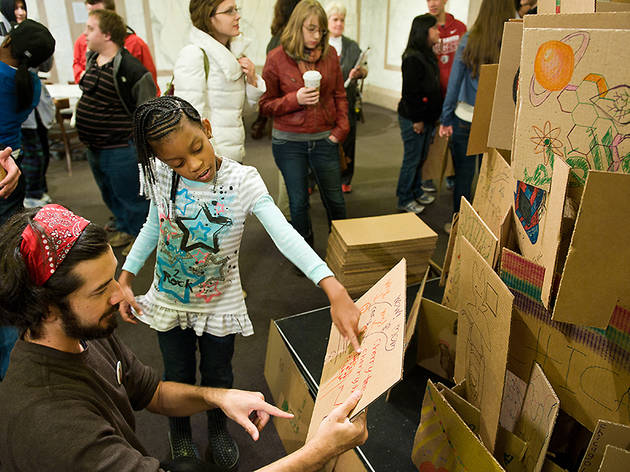 10/10
Photograph: Max Herman
A Big Draw Day participant shares her work with volunteer Ryo Yamaguchi
Big Draw Chicago founder Elory Rozner wants to eliminate the phrase "I can't draw" from your vocabulary. The self-described educator with Uncommon Classrooms, a consulting firm that dabbles in "informal learning," is the brains behind the monthlong slew of (mostly) free, drawing-related events. The point of the festival is to bring the original bored-at-work time killer to the masses in a fun and universal way. Rozner learned about the festival, founded in the U.K. by the nonprofit Campaign for Drawing in 2000, while doing research for a project at her firm. Across the pond, the Big Draw is a major bash with 1,500 events throughout the nation. "I thought, Why don't we have that here?" Rozner says. So in February, she signed Chicago up to be a Big Draw City. With 30 events throughout October, including a Sketch Scavenger Hunt at the Field Museum (Sat 20) and a "Drawing Snoopy" session at the Museum of Science and Industry (Oct 25), Big Draw Chicago offers drawing experts and non-experts alike the opportunity to channel their inner Bill Watterson.
At Big Draw Day on October 6, passersby at the Chicago Cultural Center were invited to draw on cardboard that would later be mounted into a sculpture. Arts students and harried mothers sat elbow-to-elbow or sprawled out on the floor to make their creations, while local companies like Doodlebooth and Busy Beaver Button offered participants the chance to get their own cartoon portraits and customized badges. Rozner sums up the festival's appeal this way: "People get to go to cultural institutions that they haven't been to in a really long time and have a nonthreatening experience."
Through October 28. Various venues and times. Check thebigdrawchicago.org for event details.