Bird cries in the Financial District | What's up with that?
Sonic pigeon repellent from the Bank of America building.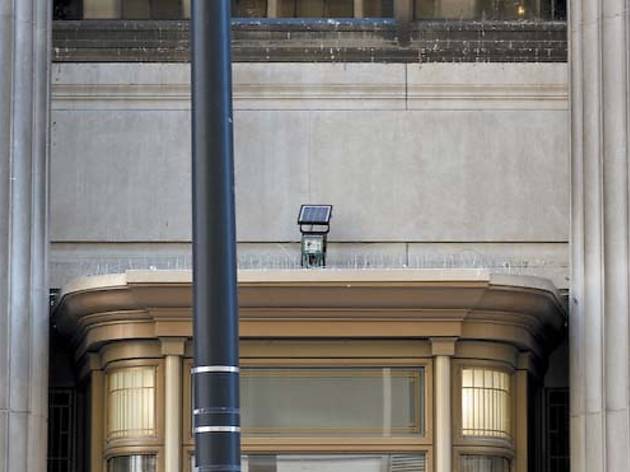 I hear these chilling bird cries coming from the Chicago Board of Trade building. The sounds are deafening, almost like dinosaurs or something. Definitely not pigeons. Is the Mercantile Exchange raising pterodactyls?—J.D., Lakeview
In the echoing skyscraper cavern created by the towering CBOT and the surrounding buildings in the heart of the Financial District, it's hard to tell that the source of the screeching is across the street—and that the sounds aren't real birds at all. Atop a display window just east of the Bank of America Building's Jackson Boulevard entry sits a small but powerful speaker that one of the building's security guards pointed out to us. Every few minutes, it blares a recording of the predatory calls of hawks, falcons and owls, as well as the distress call of pigeons. The threatening sounds are supposed to shoo away the pigeons from the shady, roomy window tops, where they like to roost—and shit. The building's general manager, Cynthia Heimberger of Jones Lang LaSalle, didn't return our calls and e-mails requesting comment on the outcome of the sonic bird repellent. But from the looks of things one afternoon last week, the flying rats aren't as fazed as the suits strolling down Jackson. As the speaker brayed, a few pigeons happily nested on adjacent windows; down on the sidewalk, alarmed passersby looked skyward in terror.