Bitter brew
Only a brave few can stomach Chicago's infamous wormwood liqueur, Jeppson's Malört.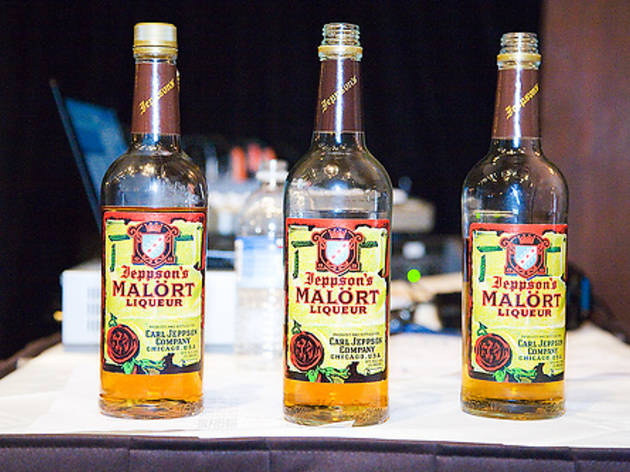 Are you the one person in 49 who will drink Jeppson's Malört? Maybe. But you're not likely to go back for seconds. On the back of this potent potable bottle, opposite a crest emblazoned with the Chicago flag, you'll find the words of Carl Jeppson, a Swedish immigrant who started producing this liqueur at the South Side's Red Horse Distillery in the '30s. "Most first-time drinkers of Jeppson's Malört reject our liquor," the label reads. "Its strong, sharp taste is not for everyone. Our liquor is rugged and unrelenting (even brutal) to the palate. During almost 60 years of American distribution, we found only 1 out of 49 men will drink Jeppson's Malört…It is not possible to forget our two-fisted liquor…the first shot is hard to swallow! PERSERVERE [sic]. Make it past two 'shock-glasses' and with the third you could be ours…forever." We're proud to say that this special concoction is sold only in Chicago.
Found in any Chicago dive bar worth its overflowing ashtrays, including damn near every biker bar in Illinois, this 70-proof, Swedish-style schnapps only has two ingredients: alcohol and wormwood (malört in Swedish). There are a couple hundred species of artemisia, the family of plants that includes wormwood, and a couple of them are known for inducing batshit-crazy highs. Vincent van Gogh, for instance, graduated from gulping wormwood-based absinthe to munching paint chips and drinking turpentine. The latter is precisely what the bitter-as-hell Jeppson's Malört resembles going down the hatch. That, or a delicate combination of cat piss and ear wax.
These days, decades after the concoction's namesake passed away, the tiny company is managed by one woman, Pat Gabelick, who runs the business out of her Lincoln Park apartment. The Malört's label may sport the words "Chicago, U.S.A." but a closer look reveals the fine print: "Produced and bottled for Carl Jeppson Company." The stuff is now made in Florida, by a company that skirts the absinthe ban by using a variety of wormwood that doesn't contain thujone, the chemical said to be responsible for the absinthe hysteria that led to bans across the world in the early 1900s. The debate over the validity of absinthe-induced craziness rages on, and many countries have lifted their bans just during the last decade, but for now, it's still illegal in the States. Luckily for us Chicagoans, we have Jeppson's Malört to tide us over, and while we're no wormwood experts, we feel insane after just a shot of the stuff.
Try it yourself at:
Cuneen's Tavern(1438 W Devon Ave, 773-274-9317)
Loop Tavern(1610 W Chicago Ave, 312-226-6740)
Friar Tuck(3010 N Broadway, 773-327-5101)
The Sovereign(6202 N Broadway, 773-274-0057)
L & L Tavern(3207 N Clark St, 773-528-1303)
Max's Place(4621 N Clark St 773-784-3864)
Tap Room/Foremost Liquors(3210 N Cicero Ave, 773-282-6064)