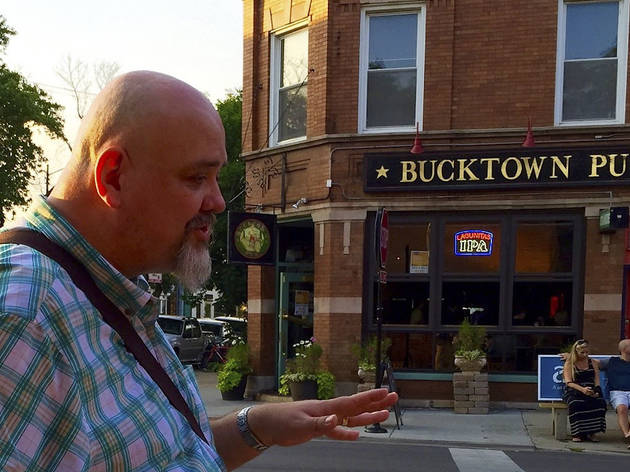 The art galleries and comic stores that pepper Bucktown belie a hidden history of ghosts, mysteries and other unexplained occurrences. Meet up at Walsh Park for a 90-minute guided walking tour that gets to the heart of Bucktown's undiscovered past underneath the shining comforts of the bohemian Chicago neighborhood.
Rating Breakdown
5 star:

1

4 star:

0

3 star:

0

2 star:

0

1 star:

0
OK now, first of all Bucktown is Damen, Armitage, Western and Fullerton PERIOD!!! Walsh Pk. (known to me as Ashland Pk.) may be part of Wicker Park. I know, I grew up in Bucktown and had many friends in Wicker Pk, played basketball at "Walsh". St. Hedwig and Holstein Pk. is Bucktown! Not St. Mary, etc. Soooo that also means the"606" is not Bucktown. Btw, I am old enough to remember "Daddy"Daley, Bilandic, Byrne, Washington and CHICAGOFEST. My family before me grew up there so don't feed me yuppie BS about BT. "Star rating"? What am I rating? My comment?

My family and I took this tour with Gordon last evening after finding it mentioned here on Time Out as a Halloween "thing to do," and we're really happy we did. Gordon's knowledge of the area--both based on his personal exploration as well as what was clearly a great deal of time spent researching archives--was deep and comprehensive. His use of visual aids throughout (period newspaper articles and photos) was effective, and along the way he sprinkled in a few magic tricks that were well-executed and well-chosen to complement the narrative, not hokey at all. I've taken a lot of history (and ghost) tours within Chicago and many other cities over the years, and Gordon's tour really stood out for its blend of researched factual knowledge and his personal stories as a long-time resident. While I and my husband probably know more about Chicago history than the average folks and have both spent a significant amount of time wandering around the neighborhood, Bizarre Bucktown really opened my eyes to the rich and weird story of a neighborhood that has previously gotten little attention as a historically significant destination in its own right.