Bobby McCune, 41
Broadway in Chicago knows your boozy secret.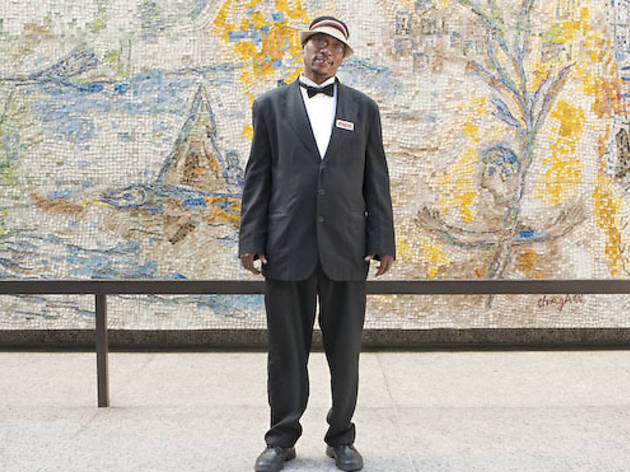 Chase Plaza
You're dressed to the nines. What's the occasion? I'm an usher at Broadway in Chicago. On my break. I work the Broadway Playhouse, the Oriental, Cadillac Palace Theatre and the BOAT—Bank of America Theatre. We employees call it the BOAT. I'm on my way to work the Jersey Boys matinee.
Is the Four Seasons your jam? Maybe. I don't think I've heard them. I was brought up in Chatham at 79th and King Drive. In my neighborhood, we didn't have the Four Seasons. Dr. Dre and Tupac were my Four Seasons.
Do you have to crack down on theatergoers? Mainly just for pictures. Everyone wants to take pictures in the theaters! I haven't had to kick anyone out yet. The most I've had to do is confiscate people's phones because they kept taking pictures of a performance. But man, you'd be surprised how many people sneak in alcohol. At the end of the shows when everyone leaves, we go through the aisles and find bottles of wine and whiskey. You find all kinds of things.
Do you get to see shows for free? Oh, yeah: Mary Poppins, Memphis, Rock of Ages, Pinkalicious. Just saw Fela!, which I was really looking forward to. I'm drawn to these shows because they're musicals, and I used to perform as a rapper. My group was Generation Hexx. I went by the name General Hexx.
Does wearing a tux every day get old? Yeah. The cleaning costs do! You can't just wash a tuxedo; you have to bring it to the cleaners. You gotta keep the shirts white. On my off days, I'm all about jeans and a T-shirt.