Breakfast with Rhymefest and his dad
The Grammy winner and his estranged father reunite.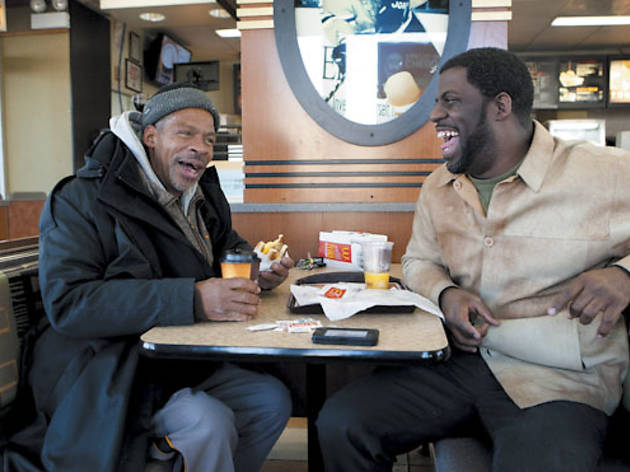 It's barely 8am, and Che Smith is partied out. The Grammy-winning "raptivist" and former aldermanic candidate known as Rhymefest had hit the town the previous evening with old friend and fellow emcee Xzibit, who was visiting from California. "We went to three different clubs, and by the time I looked up, here we are. I haven't been to sleep," says Smith, behind the wheel of his black SUV as Fleetwood Mac's greatest hits spill out of his iPod. The night included a stop at the Factory, a Far South Side gentleman's club off the Bishop Ford Freeway. "When Xzibit is here," he says, "he doesn't want me to be a family man."
But this morning, Smith is fulfilling his familial obligations. He just dropped his wife, Donnie, off at Whitney M. Young Magnet High School, where she teaches English. Now he's driving to meet up with his estranged father, Brian Tillman, for breakfast. Two days ago, on January 13, the 35-year-old rapper found the man he hadn't seen for 23 years living homeless on the West Side.
"If somebody is homeless and you're buying them breakfast," he wonders aloud, "how do you know if you're having breakfast with your dad or [just] someone that needs a meal?" Despite the lingering uncertainty, he says, "I decided to forgive long before he and I met, so when I found him, there was nothing left to do but get to know each other."
The search began in July, after Smith and his wife purchased and moved into the Chatham home where Smith's father was raised. (Smith's cousin had put it up for sale.) "It was like the spirit of that house was telling me to go find him," he says. He started with his mother, Lorna Kennedy, who gave birth to Smith at 15 and raised him as a single parent. She pointed him to Tillman's brother in Minnesota. He recommended Smith get in touch with a family friend in Chicago. "I called and said, 'Is he still alive?' " Smith says. "And he said, 'I saw your father yesterday.' "
The next day, Smith went to Mabel Manning Public Library near the United Center. "There were some homeless people sitting at a table, and I yelled out, 'Brian Tillman!' He looked up and tears exploded from his face. He knew exactly who I was."
Smith pulls up to a West Side warming shelter, and Tillman, 54, hops in. The two immediately start talking music. Smith fiddles with the iPod as he drives. "Bet you don't know this."
"Minnie Riperton!" Tillman calls out after a few seconds of "Inside My Love."
"Very good!"
The local diner is closed, so Smith parks at a McDonald's. Father and son have an easy rapport that belies their long separation. "You were talking about how you're the greatest chess player this side of the West Side. I took you to my house, and Solomon smashed you twice!" Smith says of his 14-year-old son.
"I can't get over that one," says Tillman, who also recently met his five-year-old granddaughter, Amirah.
Tillman says he was chronically jobless when Smith was born, and he couldn't support a family. The last time Smith saw his dad was at age 12, in the house where he now lives. "My father lived in the basement on the couch, drinking beers all day," he says. "He just wasn't a dynamic fella."
The goal now, Smith says, is getting Tillman off the streets and into permanent housing. "I thought I lost Che for life," Tillman says, "and now he's back helping me get my life together."
On the way back to the shelter, Tillman has a realization. "I still haven't heard one of your songs, man." Smith thumbs the iPod and cues "City Is Falling," a plaintive track from his debut album that includes the lyrics, "I am not a deadbeat dad / Me and my son spent more time than me and my dad rarely had."
"That's poetry, man," Tillman says. "I like that."