Brewery and distillery tours
Local brewery and distillery tours are educational and all, but we suss out what's really important: how much booze you'll get.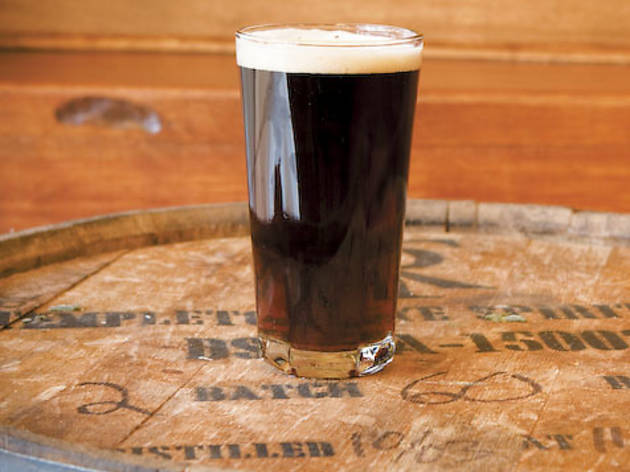 1/7
Photograph: Martha Williams
Workingman burger with the Workingman Mild beer at Revolution Brewing
2/7
Photograph: Charisse Kennedy
The still at Koval is 300L Kothe still from Germany.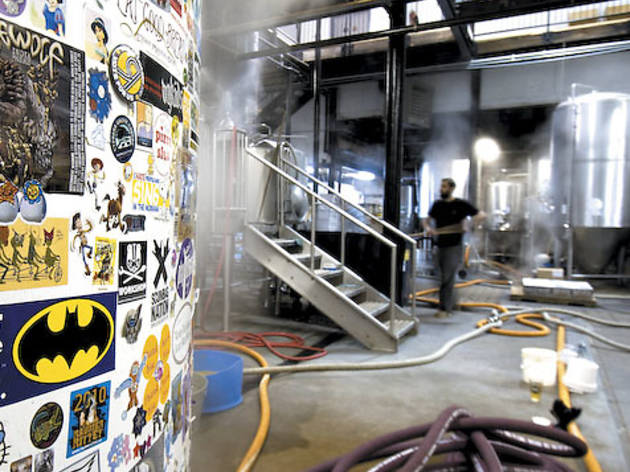 3/7
Photograph: Tristan Zeier
Brew Tank at Half Acre Brewery; Chicago; IL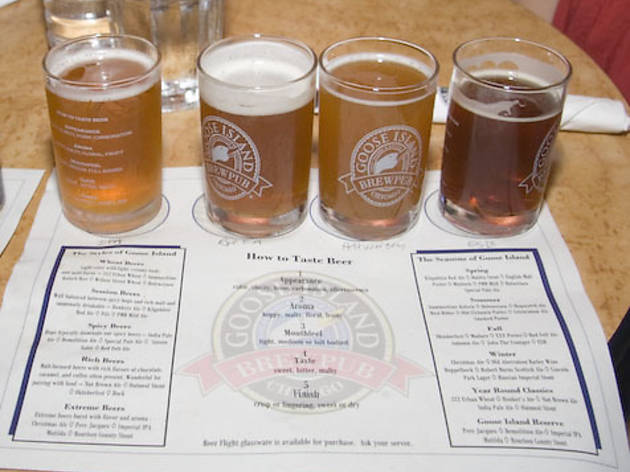 4/7
Photograph: Martha Wiliams
Goose Island beers six glasses of beer -- ranging from lightest to darkest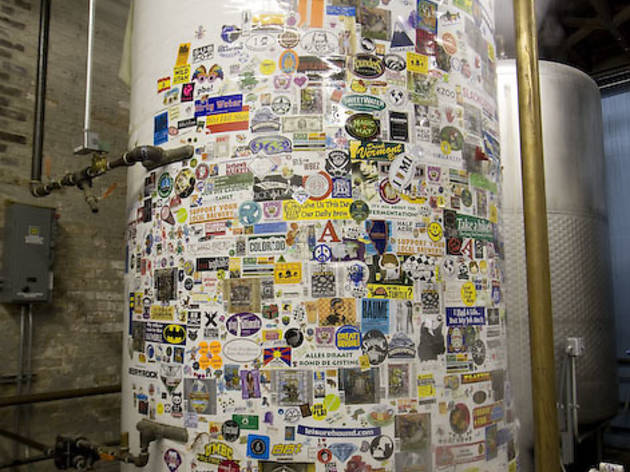 5/7
Photograph: Tristan Zeier
Half Acre Brewery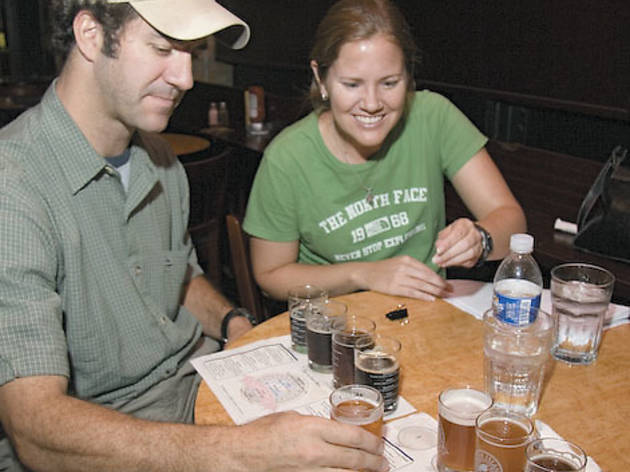 6/7
Photograph: Martha Wiliams
Goose Island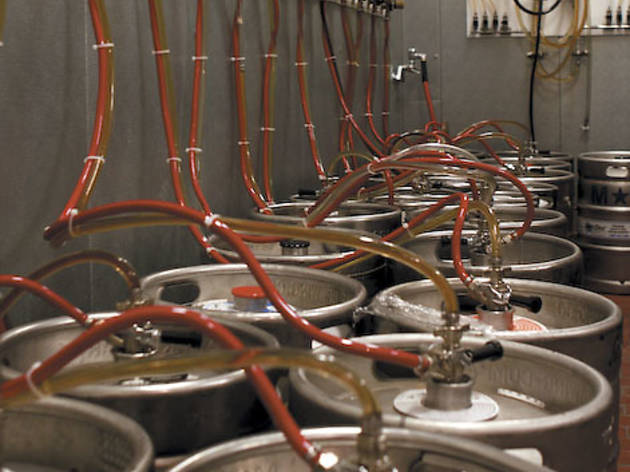 7/7
Photograph: Taylor Lacey
Draft system at Haymarket Brewery
Revolution Brewing
The 50-minute tour highlights the brew house and fermentation cellar at this Logan Square brewpub and explains what goes into churning out about 35 beers annually.
I learned Beer color has nothing to do with strength; this means you can pound a couple of Guinness-colored ales without feeling drunk, but that honey-hued IPA could sneak up on you.
Booze included Sample beer varies on availability—I tried the Black Power, an oatmeal stout. Serving size is five ounces.
Buzz factor But the hearty, 6.1% ABV Black Power made a fine stand-in for breakfast.
2323 N Milwaukee Ave (773-227-2739). Saturdays at noon, free.
Half Acre Beer Company
Unlimited pours aren't the only reason this North Center brewery's tours are booked through March 2012: There's also the laid-back vibe, rocking tunes like Springsteen and Hall & Oates, and a 90-minute interactive walk-through that includes sniffing a jar of hops (they smell like pot) and touching malted barley.
I learned The brew house's giant water tank is plastered with stickers (i had a life, but my job ate it, i heart bacon), and guests are encouraged to slap on their own.
Booze included All you can drink; you get a cup and access to three pitchers that are constantly refilled.
Buzz factor Call a friend for a lift home.
4257 N Lincoln Ave (773-248-4038). Saturdays at 1pm. [Note: After press time, Half Acre changed its tour policy. Tours are now given on a first-come, first-served basis, for up to 60 people, for $10 (includes Half Acre glass and sample). Spaces reserved via the old system will still be honored.]

Haymarket Pub and Brewery
Opened in January, this West Loop spot doesn't yet offer official tours—instead, owner and head brewer Pete Crowley (or one of his servers) will customize one based on your interests.
I learned Crowley pumps classical tunes from 98.7 FM into the seven-tank fermentation room to "soothe" the yeast during fermentation.
Booze included You can taste a four-ounce sample of each of the ten house brews.
Buzz factor Or more, depending on how many samples you guzzle
737 W Randolph St (312-638-0700). Call for availability; free.
Goose Island
Smuggling beer into class is typically frowned upon, but Goose Island's 90-minute tour wraps up with a tasting held in a room stocked with bookshelves and a projector screen. Don't worry about talking out of turn: The guide urges you to yell out which smells and tastes each brew recalls.
I learned Goose Island gives its spent grains to nearby farmers, who use them to fatten up their pigs before sending them to the brewpub, where they appear on the menu as barbecue pork.
Booze included Six, four-ounce glasses of beer, ranging from light and citrusy (Green Line Pale Ale) to smoky and peaty (Caber Toss Wee Heavy) to dark and chocolaty (Naughty Goose)
Buzz factor Lightly but pleasantly toasted
1800 N Clybourn Ave (312-915-0071). Sundays at 1:30, 3 and 4:30pm; $7 includes tasting and souvenir glass.
Koval Distillery
Peek into the giant mash tun—you'll see grains and water swirling around to create sugar—and inhale the CO2 wafting out of the fermentation tank at this husband-and-wife–owned craft distillery. Koval's tasting room is slated to open in mid-March; until then, the two-hour tour ends with a tasting at nearby Andersonville wine shop In Fine Spirits.
I learned Koval makes all its organic and kosher spirits from scratch; for every 100 bottles of its ginger liqueur, employees have to peel 60 pounds of fresh ginger root by hand.
Booze included It's a liquor buffet. Taste all of Koval's white whiskeys (made from rye, oat, wheat, spelt and millet) and two of its brown ones, plus six killer liqueurs, ranging from chrysanthemum-honey to orange blossom.
Buzz factor Resist the urge to take a nap at In Fine Spirits.
5121 N Ravenswood Ave (312-878-7988). Saturdays at 5pm, $10.