Bulls bars
From fancy to divey, these bars near the United Center offer spots to watch the Bulls.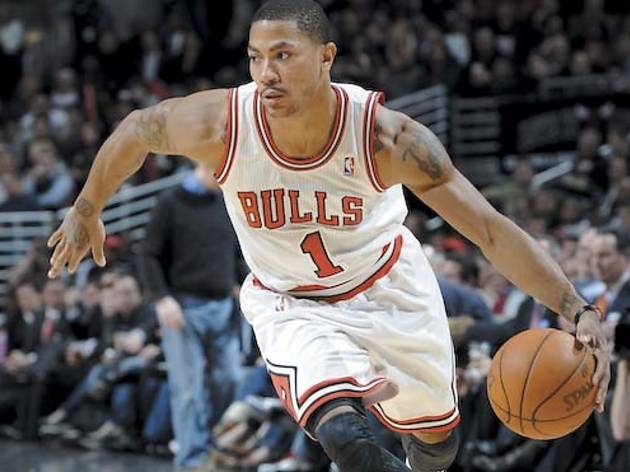 FANCIEST
Dishes like duck tacos ($12) and chicken-fat ranch popcorn ($4)—yes, that's popcorn popped in chicken fat—are on the menu at the Ogden, which bills itself as a "chef-driven" sports bar. I try the buffalo wings, made from turkey instead of chicken ($11), but I'm not sure the creativity improves the dish. Watching the game from a personal flat-screen (there's one in each booth), however, is way better than squinting at my 19-inch set. Two additional TVs are mounted across the bar, which means there's not a bad seat in the house. Just when I think patrons—wine-sipping gals and guys in business suits—are consumed with brisket sandwiches, they confirm they're fellow fans by cheering at a Joakim Noah dunk. 1659 W Ogden Ave (312-226-1888). Mon–Fri 11am–2am; Sat 10am–3am; Sun 10am–2am.
MOST KID-FRIENDLY
At Union Park Lounge, I spot a woman cuddling a newborn, with a toddler at her side. Babies in bars don't kill my buzz. If they dampen your mood, revive it with Monday night Grey Goose cocktail specials ($7), almost daily Jameson shots ($4) or Saturday's turkey burger ($5). The once dim joint received a rehab this winter, and it's now clad in bright pinewood and stained glass. Our server explains new management upgraded the decor but tried to keep the dive vibe. The result is very TGI Friday's. UIC sweats-wearing students and office workers avoiding downtown parking fees happily share the pub's 26 boob tubes with stroller pushers. 228 S Racine Ave (312-243-9002). Mon–Fri 11am–2am; Sat 11am–3am; Sun 11am–2am.
MOST AFFORDABLE
Choose from a rotating list of 130 bottles, including Argus Jarrett Payton (son of Walter) All-American Wheat Ale, at Beer Bistro. Soak up suds with cheap eats: on Monday, pizza ($5); Tuesday, half-pound Black Angus burgers ($2); and Sunday, wings (25 cents). A series of charming retro ads, framed and hung on the walls, advertises these deals (unfortunately, not available during home games). I worried this place, with its not-quite-French name, would be overpriced and trying too hard. Nothing is further from the truth. My tab for spinach dip and a pint of pilsner comes to less than $10, and when I pound on the table as the Bulls take the lead, a bar employee nods in approval. Beer Bistro, 1061 W Madison St (312-433-0013). Sun–Fri 11am–2am; Sat 11am–3am.
MOST LOCAL
The quaint Third Rail Tavern gains extra points by being one of few businesses along Madison Street open on Easter Sunday (c'mon folks, there's still a Bulls game!). Of its dozen or so patrons, a handful order heavily garnished Bloody Marys ($5.50). At a regular's suggestion, I get one, too, and it's delish. The food, however, is no-frills ($2–$7). A small group in the rear loudly bemoans shots made by Bulls-foe Carmelo Anthony. A few folks come and go, all greeted by name. It's so homey, I'm surprised there are no darts or Christmas lights. 1133 W Madison St (312-432-9107). Mon–Fri 11am–2am; Sat 10:30am–3am; Sun 10:30am–2:30am.
CLUBBIEST
I'm disappointed when my waitress tells me that the CrossRoads Bar & Grill no longer features live blues. It still has blues-inspired art, including a slick mural of a guitarist. But the music has done a 180: On my visit, Nate Dogg blasts through speakers. I spy patrons chugging tequila, but I opt for that night's home-game special, a Half Acre Gossamer ($4). I pick through my nacho cheese pulled pork curly fries ($6). The Bulls go up on the Knicks, and my waitress, along with her coworker, stands at the bar and does shots with patrons. The game is over. I walk out thinking I didn't get what I expected (half-time blues sets, perhaps), but I'll be back for the party. 1120 W Madison Ave (312-243-1113). Sun–Fri 11am–2am; Sat 11am–3am
The NBA playoffs begin Saturday 28.