Call girls
Bike Escorts fight loneliness in the bicycle lanes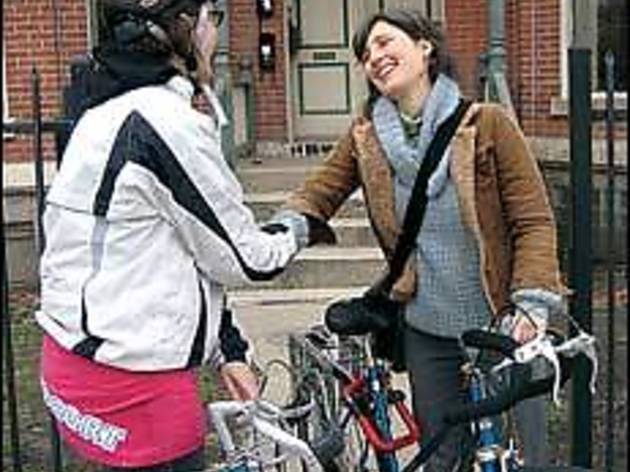 If you're feeling randy, you might peruse the dozens of listings in the Chicago Yellow Pages under escort services. But if you're nervous about regularly hitting the city's traffic-heavy streets to get to and from work or school, contact Bike Escorts.
These bicycle-commuting experts will accompany you on your ride, help you plan your route, and give you the in-the-saddle experience you'll need to pedal with confidence—for free. Just e-mail bike.escorts@gmail.com 24 hours in advance, and a volunteer will meet you to ride to your destination.
"We got the idea for Bike Escorts from the people around us," says cofounder Inge Hoonte. "We had friends who were pushed off the road. And I have a friend who doesn't know how to ride, and she's 27."
Hoonte, an Art Institute of Chicago grad student and Netherlands native, and Thea Miklowski, who works at the school's international affairs office, launched the service last winter after debuting the idea at the bike-focused Critical Mass Art Show.
They hope to get things rolling this spring with a series of group rides. On Saturday 29, Bike Escorts will lead a ride from Daley Plaza, 50 West WashingtonStreet, to the Version>06 arts fest in Bridgeport. Once at the fest, Bike Escorts will lead tours of the neighborhood leaving from Iron Studios, 3636 South Iron Street, where participants can borrow one of 30 bicycles provided by Working Bikes Cooperative.
On April 15, Bike Escorts led a ride to showcase rider-friendly routes from the Near Northwest Side to the Loop—alternatives to Milwaukee Avenue, which is the most direct way downtown, but can be congested and full of bone-shaking potholes. The group spun south on Humboldt Boulevard (which has no bike lane), riding two abreast, occupying a lane of traffic. "Group riding makes you more visible and powerful," Miklowski says. "When you ride side by side, you're almost like a car." The convoy headed east on Armitage, south on California and then east in the Augusta bike lane.
Miklowski—who, along with Hoonte, wore a pink mini skirt with bike escort across the back—rode with the least-experienced rider, Isil Egrikavuk, 24, a performance artist from Turkey, who learned to ride a bicycle only last year. "[In] Istanbul, not many people ride bikes, and they drive really crazy." She was still a little wobbly and hadn't mastered switching gears.
The group veered onto a smooth stretch of Milwaukee, past the Blommer Chocolate factory, and the Bike Escorts chose Washington Boulevard as the direct route into the Loop. The Washington Bridge is one of the few river crossings with a solid concrete deck, as metal-grate bridges can be treacherous for cyclists, especially when it rains.
At a lunch stop at the Picasso, Egrikavuk was beaming. "I feel a little nervous, but…I feel a lot more confident now."—John Greenfield
Upcoming rides are Saturday 29 and May 13. See Sports. For more info, visit www.biketogether.org.