Carriage-Free Chicago campaign
An animal-activist group wants to end horse-drawn carriages.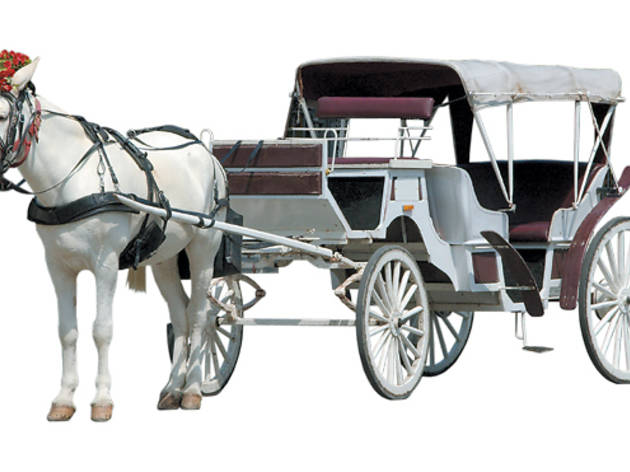 On August 16, a New York City carriage horse named Oreo got spooked, overturned the coach carrying a driver and two tourists, and ran amok near Columbus Circle before police tranquilized it. Matt McEwen wasn't surprised. "When you put a honking taxi or a very loud CTA bus behind a 2,000-pound, slow-moving animal that spooks easily, it's a recipe for disaster," says McEwen, the leader of Carriage-Free Chicago who took a meeting on the subject last week with 48th Ward Ald. Harry Osterman.
The three-year-old animal-activist group ultimately would like to see horse-drawn carriages replaced with pedicabs. But McEwen says the current focus is on encouraging the Department of Business Affairs and Consumer Protection to enforce rules already in place that might prevent an overworked horse from freaking out: vet checkups every three months, six-hour workdays and no rides when temps drop below 15 degrees or rise above 90.
"This industry is already tightly regulated, and there is no abuse," says Debbie Hay, owner of Antique Coach & Carriage, one of the city's three carriage operators alongside Chicago Horse & Carriage and Noble Horse. "Certainly, we do this because we love animals."
Yet McEwen obtained documents from the past few years via the Freedom of Information Act showing carriage companies have a track record of citations: unlicensed horses, waste-covered stalls, general neglect. Hay blames "power-hungry investigators": "A horse goes to the bathroom roughly 15 times a day," she says. "You get busy and it gets to be a mess—and they may catch you in that moment."
Despite periodic city crackdowns—in 2009, the DBACP refused to renew the license of JC Cutters Horse Drawn Carriages citing stable code violations—McEwen insists carriage companies' mistreatment of horses remains systemic. "We've seen horses out working at 10am that are still out at 10pm. Then they're taken back to grimy warehouse stables at night," he says. "That's a sad reality for an animal."