Chelsea Simonne McGrath, 24
Millennium Park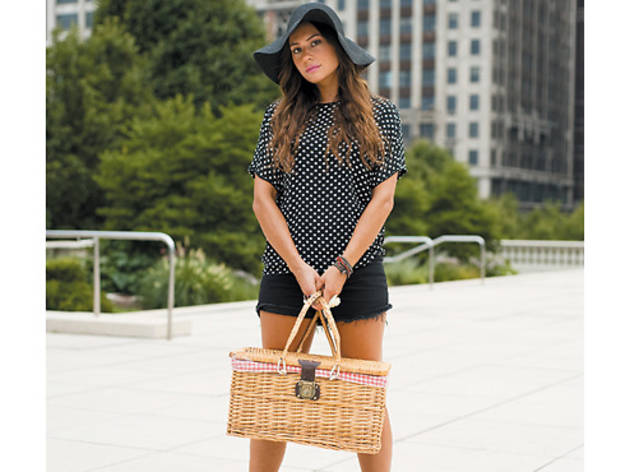 What's your name?
Chelsea McGrath, but I prefer to use my middle name, Chelsea Simonne.
What's wrong with "McGrath"?
It's a very Irish name, and I don't identify with being Irish.
You know the Irish aren't persecuted in the U.S. anymore, right?
I like the Irish, but when I start my own business, the name's going to be "Chelsea Simonne."
What type of business?
A lifestyle brand: fashion, music and holistic medicine. Eventually a boutique, website, books.
The hipster Oprah.
It's a pretty pretentious endeavor to strive to be Oprah, but that would be awesome. I'm stuck in PR right now. I just want to work for myself, basically. You know that Dolly Parton song "9 to 5"? I was in the bathroom during the Pride Parade and this song came on and summed up every feeling I've ever had about working a corporate job: You spend all this time working for someone else and you don't have anything to take home for yourself.
Is the picnic basket just a prop?
I set out to have a picnic and see Kid Sister, but the cops said I can't bring alcohol into Millennium Park.
What else was in your picnic?
Uh, wine. [Laughs] I blew my food budget on the booze.
Have you been making the most of summer?
This has been my favorite summer in Chicago. Being single is the defining factor. But I never go crazy. I think it's funny when girls go out, like, "Oh, we're gonna go meet guys!" Ew. You don't need to try to meet guys; guys accost you all the time.
What's the worst pick-up line you've ever heard?
The other day, someone was literally next to my ear and they were like, in a hushed tone, "Hey, you're fuckin' sexy." I looked back and it was this homeless guy who was already halfway down the block. It was a hit-on-and-run.