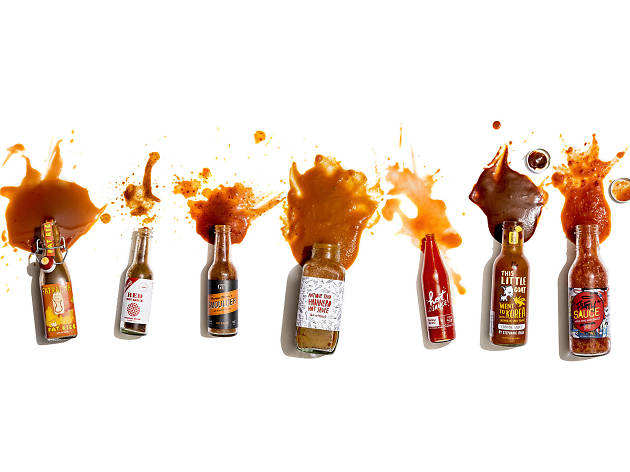 Time Out says
Set your taste buds on fire at this expo devoted to spicy sauces from more than 40 different vendors, a cocktail competition and food-eating challenges. Guests will be able to put their heat tolerance to the test with samples of fiery foods and participate in extreme events like the "Spicy Taco of Hell Challenge" or the "Slaytanic Burrito Challenge." You'll also get to watch someone eat a bunch of super-hot Reaper peppers—hope you're a heat seeker.
Details
Rating Breakdown
5 star:

0

4 star:

0

3 star:

1

2 star:

0

1 star:

1
For being in its first year I do not think the fest was that bad. The best, no. A disaster, no. A little over hyped but that is to be expected. For being in its infancy last year, I look forward to a even better time this year.
This festival was a pretty big waste of time. It was kind of pathetic because there were only a couple dozen vendors, not 40 as advertised. The sauces don't taste that great. There's only one stand that serves actual food so if you want something to line your stomach for the onslaught of pure hot sauce you're SOL. They have tents for shade where you can sit on a few rickety chairs and rest on some sticky tables. I think the scariest thing was how many rednecks were there. I was afraid I was going to get shot. A lot of them were wearing shirts that proudly displayed pro-gun messages and racist quotes. Alcohol + rednecks + hot sauce = a really bad mix. There was a fake wrestling exhibition between two women and when the fight moved out of the ring some random white dude put his hands on one of the girls and holds her arms and restrain her. Like wtf? Don't touch her?!?! She's hired to do a performance not be assaulted! One of the rednecks spilled beer on me and had the audacity to say that I was fine. It was basically a trash fest. I wish I never went.