Chicago bars and restaurants curating art shows
Eateries and cocktail lounges take an interest in gallery-caliber art.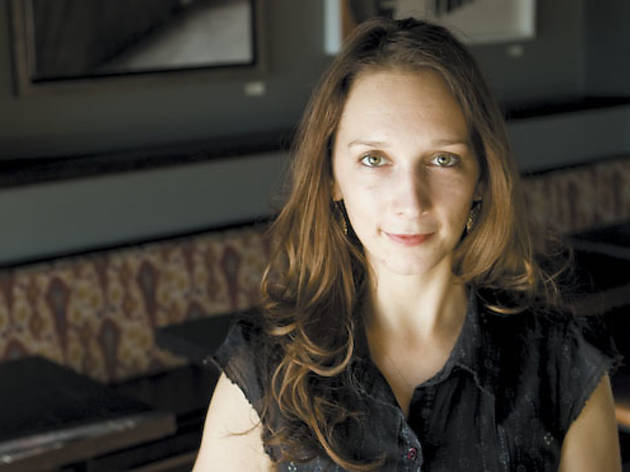 Christopher Meerdo's photographic series "Billboard Groves" features clusters of trees illuminated by billboard lights. Based on a childhood memory of late-night car trips, the transfixing images consider how advertising taps into nostalgia. You don't have to head to a gallery or museum to see these photographs; in fact, you can view "Billboard Groves" while feasting on rib-eye tartare and a steaming pot of mussels. The series is part of Meerdo's exhibition at Leopold (1450 W Chicago Ave, 312-348-1028), a Belgian-inspired restaurant in West Town.
It's one of a growing number of Chicago bars and restaurants that have become viable venues for viewing well-curated, gallery-caliber art. At these spots, local sourcing is celebrated on the walls as well as the plate.
Leopold's art program took off when Whitney Tassie, director of moniquemeloche gallery, began organizing exhibitions there last summer. "Executive chef Jeffrey Hedin, who is supremely creative, had always planned to put something together [artwise], but running the kitchen keeps him unbelievably busy," Tassie says. "He was thrilled with the idea of someone in the know leading this initiative for the restaurant." Prior to Meerdo's show, which opened in October, Tassie exhibited enigmatic photographs by Chicago-based artist Heidi Norton. "I'm treating Leopold as a critical exhibition space," she says.
Earlier this year, when Bruce Finkelman, co-owner of the Empty Bottle (1035 N Western Ave, 773-276-3600) and Longman & Eagle (2657 N Kedzie Ave, 773-276-7110), revamped his other project, Bite Café (1039 N Western Ave, 773-395-2483), he tapped artist Stephen Eichhorn to curate works that would complement the new space. The artist rounded up quirky still-life photographs by Courtney Reagor (her subjects include a scrunchie-wearing scallion) and abstractly patterned paintings by Dominic Moore.
While Eichhorn understands artists' reservations about showing in bars and eateries—commonly seen as venues for amateurs—he also sees the benefits. "The unique volume of foot traffic can lead to a larger cross section of exposure than artists might find in a more formal gallery setting," he says. His own delicate botanical collages grace one of the guest rooms at Longman & Eagle's hotel.
Increasing exposure for local artists is why Stephanie "Pepper" Coate started her business, Chicago Art Consultant. In July, she began getting work from her artist clients on the walls of places like the Empty Bottle; Telegraph (2601 N Milwaukee Ave, 773-292-9463), the Logan Square wine bar where she works part time; and Wicker Park's Bluebird (1749 N Damen Ave, 773-486-2473), which has also hosted an artist salon series. First, Coate considers which artists' work would fit each space, then she markets and executes exhibitions the way a gallerist would. "I'm trying to make the process of exhibiting art in restaurants as professional and serious as possible," she says.
At cocktail lounge the Whistler (2421 N Milwaukee Ave, 773-227-3530), co-owner Robert Brenner curates the Storefront Gallery, rotating installations in the bar's front window that have involved everything from balloons to Styrofoam to volcanic ash. Kip Pasta's intricate wooden sculptures are on display until December 8.
Like the Whistler, neighboring Lula Cafe (2537 N Kedzie Blvd, 773-489-9554) has been embracing local ingredients and local artists for years. Artists/co-curators Marianne Fairbanks and Anders Nilsen showcase more than just paintings. They've also organized textile-based works and an invitational drawing show focused on car engines. Up at Lula through January 17, Todd Baxter's photo series "The Owl Scouts: Lost in the Woods" tells the fictional story of two scouts who go on an adventure through the forest.
Encouragingly, patrons do take a moment or two away from their food or their dinner companions to devour some art, Nilsen reports. The good feedback comes as little surprise to Tassie. "The table is the traditional place to share and exchange ideas," she says. "These restaurants are providing that slower, contemplative moment that both foodies and art lovers crave in our busy world."