Chicago: City on the Make dictionary
University of Chicago Press releases a new edition of Chicago: City on the Make. For the occasion, we bring Nelson Algren into the 21st century.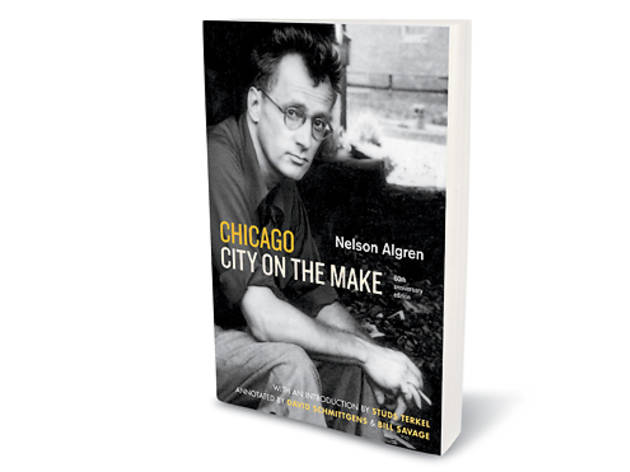 Originally published as "One Man's Chicago" in the October 1951 issue of Holiday travel magazine, Nelson Algren's seminal essay Chicago: City on the Make is a gritty portrait of the town he called the toughest in America. In his depiction of a city that glistened by day and transformed into skid row by night, Algren used a vibrant form of "Chicagoese," a jargon spoken in dance halls and bars. The language is so steeped in local slang that it occasionally needs a translator. Case in point, Algren fought with his editor to title the afterword to the book "Ode to Kissassville: Or, Gone on the Arfy-Darfy." Luckily for us, the new 60th anniversary edition (University of Chicago Press, $17) includes an annotated glossary by David Schmittgens, a master's candidate at University of Chicago, and Bill Savage, a Northwestern University professor who wrote his doctoral dissertation on Algren. (Savage informed us that Kissassville is a place filled with suck-ups, and "gone on the arfy-darfy" means to drift like a hobo). Although some of Algren's slang remains in popular usage—hustlers, hipsters, barflies—we've put together a bevy of terms you'll be glad there's a glossary for, because you might want to use them later.
Word
Beer-cork hunting
Meaning
Foraging for beer-bottle corks.
Where Algren might've heard it
He went beer-cork hunting through alley garbage cans asa kid. The more unusual the brand, the more valuable the cork. It was as ordinary a game as today's hide-and-seek.
How you can use it today
"The kids at the fancy-schmancy Lab School spend their time playing educational games, which sure ain't beer-cork hunting."
Word
Dip
Meaning
Pickpocket
Where Algren might've heard it
"The Dip," a short story Chicago satirist George Ade published in 1903
How you can use it today
"Why do I need an iPhone? Some dip would probably come after it."
Word
Banneger
Meaning
Strong punch
Where Algren might've heard it
On the makeshift baseball diamond where, as a kid, the streetwise North Sider was teased for liking the White Sox and for being un-American (his father was Swedish).
How you can use it today
"The way Rahm and Karen Lewis went at it, I thought someone would throw a banneger."
Word
Straphanger
Meaning
Commuter
Where Algren might've heard it
The Chicago Surface Lines—the streetcar system that operated until it was taken over by the CTA in 1947. Standing passengers held on to its leather straps.
How you can use it today
"When the clock strikes five, deceptively nice-looking 151 straphangers are wiling to use their Louboutins as weapons to fight for a seat."
Word
Old soaks' goat's nests
Meaning
The slum dwellings of drunks
Where Algren might've heard it
Don Marquis, an Illinois-born humorist, created a fictional drunkard called "Old Soak," a character who appeared in Marquis's stories.
How you can use it today
"Hey, lady, drink another skinny cocktail and you'll wake up in the old soaks' goat's nest."
Word
Ginmill
Meaning
Dive bar
Where Algren might've heard it
On his boyhood paper route in Cottage Grove. After selling all the newspapers, he'd wait outside a nearby saloon to watch the brawls break out onto the street.
How you can use it today
"That beer-slinging diner opens at 6am, and it's a total ginmill until noon."