Chicago clubs are accessible vs. every douche can get in
Our nightlife lacks the pretense of coastal clubbing, but Chicago's scene is just right.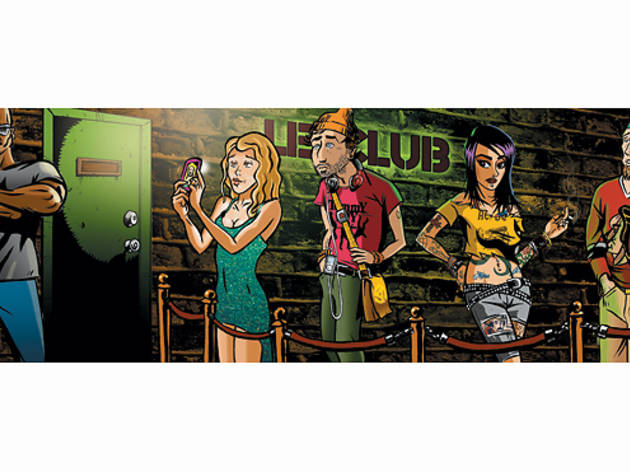 TYPICAL CHARACTERS SEEN OUTSIDE L.A. AND NEW YORK CLUBS
1 The Wall Street jerk-off This guy lost boatloads of other people's money, but he can still afford to pad the doorman's wallet and treat his pals to endless bottle service. Real cool.
2 The pseudo hipster He took the F train in from a Brooklyn neighborhood you've never heard of and we're pretty sure that's his own likeness airbrushed onto his T-shirt (it does go well with his oversize nonprescription glasses). Hipsterdom has sunk to a new low.
3 The heiress The only reason she's famous is because her dad is rich. Remind me why everyone wants to take her picture? Maybe that sex tape has something to do with it.
4 The jock This guy watches Jersey Shore like it's a training video. There's no doubt he will be the first one fist-pumping once he's inside.
TYPICAL CHARACTERS SEEN OUTSIDE CHICAGO CLUBS
5 The PR chick She's successful, happily married and, if you're lucky, she'll let you feed her a cocktail cherry. Her husband is one lucky dude.
6 The local DJ You may not know him by name, but there's a solid chance you've heard him at one of his four residencies around town.
7 The tatted rocker chick Yep, she's the same one who served you a margarita at Big Star two nights ago. And those Jameson shots at Angels & Kings the Saturday before that.
8 And…this guy He's the dude with the backward baseball hat, oversize Blackhawks jersey and fighting words for anyone who doesn't worship Toews. True, he might not be the coolest guy in the room (and if he imbibes any more, he may not find his way back to Schaumburg), but that's mostly because he's just a Midwestern average Joe with nothing to prove.