Chicago hotels and motels with hourly rates
Quickie accommodations for fools who want to rush in.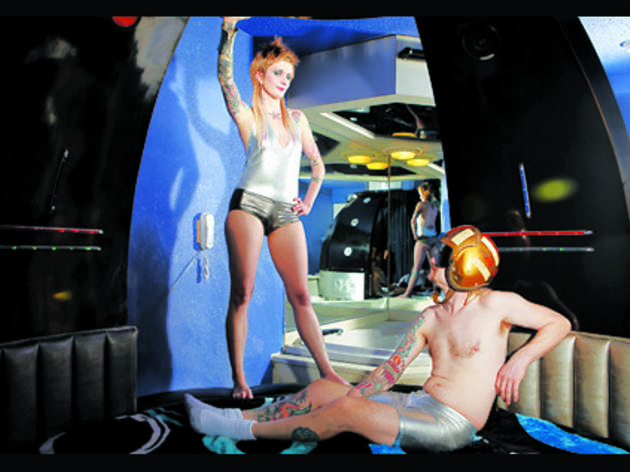 1/3
Photograph: Lisa Predko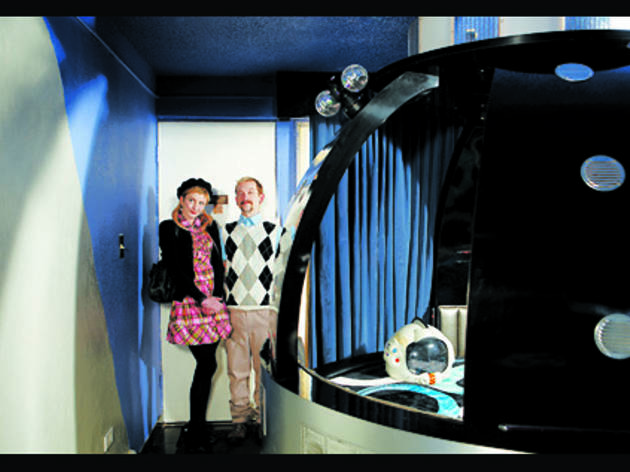 2/3
Photograph: Lisa Predko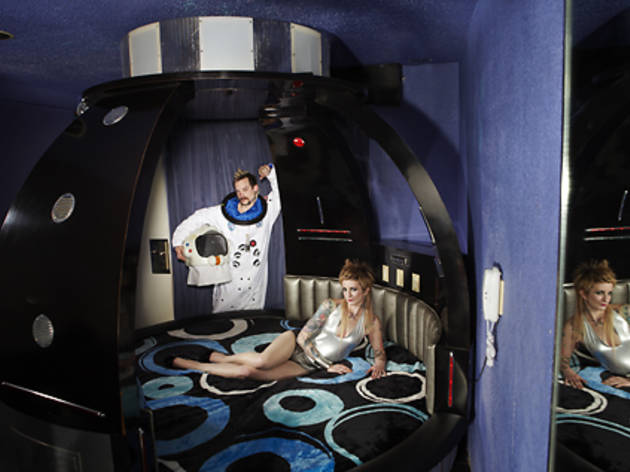 3/3
Photograph: Lisa Predko
Ambiance Suites
(2955 N Mannheim Rd, Franklin Park, 847-455-4070)
Quickie rate $49–$149 for four hours (weekdays only)
Romantic bonus The Drake of quickie hotels, the Ambiance has ten suites with color-changing LED lighting, fireplaces, king-size beds surrounded by mirrors and spa tubs. When just a soak and a poke won't do.
Essence Suites
(14455 S LaGrange Rd, Orland Park, 708-403-3300)
Quickie rate $80, noon to 4pm
Romantic bonus The Super Essence Suite ($115, noon–4pm) comes with a bed sprinkled in rose petals and—prepare to melt, ladies—a heart-shaped pizza.
The Patio Motel
(6250 N Lincoln Ave, 773-588-8400)
Quickie rate $30 for two hours, $35 for three hours
Romantic bonus Pony up a little extra for a room with a private Jacuzzi ($50 for two hours, $55 for three hours), and ride that hot tub time machine back to the '70s.
Rainbow Motel Pink Palace Fantasy Suites
(7050 W Archer Ave, 773-229-0707)
Quickie rate $70 for three hours
Romantic bonus Relive the motel scene from Blue Valentine (except way less depressing) in the Odyssey suite. If shtupping in space like Bowie isn't your thing, there's always the food-themed "Out to Lunch" room, which answers the question, "What would it be like to do it inside a giant sandwich?"
Rand Manor Motel
(1322 Rand Rd, Des Plaines, 847-827-7447)
Quickie rate $29 for four hours
Romantic bonus At this "Home of the Original 'Happy Nap,' " the Sweetheart Room ($53, plus $25 security deposit, for four hours) has a heart-shaped mirror behind the bed and, says the motel's website, "red fluorescent lighting over the bed to enhance the mood."
Summit Motel
(5308 N Lincoln Ave, 773-561-3762)
Quickie rate $45 for up to eight hours
Romantic bonus "We have X-rated channel," the motel's Eastern European–accented front desk clerk told us. "It's included! Watch as much as you want!"