Chicago In-Water Boat Show
With the opening of the 31st Street Harbor, Chicago's boating scene motors forward.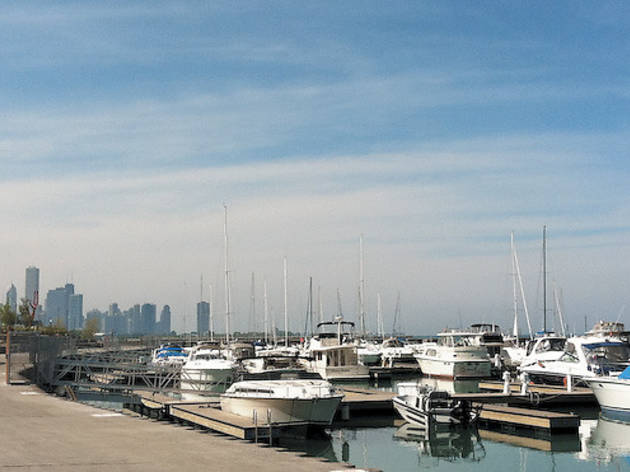 When Chicago didn't land the 2016 Olympics, residents got a nice perk: a needed recreational-boating harbor. Plans for a South Side site were part of the 2016 bid, and when the city lost out on the Games, Chicago Park District forged ahead, completing the 31st Street Harbor in early May. According to the Park District, the $103 million project was funded entirely by boater fees.
The new addition made a dent in the harbor system's lengthy waiting list, situating 300 boats with room for more. According to Sarah Ryser, National Marine Manufacturers Association's assistant director of communications, another item on the city's wish list was an in-water boat show. Now that there's an ideal place for it—with a large launch ramp and spare slips—the first Progressive Insurance Chicago In-Water Boat Show casts off on Thursday 7.
The event displays around 110 docked boats, ranging from pontoons to a 60-foot yacht custom-made in France. Unlike at a car show, visitors can purchase a boat on the spot. According to Ryser, haggling and pitting different vendors against each other for the lowest price is par for sales deals, which traditionally end with the ringing of a loud bell.
The show also features workshops on boating, sailing and water sports, like scuba diving and paddleboarding. "One of the biggest barriers is education," says Ryser about boating, which requires no license in Illinois. "People want to know how they can be confident at the helm."
Another concern for would-be boaters—price. To dispel boating's Lifestyles of the Rich and Famous image, the NMMA's website, discoverboating.com, offers information on renting and boat shares.
But if boating and sailing still conjure up Robin Leach's voice, watch from a cushy seat on the sidelines: The 31st Street Beach was beefed up with a rooftop picnic area and a playground, plus a beautiful skyline view that won't cost you a penny.