Chicago-set mystery novels
Sex, intrigue, overpriced Viagra Triangle hamburgers! A crop of new mystery novels makes Chicago its home.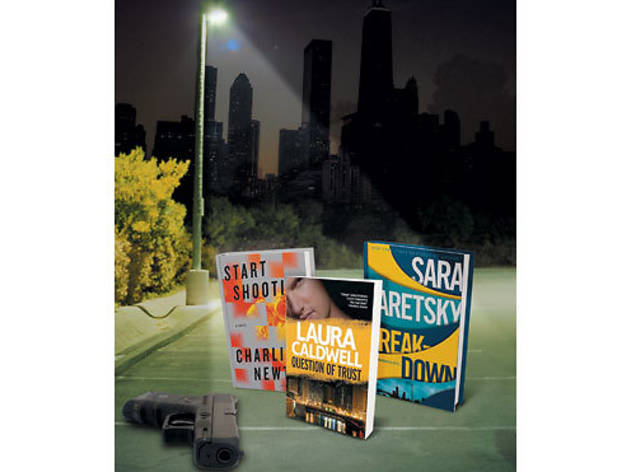 Our town's shadowy streets have provided the backdrop for mystery novels since the hardboiled days of noir. Looking at three new mysteries set in the Windy City, we investigate whether Chicago locations make a convincing ground zero for murder—or, for connoisseurs of the macabre, intriguing hangouts.
Laura Caldwell,Question of Trust (Mira, $7.99)
Chicago reference "Within fifteen minutes, we were seated at the bar at Topo Gigio, an Italian place on Wells," narrates heroine Izzy McNeil, a sassy lawyer whose life takes a spin once she discovers her apartment has been broken into. "Thirty minutes after that, we were in high spirits, the owner having sent the bottle of champagne after hearing that we'd just moved in together."
Chicago reality In cozy Italian Topo Gigio Ristorante (1516 N Wells St, 312-266-9355), simple wooden shelves display a collection of olive oils; black-and-white photographs provide an air of nostalgia. The owner might not send you Champagne, but if he's around, he's likely to personally thank you for coming.
Act like the character Find a handsome young man with a spate of tattoos. Get drunk together at the bar, but not so drunk that you fail to notice the jealous looks of others focused in your direction.
---
Charlie Newton,Start Shooting (Doubleday, $25.95)
Chicago reference "She and I are two of nine waitresses at Hugo's on Rush Street, the North Side's one block of leafy Boulevard de Montmartre," relates Arleen Brennan, an actress and waitress who reconnects with a childhood friend, officer Bobby Vargas, when he's accused of killing her sister. "Most of us are actors or actresses, so drama is occasionally on sale here.… I drop both cheeseburgers at $12 each, medium rare, no tomatoes…the stainless-steel counter saves the burgers and most of the hand-cut fries."
Chicago reality Hugo's Frog Bar and Fish House (1024 N Rush St, 312-640-0999), a classic steak and fish restaurant, sits on bustling Viagra Triangle—which we wouldn't necessarily compare to the leafy Boulevard de Montmartre. But Newton's right about the pricey burgers and cute waitresses.
Act like the character Put on a tight blouse and drop trayfuls of food, while waiting for a call from your agent.
---
Sara Paretsky,Breakdown (Putnam, $26.95)
Chicago reference "I moved as fast as I could on my sore feet to Rockefeller Chapel, whose carillon tower dominates the neighborhood," recounts private detective V.I. Warshawski on the search for a friend who might be in trouble. "The building is the size of a cathedral. The mullioned windows didn't let in much of the late-day sun, and the lamps hanging from the vaulted ceiling were so remote they might as well not have been switched on."
Chicago reality Rockefeller Memorial Chapel (5850 S Woodlawn Ave, 773-702-2100; open daily 8am–5:30pm), located on the University of Chicago campus, is an apt setting for a mysterious murder attempt: It's got darkened limestone walls, oak woodcarvings and stained-glass windows that transform the outside world into watery blues and chartreuse.
Act like the character Make your hair look like "Tom's fur after Jerry had run electric current through him," carry a flashlight, and expect to discover a lifeless body.