Chicago sports fans
Diehard fans are in a committed, dysfunctional relationship, to the bitter end.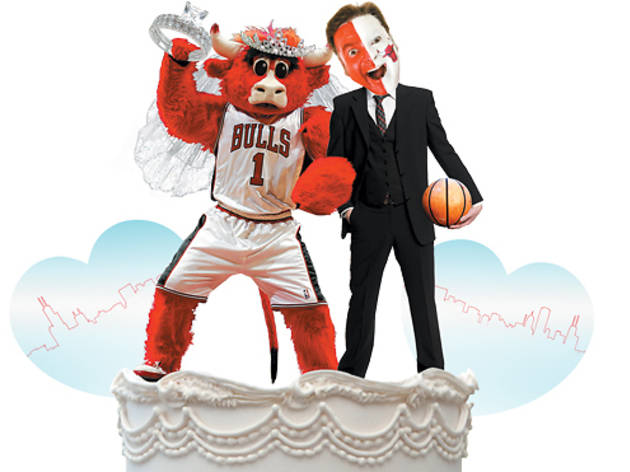 It's not you, it's us.
Actually, it's pretty much just you, but we're trying to be, as our therapist says, understanding of our own role in this marriage's failure. Don't get us wrong, we've had some truly wonderful times—last season's Stanley Cup, the 2005 Sox championship, the Jordan Years. Remember that time we rented a caravan and drove down to New Orleans and won the Super Bowl? Those headbands! And that shuffle! What were we thinking?
I'll tell you what we weren't thinking: that it wouldn't last. That the peculiar torture of this little marital bond between Chicago sports and Chicago sports fan is to always taste victory, but to have it washed down by the acrid brew of mediocrity. For years. It's that knowledge of what could be and what once was that makes it so hard to confront what obviously isn't. It's why we stray sometimes; why attendance at the Cell or the United Center drops off when your better days have passed, and we're thinking about Michael Jordan while watching Trenton Hassell.
And here's something else we have to admit to: Too many times, we've fallen in love with your flash. Your singular traits, your Bobby Hull, Ernie Banks, Scottie Pippen. We keep waiting for the next Sweetness, and you keep giving us the next Sweetneyness. So we don't know how to fully appreciate that our two most recent champions, the Hawks and Sox, were group efforts.
That's why, truly, the happiest among us is the Cubs fan. Sosa aside, they haven't had a star in decades, and they don't know what victory tastes like. They can hang a W flag but can't spell the rest of the word, it's been so long. That's a whole other cruel game you're playing with them. Our therapist calls it empty promise fulfillment. And we love you for it, despite ourselves.