Chicagoans set new CTA-riding record
Two locals beat a Brit's time by five minutes.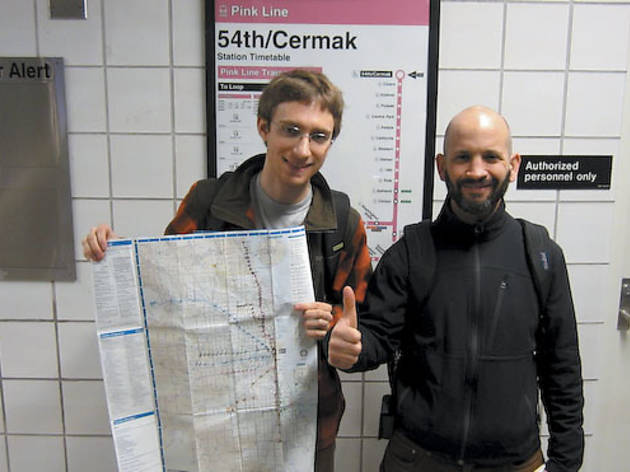 The title of fastest Chicago El rider being held by a Brit? Bloody mad! Last March, Adham Fisher, a native of Leicester, England, came to town and set a new record, racing around all 144 CTA train stations in 9 hours, 36 minutes, 33 seconds. Earlier this year, Danny Resner, a 23-year-old college grad and follower of my transportation blog, asked me to join forces with him to bring the title home.
On February 3, we succeeded in shaving more than five minutes—a significant chunk—off the Englishman's time, visiting every station in 9 hours, 30 minutes and 59 seconds.
"It's good to know that Chicagoans continue to engage public transit in fun and constructive ways," CTA president Forrest Claypool said upon hearing the news. "Any activity that encourages area residents to explore our system in a positive way bodes well for the future of mass transit in Chicago."
A bit of a stretch, but the record-setting stunt was fun. This is how we pulled it off:
8:32am At O'Hare, a sax man toots "Take Five" as we swipe our cards and hop an inbound Blue Line train. The stopwatch is on, and our strategy is in play.
9:04am I've been stepping onto the platform at each stop to take snapshots for proof. At California, I feel a kick in my left butt cheek. "Quit taking pictures, motherfucker!" yells a camera-shy guy in a hoodie before stomping off downstairs.
9:39am After transferring to the Purple Line downtown and riding north to Belmont, we're expecting the Evanston Express to zoom up to Howard. But due to slow zones alongside Graceland Cemetery, the train creeps by at the pace of a funeral procession.
10:56am Having backtracked to Howard and caught the Yellow Line, we arrive at Skokie and run to a nearby Starbucks to pee. The first train back to the city pulls out earlier than expected, so we flush precious minutes waiting for the next one.
11:39am Southbound on the Red Line. At Lawrence, a 6'8" thug in a Sox jacket muscles by and growls at me as I snap a photo of the station: "It's not picture-taking time."
12:45pm We polish off the Brown Line and continue south on the Red Line toward 95th. A rotund StreetWise vendor gets on at North/Clybourn. "Please, please, please buy!" she hollers. Surprisingly, some well-dressed commuters wordlessly purchase copies.
1:15pm Before we tag 95th, Danny gets a call from a juice bar where he recently applied for work: His five months of unemployment are over. A good omen.
2:05pm We catch the 63rd Street bus west across Englewood to Ashland and ride the Green Line north to Garfield. As the southbound Green Line to Cottage Grove pulls in, a man running up the stairs shouts, "Hold the door! Hold the door!" Reluctantly, we do.
3:39pm Arriving at Harlem/Lake, the western terminus of the Green Line in River Forest, we sprint one and a half miles southwest to the Blue Line's Forest Park station. As we hoof it past a group of schoolkids, I hum the theme from Rocky.
4:33pm At the Thompson Center, we transfer to the Orange Line. A young man slouches against the door of the train car. "Shit!" he yells when it slides open at State Street. His girlfriend scolds her dumber half: "That's why they say don't lean against the doors!"
5:29pm Returning from Midway, we move on to the Pink Line at Harold Washington Library–State/Van Buren, leaving the building's giant green owls in our taillights. It's the last leg of our journey—and we've got only about 38 minutes left if we're going to beat Fisher.
6:02pm Jumping out at 54th/Cermak, we book it to the turnstiles like marathon runners at the finish line. Having defeated the British invasion, we head a few blocks west to Klas (5734 W Cermak Rd, Cicero, 708-652-0795), a Czech restaurant where we toast our triumph.