Chicago's smallest cultural spaces
Art, dining and theater happen in some of the city's tiniest rooms.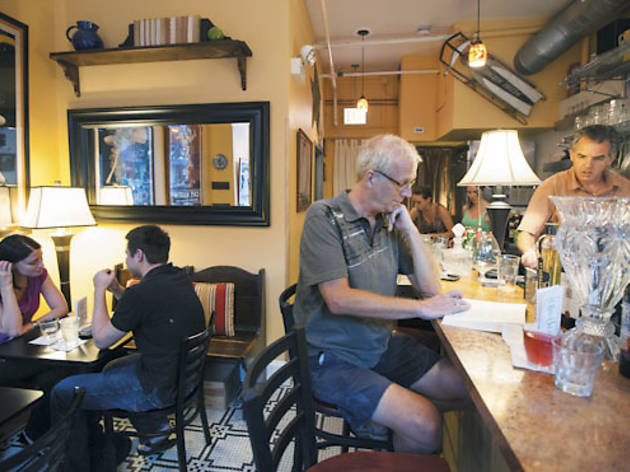 SubCity Projects (410 S Michigan Ave, tenth floor)
"It's basically a closet!" artist Candida Alvarez says of SubCity Projects, the gallery that occupies an alcove near her studio on the tenth floor of the Fine Arts Building. The exhibition space—six feet wide by five feet deep by eight feet high—is viewable only through a window in the hall. "It works with the architecture of the building. It's meant to be embedded."
This is the second incarnation of SubCity, which the tenured professor at the School of the Art Institute named after a Tracy Chapman song and began curating in April 2004. Back then, the shows were housed in a stationary elevator carriage on the building's eighth floor, until the landlord got nervous about liabilities and forced Alvarez to close SubCity in May 2005; she relocated it to its current spot in May 2009.
The veteran artist has long been fascinated with the quirkiness of underground galleries. Modest Projects, she recalls, was nothing more than a shelf in someone's house. "I love SubCity because it's all about an artist having an intervention with a space. It's not just about coming in and hanging something up," she says. "It's a challenge for most—but that's the whole idea."
While the hallway window has been papered over for more than a year—a consequence of a hectic SAIC schedule—Alvarez says several artists have inquired about exhibiting in the space, and a show is on the horizon.
The Alcove (512 Main St, Evanston, no phone)
Scott Bradley owns the smallest restaurant and bar in the Chicago area. His seven-week-old Evanston cubby beats out even that tiniest of taverns, the 460-square-foot Matchbox. "We're 400 square feet," Bradley says, "and that includes the bathroom."
Inside the former clothing store, where servers deftly squeeze past each other, there are 13 seats: four at the bar, nine at tables. The alfresco area in front seats eight. Martinis are made with Few Spirits gin, distilled down the block. A panini press takes the place of a stove. And because there's room for only one keg, a single beer is on draft.
It's not much, but it's enough for Brian Cox, a regular who lives a couple of blocks away. "I call this a nano-restaurant. You're not compounded with choices," says Cox, a reporter who covers the north suburban news beat for the Tribune. "It's reminiscent of the kind of hole-in-the-wall places in Paris or Rome or Florence that you see pictures of." The conspicuous absence of TVs and laptops contributes to the old-warm charm. "They intentionally don't have Wi-Fi," Cox says, "so people talk to each other."
Heartland Studio Theatre (7016 N Glenwood Ave, 773-791-2393)
"Packed house" has an unusual meaning at Heartland Studio. It seats 30—or 35 if folding chairs are set out.
"The hard part is finding shows that fit," says the theater's manager, Brettly Kawaguchi. But, he adds, "it gives a smaller theater group a venue for trying things out."
The Bohemian Theatre Ensemble, which currently leases the space, will mount a bluegrass musical, The Spitfire Grill, starting September 14. "Small theatrical elements suddenly become dramatic and exciting due to proximity," BoHo's artistic director Peter Marston Sullivan says of producing theater in the wee storefront. "It asks us as artists to strip a show down to what matters most: the story."