Chicago's summer ethnic festivals
Neighborhood ethnic fests are already a buffet of cheap, tasty eats, but if you want to pick up the perks of a paisano-faster service or an extra-large serving-you'll have to order like one.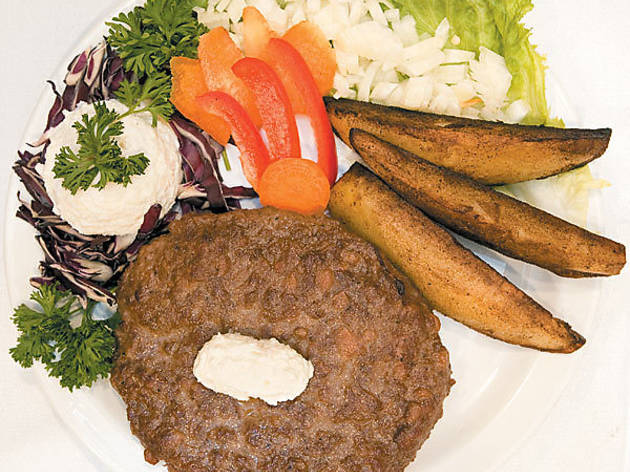 You got Serbed
If you think Americans are guilty of upsizing their burgers to absurd proportions, you haven't seen the Serbian pljeskavica, a mammoth, plate-size pork, beef and lamb patty. At Holy Resurrection Serbian Orthodox Cathedral's annual Serb Fest (Aug 9-11, 2013) on the Northwest Side, you can fill up on one of these grilled meat doozies for about $8.
Order like a local "Ej, brate, daj mi jednu maksi pljeskavicu." (Ey, BRUH-tay, dy me YED-noo MUCKS-ee PLYES-ka-veet-su)
Don't stop Belizean
At Washington Park's Belize Day in the Park (Aug 4, 2013), all the hand-drawn signs touting a litany of unfamiliar eats can make your head spin. But opt for a big bowl of traditional Belizean boil-up stew and you'll get to sample it all: The Creole specialty calls for simmering up a pot of root vegetables—yams, plantains, sweet potatoes and cassava among them—with fish, pigtail, boil cake dough and eggs. An order large enough for two comes with a side of plantains for about $13.
Order like a local Sylvana Woods, lecturer at the University of Belize, tells us how to order in Creole: "Ah kuh get sohm moa bail-op?"
Never Ghana get it
Eating at Ghanafest (Jun 7-9, 2013) in Washington Park is like being invited home for dinner by a Ghanian friend. That said, you can never be sure what the mamas manning the boiling pots will cook up—but one reliable annual stalwart is kenkey, a classic African dish made from fermented maize dough. Prices range from $3 to $5, depending on sides, which typically include salted fish, peppers and a vegetable stew.
Order like a local Foodie and native Ghanian Koby Larbi-Siaw gives us the best way to order: "Charley, make you give me the biggest ball of kenkey you get!"
Romania, meat mania
Every summer, the intersection of Addison Street and California Avenue transforms into what looks like a massive outdoor butcher shop for Taste of Romania (Aug 24, 2013). Hundreds of pigs and lambs impaled on spits—and even a 1,000-pound ox—are carried to large charcoal pits for roasting. If that scene is a little too reminiscent of Sinclair's Jungle, stick with a classic Romanian treat, charcoaled mititei, or skinless mincemeat sausages. Pile your plate and pair them with mustard and beer, and your palate will book it straight to Bucharest. A plate of about six sausages costs $10 and comes with salad and hand-cut french fries.
Order like a local "Hei, amice, da-mi o portie mai mare de mititei." (Hey, ami-CHE, deah-miy o PORT-zie mai mar-ay day miti-AY).