Chiditarod 2013 | Preview
The philanthropic shopping-cart race enters its eighth year.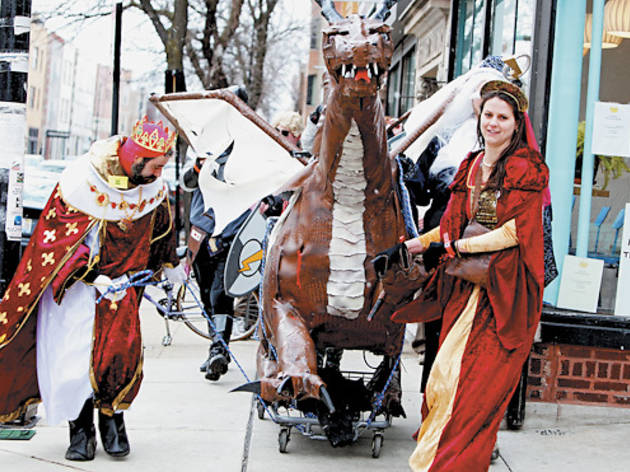 Sets of five outrageously dressed characters frantically maneuver a shopping cart down Division Street and Wolcott Avenue in East Village. One is a group of Muppets; another, a gang of hot dogs. A band of paramedics wheels a Whitney Houston dummy in a shopping cart outfitted to look like a bathtub as onlookers cry, "Too soon, too soon!" They're all past participants in the Chiditarod.
Now in its eighth year, the Chiditarod, whose name alludes to Alaska's famed Iditarod Trail Sled Dog Race, is a 21-and-over charity event. On Saturday 2, teams of five will race shopping carts carrying 55 pounds of food to and from set destinations (in the past, they've usually been bars). All of the fund-raising happens before the bout, so on the day-of, teams get drunk, perform ridiculous skits and sing karaoke at check-in points. Finishing the race? Optional.
"There were two [Urban Iditarods] that existed prior to ours—San Francisco and New York—but neither race had a cause attached to it," says founder Devin Breen, 32, a production-tools engineer who lives in Logan Square. "Chiditarod was the first Urban Iditarod to incorporate charity into the event." Breen, who moonlights as a fire dancer, says he wanted to create an outlet for people to express their creativity. "We offer a platform for anyone to be an artist, regardless of their background and skill."
To date, Chiditarod's participants have collected 75,000 pounds of food and raised $40,000, which have benefited organizations like the Chicago Anti-Hunger Federation, the Cottage Grove Heights Community Coalition and the Greater Chicago Food Depository. It's become a venerable tradition for people like Liz Lux, 32, a Rogers Park resident and seven-year member of the team 3 Girls, a 'Stache and a Tail, 7th Ed. She joined her first Chiditarod after a friend saw the event and thought it would be a good way to advertise his website, Drinktown.com. They dressed up as vodka bottles. "He brought his iPad and speakers, and it was just disastrous," Lux says. "But it was hilarious."
Action-Squad is one of the most respected Chiditarod teams, thanks to the craftsmanship it puts into its carts, like its Wild West–themed stagecoach in 2011. Last year, Action-Squad won Best in Show and People's Choice for its smoke-breathing dragon cart. (Other Chiditarod awards include Best Art Cart, Most Epic Fund-raiser, Most Food and Best Bribe.) Action-Squad is also the second biggest fund-raiser in Chiditarod history, having raised $9,363 over the last two years. (Team Derailers is No. 1 with $11,150.)
While many teams work on their carts sporadically, for Action-Squad it's a part-time job. "We get together every Saturday from January 1 to race day [to work on our cart]," says Ryan Engblom, 35, of Lincoln Square. "Even our planning meeting was six hours long." In their workshop—team captain Jeff Dzyacky's West Rogers Park garage—a plank from their 2011 stagecoach sits beside the dragon's head. "The dragon's eyes glow red when the batteries are in them," Dzyacky, 40, says. He's tight-lipped about their 2013 theme, but he insists, "We have to make it as good as possible, because if it's not cool, then why did we work on it for two full months?"
The Chiditarod starts at the corner of Wolcott Avenue and Hubbard Street Saturday 2 at noon. Visit chiditarod.org for more information.