Chocolate Shops of the South Loop
There's a whopping six boutique sweet shops in the wee confines of the South Loop. And one tour company has figured out how to sample them all in one...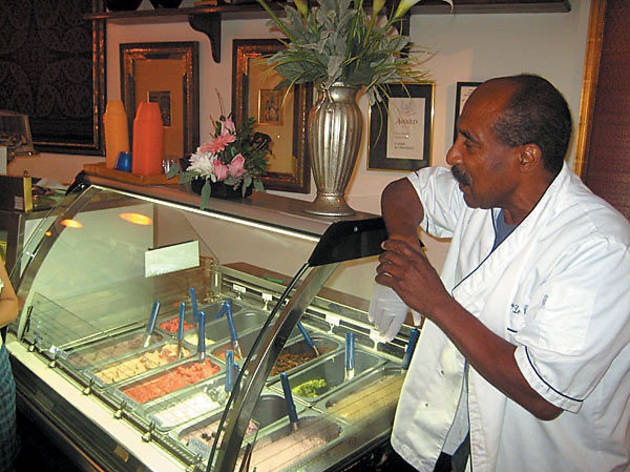 There's a whopping six boutique sweet shops in the wee confines of the South Loop. And one tour company has figured out how to sample them all in one evening: Since 2005, Chicago Chocolate Tours has offered folks—mostly sweet-craving bridal parties, lovey-dovey couples and gastro-curious tourists—a back-door tour of local chocolatiers. I joined a group of ten cacao lovers on a journey of the South Loop's sweet side.
I'm a salt junky, but the aroma from Canady le Chocolatier's handmade yellow lemoncellos, green pistachio-encrusted truffles, and red and dark-brown honeycombs was as inviting as Michael Canady, the laid-back owner. The well-traveled confectioner, with the Middle Eastern artwork to prove it, casually spoke to our guide CatieLeigh in Italian, while we munched on frutti di bosco, a ganache so moist I barely had to chew.
On to the next stop. At a traffic light, CatieLeigh shelled out tourist-friendly Chicago facts, wobbling through a description of Grant Park's Agora sculptures—maybe not the sweet eater's strong suit.
We followed our pied piper to Panozzo's Italian Deli for Baratti e Milano chocolate chunks with strangely savory toppings: white chocolate with a dried Torremaggiore olive and dark chocolate with balsamic vinegar and toasted fennel.
Then we headed next door to Marble Slab Creamery, a local ice-cream maker. The glass jars of trimmings—sprinkles, candy bars, nuts and cookies—would put Wonka and his factory to shame. We sampled three flavors of our choice and ate one scoop of Almond Joy—a double dark chocolate mix with almonds and coconut that's not cloying like the ubiquitous Baskin-Robbins flavor.
Without a guide, I would never have found our next destination: Smartly decorated with wooden carvings and tree-stump bar stools, the aptly named Little Branch Café resides in a nook overlooking the The Field Museum. Tatted duo Andrew Baker (mixologist) and James Kubie (baker) created the Robin, a smoothie with chocolate chunks, gelato, fudge and strawberries—a bit too rich for my liking, but the tour group left pleased. Fluffy cupcakes, both red velvet and buttermilk, along with the brownies, also passed our crew's taste test.
Footing it through the residential area, we arrived at Three Peas Art Lounge. The 1,100-square-foot hip gallery features a smattering of local art—and a dessert bar. The night's offering was chocolate cake with a tart cream-cheese frosting. By now, the bite-size pieces had me feeling stuffed. Instead of skipping my morning workout, I wished I'd passed on my lunch.
With only a few more blocks until our final destination, CatieLeigh began to discuss the nabe's history, pointing out the architecture of the Chicago Firehouse Restaurant and Old St. Mary's Catholic Church. For the finale: paired drinks and desserts at WineStyles, a mellow wine bar. We nibbled lavender-infused, black-cherry and black-currant Belgian-style chocolates from local chocolate makers and sipped three smooth, berry-flavored wines including a ruby port.
Our stomachs told us a couple of hours had passed, and I left a salt lover converted.
Sign up now! To register, call 312-929-2939 or go to chicagochocolatetours.com. Meet at Canady le Chocolatier, 824 S Wabash Ave; Spring and Summer only, Wednesdays at 5:45pm; $40.