Classes to take even if you're happily employed
Fun and educational courses.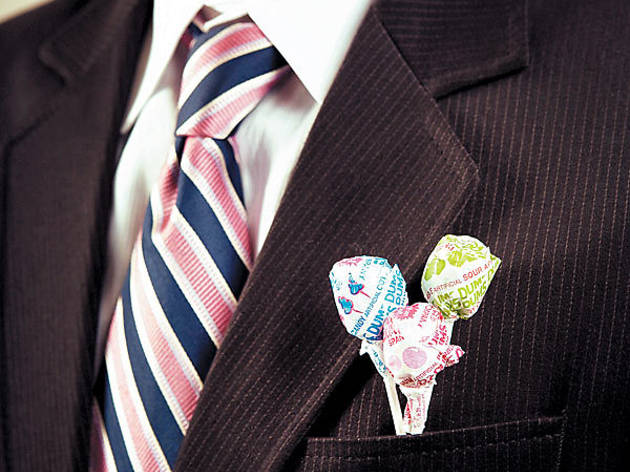 Develop new interests
You (1) really dig your job, and (2) know it's secure. We're happy for you—really, we are—but we want to make sure you have something besides your boss and coworkers to talk about when you get together with friends. To the rescue: an array of life-enriching classes that will keep your mind sharp, your résumé solid and your soul filled outside of your cubicle walls.
Treat yourself
The cheerful colors, the gobs of sugar: cupcakes and other sweets are like a happy pills that taste amazing. Learn to whip up crave-worthy flaky croissants or the homespun treats of your choice during an hour-long lesson with Bleeding Heart Bakery's Michelle Garcia. 1955 W Belmont Ave, 773-327-6934, thebleedingheartbakery.com, $150 per hour.
Be more flexible
Don't have time to squeeze in both the exercise to keep you limber and the language skills to keep you sharp? Multitask avec the Alliance Française's French Pilates class and build strength, flexibility and vocab in one fell swoop. If being red faced and sweaty isn't your idea of sexy, just wait until you try it with a French accent. 9:15am every Friday, 810 N Dearborn St, 312-337-1070, af-chicago.org, $145 members, $175 nonmembers.
Top chef
If you've always wanted to take your home cooking to the next level, but feared life beyond microwaved mac and cheese, sign up for boot camp at Kendall College. After two intense days, you'll return to your home kitchen with a foundation in everything from grilling to soups and sauces to braising, roasting and poaching. With the chops to cook up food this good, you won't mind that the days of expensing dinner to your company are long gone. 900 N North Branch St, 312-752-2000, kendall.edu, $295.
Speak easy
Public speaking can be a fear worse than death, but once you've made a complete fool of yourself in front of strangers (and had fun doing it), your next wedding toast/work presentation/interview/(insert terrifying event here) will be a breeze. Hone presentation skills and learn to think quicker on your feet in the eight-week Improvisational Building Blocks class at Second City Training Center. For a shorter commitment, hit a Sunday drop-in class ($10). 1608 N Wells, 312-664-3959, secondcity.com, $275.
A chorus line
Yes, Rockband is an awesome video game. But you know what's even better? The real thing. School yourself in learning to play an instrument, tinkering with song lyrics and more with one of the eight-week classes on offer at Old Town School Of Folk Music. Classes meet throughout the year and schedules are updated regularly. 4544 N Lincoln Ave, 773-728-6000, oldtownschool.org, most eight-week courses start at $160.
Green with envy
Give yourself something besides spreadsheets to attend to before and after work by picking up some gardening skills. Aspiring green thumbs can enroll in continuing education courses at the Joseph Regenstein, Jr. School of the Chicago Botanic Garden. Classes are available in a variety of topics and for every skill level, including beginning gardening classes, seminars, flower arranging and botanical arts programs. Attend a free open house August 26 to learn more. 1000 Lake-Cook Rd, Glencoe, 847-835-5440, chicago botanic.org, prices vary.
Picture perfect
You've got the moolah to pay for a vacation, why not learn how to capture moments you'd rather not leave solely to memory? Practice the skills in an intro to photography course at the Hyde Park Art Center. You'll get familiar with shutter speeds, f-stops and composition, and spend some quality time in the dark room or navigating Photoshop. 5020 S Cornell Ave, 773-324-5520, hydeparkart.org, $250 members, $270 nonmembers.
Loving Frank
Frank Lloyd Wright fans can get their fix with loads of one-and-a-half hour classes on all things building- and design-related, courtesy of the American Institute of Architects. On Tuesday 18, experts will discuss the greening of Willis Tower (formerly the Sears Tower). Fun fact: As the tallest building in the Western Hemisphere, Willis Tower has reduced its energy use by 30 percent since it opened. 35 E Wacker Dr, 312-670-7770, aiachicago.org, most classes and tours are free for members and nonmembers.
Twinkle toes
You've been tempted to bust out some moves after seeing how smolderingly sexy the tango is on Dancing with the Stars—hey, no judgment here. Take it up a notch: Tango in Chicago offers lessons in the Argentine dance for beginners, intermediate and advanced folks. 1535 N Dayton St, 312-296-1955, tangoinchicago.com, $95 singles, $190 couples.
Cheers to that
You love a good craft beer—maybe you've even dabbled with your own brew at home. Have we got the class for you. Beer lovers can start with the three-day Start Your Own Brewery course at Siebel Institute, learning about perfecting their own batch of beer and how to market it effectively. There are dozens of other Web- and classroom-based courses on offer, should you feel thirsty for more beer-ducation. 1777 N Clybourn Ave, 312-255-0705, siebelinstitute.com, $1,255.
Write on
Whether you're secretly writing a novel or just want to brush up on your communication skills, the University of Illinois at Chicago offers a variety of continuing education classes from Working with Grammar to Business Writing. Check the website for upcoming workshops. 1333 S Halsted St, 312-355-0423, uic.edu, prices vary.
"Even the best employers can't offer individuals everything they need to keep building their skill sets and experience. It's easy to become lax around career development, especially if you're not unhappy with your current situation. However, this can be the best time to explore new learning opportunities; it's a way of being proactive in your career."—Arlene Hirsch, a career counselor at Arlene S. Hirsh & Associates