Classes to take while you look for work
Cure your boredom-and fluff your resume-with these classes.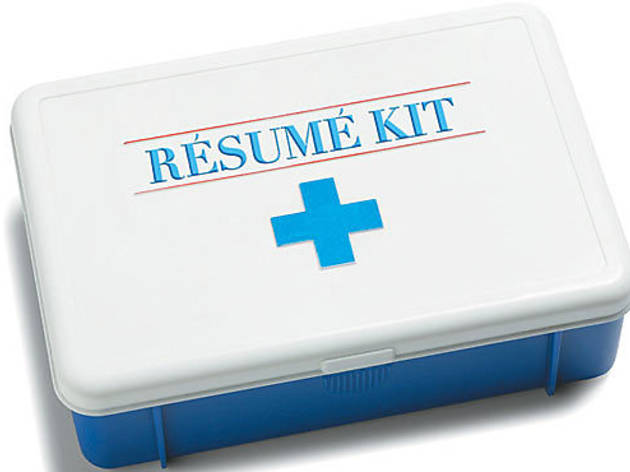 Get out of the house
It's a law of the universe: An object at rest stays at rest. So you probably should not still be in your pajamas at three in the afternoon, are we agreed? Force yourself out of the house—and help maintain your sanity in the process—by having some fun out in the real world (and maybe learn a little something while you're out there).
Sew fun
Fabric store the Needle Shop offers Sewing 101 classes that start with basics and advance all the way to making (and taking home) your own zippered pillow. It'll give you something to lord over (sorry, we mean share with) your interviewer once you get a shot at that fashion or design job you've had your eye on. 2054 W Charleston St, no phone, theneedleshop.net, most classes cost $70.
The play's the thing
Whether you're an aspiring screenwriter or just want to be the advertising guy who composes scripts for TV commercials, the playwriting classes at Chicago Dramatists will give you a chance to practice writing dialogue. In the two-day It Happened One Weekend class, you'll write a one-act scene on Saturday and see it performed on Sunday. That's our kind of instant gratification. 1105 W Chicago Ave, 312-633-0630, chicagodramatists.org, $170.
Stand and deliver
Interested in learning how to present yourself like a pro, but not into sitting through supercorporate classes about interviewing or presentation skills? Chicago Toastmasters is the social club for you. Membership gets you into twice-monthly meetings, where you'll improve your public-speaking skills and powers of persuasion. 30 N LaSalle St, 36th floor, info@chicagotoastmasters.org, chicagotoastmasters.org, $16 joiner fee, then $3 a month.
Camera action
Time to find out if that camera you got for Christmas could lead to your new professional calling. Classes at the Chicago Photography Center range from what's-a-viewfinder simple to my-bedroom's-a-darkroom complex. One of the free Saturday workshops is a good place to start. 3301 N Lincoln Ave, 773-549-1631, chicagophoto.org, free.
Drink in the knowledge
Maybe you're waiting tables and you'd like to get a foot in the kitchen; maybe you just want to land a server job somewhere nice—you know, a place with tablecloths and a wine list. Get a grape education at Chicago Wine School. The five-week The Basics course starts at the beginning; those already in the know can skip straight to The Varietals. Snobs. 1942 S Halsted St, 312-491-0284, wineschool.com, classes start at $45.
Get Oriented
Learn Mandarin Chinese, and not only will you look like a smarty-pants, you'll be able to converse with our overlords once the Chinese finally call in all of our national debt. The University of Chicago's Graham School of General Studies offers a yearlong beginning Chinese series, held at the downtown Gleacher Center; it starts each fall, so if you want in, now's the time to register. Prof Yuxiang Liu is a native speaker with the patience of a saint. 450 N Cityfront Plaza Dr, grahamschool.uchicago.edu, 773-702-1722, $375 for eight-week course.
On the green
In some circles, golf is a job skill. Those could be your circles! Membership in the New Golfer Social Club at Get a Grip Chicago buys you beginner's classes, two clubs and a chance to go on nine-hole golf outings, where you can schmooze as if you know what you're doing. Multiple locations, 773-592-6405, getagripchicago.com, $395.
French connection
While you're looking for a job, at least you can earn your keep at home. A delicious tart or gratin that you learned to make in French cooking classes at Cook Au Vin will quiet any grumbling from housemates tired of heading to work while you scan the want ads in your pajamas. 2256 N Elston Ave, 773-489-3141, cook-au-vin.com, classes start at $85.
Get to the art of it
You can't follow your bliss until you know what the hell your bliss is. Give your aimless soul-searching a little direction at the Lillstreet Art Center. The First-Time Artist classes give you a chance to try out something new, with offerings from screenprinting to knitting. Good luck finding a career in knitting, though. 4401 N Ravenswood Ave, 773-769-4226, lillstreet.com, classes start at $115.
What a lifesaver
With CPR certification on your résumé, you'll seem responsible, caring—and really useful to have around. Harold Washington College offers a two-day, 12-hour certification class where you'll learn how to help out in cases of cardiac arrest. 30 E Lake St, 312-553-5600, hwashington.ccc.edu, $50.
Photo: Nicole Radja
"If you have an interest in something, pursue it. Often, it's going to wind up being more germane [to your career] than you'd think, and it's nice, when someone asks you what you're up to, to be able to talk about something you're really interested in."—Laura Sterkel
Clean up your act
|
Education for a new career
|
Classes to take while you look for work
|
Financial fitness classes
|
Free and cheap stuff to do while you're out of work
|
School your way back to the job you deserve
|
Start your career comeback with these network events
|
Classes to take even if you're happily employed
|
Seth
|
Diane
|
Fred
|
Julie