Collective souls
A studio of one's own is a universal goal for artists, and banding together is one way to achieve it. Here's the backstory on nine collectives offering a rare peek at the art-making process during Chicago Artists' Month.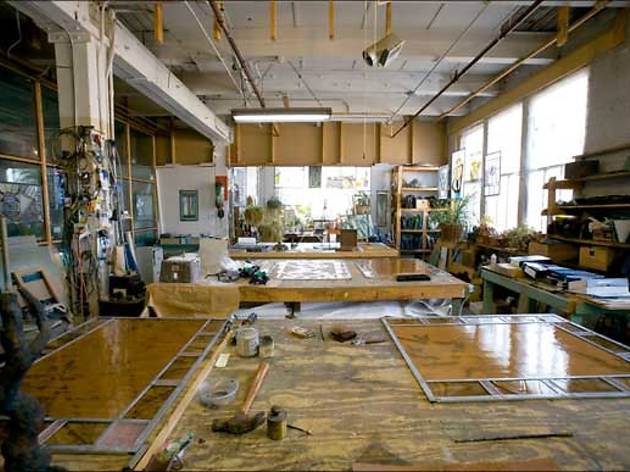 Carroll Albany Arts Building and Switching Station Artist Lofts
This massive, labyrinthine building is actually two connected buildings with an equally vast garden in the rear. Überprolific glass/bronze/ceramic artist Sharon Bladholm is the matriarch of the building, having kept a studio here for the past 17 years. When she first moved in, only entire floors were available to rent, but when owner Chris Loutris took over about seven years ago, the floors were divided up into smaller spaces.
"It takes a certain amount of critical mass to create community," says Bladholm, who notes that when she first moved in she was one of only ten artists, and the neighborhood was pretty rough. It has changed over time, and according to Chris Jackson—who runs Jackson Junge, a custom framing business, with painter Laura Junge—another studio building has opened nearby that rents to musicians.The building is home to painters, sculptors and designers who work with metal and wood, a kite maker, glass workers, the Incurable Theater (puppetry) and a kayak manufacturer.
About eight blocks from Carroll Albany is the Switching Station Artist Lofts. Housed in a building that was once a telephone-switching station, this studio community has the distinction of being the only affordable artist live/work rental project that was initially developed by the city.According to Barbara Koenen, directorof the city-supported Chicago Artists Resource, "It's definitely a success becauseit's full of artists who are playing a role inthe community."
There are 24 units ranging from small studios to three-bedroom apartments occupied by painters, sculptors, poets, playwrights, theater directors and musicians—some with families.
According to resident Nancy Vachon, a paper- and book-maker who teaches at Columbia College, because the building is linked to HUD and government groups, the rent is low and will stay that way.
"The only thing we're really missing is a really raw collaborative workspace, someplace where everyone could get down and dirty," Vachon says.
CAAB: 319 N Albany Ave (773-638-3500). Open house: Oct 15, noon–6pm.
SSAL: 15 S Homan Ave. Open house: Oct 14, noon–6pm.
Dayton Street Studios
The band of artists here rented space on the tenth floor of the Art Institute building at 847 West Jackson Street, until it was converted into condos a year ago. Using a system similar to the one they set up on Jackson, one tenant—in this case, painter and installation artist Nicole Gordon—leases the two large studio spaces on Dayton Street and subleases parts of the space to fellow artists."Other than sharing studio space and that we all worked together at the Jackson Street building, we're all individual artists," painter Millie Marnin says. "Mostly painters."
According to Nancy Albrecht, it's a perfect setup because there is also a woodworker in the building (Joel Fromer) who makes frames, and an art photographer (Tom Van Eynde).
The two studios have sparse partitions and get lots of sunlight. In the studio at the front of the building, Marnin, Albrecht and Nick Bridge all paint in a wide-open portion of the room, with Sharyl Noday—a painter and sculptor—and painter Barbara Herring working in smaller rooms to the side. The atmosphere throughout is warm and accessible. According to Gordon, "We've always been an open-door studio."
1456 N Dayton St, suites 202 and 203 (312-404-2726). Open house: Sat 7, noon–3pm.
The Splat Flats
Housed on the second and third floors of the buildings at the east and west ends of L. Miller & Son's lumber company in Wicker Park, these studios defy neighborhood convention by being affordable to struggling artists. The 28 work spaces are small—averaging 120 square feet—but max out at $250 a month.
In the 1920s the studios were rooming houses—but as the need for such boarding dried up over time, the spaces fell into disarray.
Resident painter and writer Valerie Pell, who manages the studios, says she was offered that job when she visited Miller & Sons in August of 2004 looking for a piece of glass to replace a cracked tabletop. "At first I thought [company president Bob Miller] was asking me if I wanted to rent a space," Pell says. "But he wanted me to help him set the spaces up to rent to artists."Pell accepted, and renovations began that fall and were completed in August of 2005. The spaces filled up quickly.
"It's relaxed, but it's also very organized," says Judy Higgins, a graphic designer who also runs a small business, Noh Design, out of her space at the west end. With its small desk and economical shelving, Higgins's studio looks a little like a dorm room minus the bed.
"It's sort of a new thing for us," says Miller's mother, Ruth, sitting behind the counter downstairs surrounded by stacks of wood, "but we love it."
1815–25 W Division St (773-278-6740, www.thesplatflats.com). Open house: Fri 6, 7–10pm.
Ravenswood Studios
In 1994, Hugh Spector bought a house on Ravenswood Avenue specifically for its garage space out back. He didn't do this to keep a pampered Porsche out of harm's way, but rather because the garage was large enough to turn into studio spaces. A multimedia artist who specializes in story boxes—windowlike frames that look in on collages he creates using found objects—Spector formerly held a space at Lillstreet Art Center (since relocated to 4401 N Ravenswood Ave, 773-769-4226) more than a decade ago.
Now he and his power tools share the first floor of the garage with his wife, Eileen Ryan, and her photography studio. Upstairs there's a vacant studio with a kiln and two more slots occupied by Emily Evans and Krista Franklin, who run Naïveté Studios and the newly minted Naïveté Artist Co-op, which provides workspace and supplies to local or visiting artists, musicians and writers.Spector keeps the space open for neighbors to show their work as well. Although he says it's seldom that everyone is in the garage working at the same time, it's not a big deal when it happens: "We've always had a small group of respectful people working together." The spaces that Evans and Franklin use overlook Ryan's studio, and the open stairwell leading up to them begins close to Spector's power tools, so the familial environment is unavoidable.
4865 N Ravenswood Ave (773-784-4968, www.spectorstorybox.com). Sat 7, Oct 14, 11am–4pm.