Come in, we're open!
Sick of movie marathons at the multiplex on Christmas or New Year's Day? Hit up these spots and events.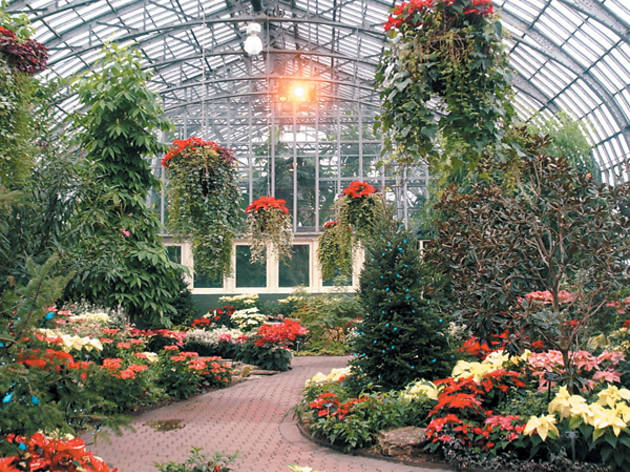 GARFIELD PARK CONSERVATORY
The temps inside the greenhouse are so warm, you may forget about the frightful weather outside. For your viewing and photo-op pleasure, enjoy the annual holiday flower show's red poinsettias, blue Jerusalem cherries, koi ponds and sculptural art. 300 N Central Park Ave (312-746-5100). Open daily, 9am–5pm, Wednesdays 9am–8pm. Free, donations welcome.
NEW YEAR'S DAY 5K RUN/WALK
Forgo those last few shots of tequila on NYE—your new fitness plan begins at the starting line of this 26th annual run. Besides, you can booze it up at the after-party. Southeast corner of Stockton Dr at Fullerton Pky (773-868-3010, chicagoevents.com). Jan 1 at 11am. $30.
JOHN HANCOCK OBSERVATORY
Bring the little ones on New Year's Day for a go around the much-anticipated faux ice-skating rink opening January 1 (last ticket sold at 10pm; $5 per 25-minute session, rental $1). Even if you're a native who can remember when the big, red-lipped Magikist signs towered over the expressways, a visit to the 94th floor never gets dull. Step outdoors, on the open-air skywalk, if you dare. 875 N Michigan Ave (888-875-8439). Open daily, 9am–11pm. $15, kids free through Dec 31.
MORTON ARBORETUM
The buildings are closed on Christmas, but the grounds are open, so bring your snowshoes or winter boots. After all the overconsumption of holiday cookies and eggnog, a nine-mile nature walk might be what you need to keep the winter flab at bay. 4100 Illinois Rte 53 (630-968-0074). Dec 25, 7am to sunset. Free.
BAGEL RIDE
This annual holiday bike ride covers about ten miles, depending on the weather, and ends with a kosher meal at the Bagel Restaurant & Deli in Old Orchard Mall in Skokie. Meet at the Robert Crown Community Center (1701 Main St, Evanston, 847-275-9094, chicagocyclingclub.org). Dec 25 at 10am. Free.
Saber a Champagne bottle
|
Pretend you're drinking at a holiday party when you're knocked up (but not ready to spill the beans)
|
Open those f#%*ing clamshell packages
|
Assemble a proper cheese plate for your holiday party
|
Wrap a gift using just two pieces of tape
|
Fake liking a gift
|
Make the most of working on Christmas and New Year's
|
Go out on Christmas and New Year's Day
|
Be a Scrooge
|
Stock the ultimate holiday bar on the cheap
|
Host a guerilla New Year's Eve party
|
Handle flight cancellations like a pro
|
Convince your Internet-savvy kid there is a Santa Claus
|
Ask for a gift receipt
|
Kick ass at a white-elephant exchange
|
Catch a cab on New Year's Eve
|
Not look hungover in front of the fam
|
Handle gift-giving when you're dating someone you're not sure you like
|
Proudly belt it at the DIY Messiah
|
Create awesome party playlists