Connections superstars
Networking powerhouses make all the right connections.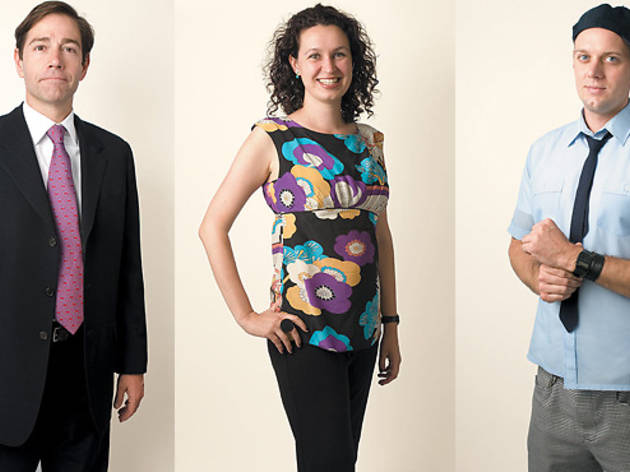 If one more friend helpfully offers, "It's not what you know but who you know," you're gonna scream, right? But when it comes to job searches, dammit if it isn't true. You may think you've already maxed out all your contacts, but it's possible you're overlooking someone who may not work in your field but could be one of your most valuable assets: the connector. As defined by Malcolm Gladwell in The Tipping Point, a connector is that person who can't walk out of the house without bumping into someone he or she knows—from all walks of life (Gladwell cites Chicago Commissioner of Cultural Affairs Lois Weisberg as a legendary connector).
"[They] seem to know everyone," explains Chicago career coach Jeremy Wicks, president and cofounder of Cornerpiece Consulting and the Leadership Advisory Board (444 N Michigan Ave, suite 1820; 312-755-7000, cornerpiececonsulting.com). "They establish relationships with everyone they meet. They seem to live in multiple worlds and network and socialize with a very large and very diverse group of people."
The best part: Just about everyone knows at least one connector. "They are typically outgoing, friendly and very self-confident," Wicks says. "They have very high levels of emotional intelligence and very easily build long-term relationships with almost everyone they meet. They are typically extroverts who enjoy being active in networking events, social events, clubs and with friends."
Sound like anyone you know? If so, shoot them an e-mail—pronto. Or check out the profiles of these six connectors who live and work in Chicago. Friend them on Facebook, connect to them on LinkedIn, follow them on Twitter. Their networks could be the key to your future and, best of all, each is willing to help you make connections.
EVA PENAR,
32, manager of public relations for the Chicago Community Trust
Friends on Facebook 762
Job hookups At least 15
Her story Sure, Penar is constantly referred to as one of the kindest, most outgoing people in town, but the Norwood Park resident has plenty of other qualities that make her an incredible asset. She speaks three languages, grew up in Chicago, and has worked in the public, private and nonprofit sectors (including right here at TOC). "My network is impressive," she admits. "Plus, I love talking to strangers. I strike up conversations on planes, buses and El trains all the time. I guess you can say I collect people. Almost as soon as I meet someone, I think about who I know that can help them achieve their goals."
Networking advice "Saying thank you is key, and mean it! I tell everyone to send someone a handwritten thank-you letter. That is how you stand out in the crowd."
STEPHEN WESTMAN,
31, managing partner of Angels & Kings (Chicago, NYC and Barcelona)
Friends on Facebook 350
Job hookups More than 25
His story It seems as if everyone knows Westman or knows someone who knows him. In addition to his role at Angels & Kings (which TOC readers voted "best new bar" this year), the Lakeview resident is also co-owner of the restaurant 44th Ward Dinner Party in Lakeview. Other past jobs include working as the "vibe manager" creating rock & roll ambience at the Hard Rock Hotel when it opened. "I don't think I necessarily know a ton of people; I think I know many talented people," he says. "It's more about quality than quantity. I go out of my way to help talented, passionate people—whether or not there's any personal benefit. I'm a strong believer in karma and that my willingness to hook people up will come back to me at some point."
Networking advice "I think networking is most effective when you're seeking to pursue a passion—not seeking access or an impressive Rolodex. I also believe there should be an inherent spirit of reciprocity in the networking process—you want to be able to give back as much as you get."
LINDSEY GLADSTONE,
34, national kids editor, DailyCandy
Friends on Facebook 532
Job hookups "Probably only a dozen or so. The connecting I tend to do is between people who do similar or complementary things, have businesses that could work together or share passions," Gladstone says.
Her story Gladstone started her professional life in the crazy world of Chicago copywriting, which put her in the heart of the huge advertising scene in the city. After becoming the Chicago editor of lifestyle newsletter DailyCandy, she immersed herself in a variety of local scenes: dining, fashion, culture, nightlife and more—meeting thousands of people along the way. Now she runs the site's national kids' section. "Part of my job has always been to keep one ear to the ground and listen," she says. "That's a big part of what I do. When I interview people about their businesses, I always find that their back stories—the why and how they got into it—offer the most insight into them and their passions."
Networking advice "Be genuinely interested [in what others are saying]. Don't worry about the outcome of the conversation. The most interesting opportunities come your way when you are present and not trying."
SUSANA LEYVA,
43, principal at Jayne Thompson & Associates PR
Friends on Facebook 50
Job hookups More than 100
Her story After working in PR and corporate communications for almost 20 years (ComEd, United and Metra are just a few of her past employers), Leyva knows the secrets to networking. "It seems whenever people start their hunt for jobs or freelancing gigs, I'm on the short list of where to start," says the Lakeview resident. "I hooked up two people for interviews the very day they got laid off and have gotten several of my friends multiple jobs. I even introduced one to her husband." Why is she so good at networking? "I can spot talent in a nanosecond," she says. "My colleagues, my clients, my friends trust that if I make a referral on a person, a product, a place or an experience that it will be something special."
Networking advice "Networking is like running your own personal political campaign. The secret of being a good campaigner is not having the best platform or even the best communication skills—it's being someone who genuinely likes connecting with new people, and the more different from you, the better."
LINCOLN ELLIS,
38, managing director, Linn Group
Friends on Facebook 241
Job hookups More than 40
His story Former New Yorker Ellis is a businessman with a passion for the arts, which gives him access to two very different worlds. Past jobs include positions at RCA Records North America, the Associated Press, the World Policy Institute, Columbia University Press and Morgan Stanley. And while he works as a hedge-fund manager by day, at night he is a culture vulture, mainly focusing on his work as a trustee with the Chicago Opera Theater. "There are two reasons I get up in the morning, and they are directly related: to learn something new and to meet someone I don't know," he says. "I am an information sponge."
Networking advice "Be open and honest. People who you want to connect with can tell when you are BSing. And remember: No job—especially if you are under 30—is below you."
JAIME VITERI,
41, founder, Chicago Latino Network
Friends on Facebook 2,703
Job hookups More than 1,000
His story As the founder of the Chicago Latino Network—a twice-weekly jobs and cultural-events newsletter that reaches more than 43,000 Latinos in the Chicago area—Viteri sits at the nucleus of Chicago's Latino community. His goal as an entrepreneur? Bring together people who are "looking for content that reflects their unique lifestyle, issues and culture." In fact, in 2006 the Chicago native received an award for "Best Networker" by the NetWorlding organization, which helps build businesses via effective networking.
Networking advice "Network within different circles. Participating in the same networking circle is becoming increasingly common. This is problematic because you find yourself falling into a social network rather than building a wide array of business and professional connections."