Damn right they got the blues
Two music lovers discover there's more to Chicago's most famous music genre than Halsted Street.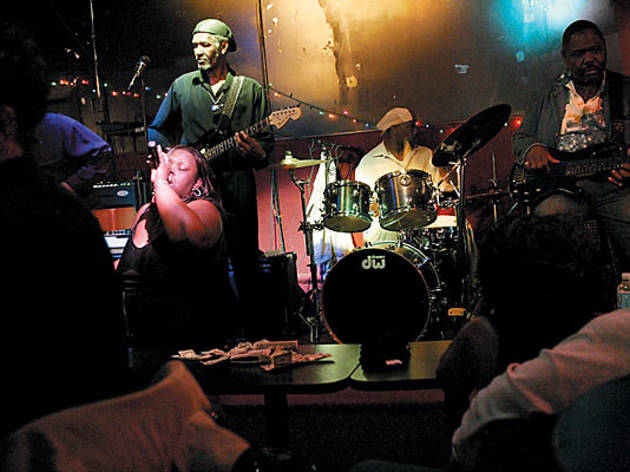 Photograpgh: Michael Jarecki
Photograph: Michael Jarecki
Kingston Mines (2548 N Halsted St) has a rep for being the place to take tourists who want to hear Chicago blues. The club's known for a rotation of the same ten or so bands, usually playing in two separate rooms, night in and night out with a $12 cover charge. One recent night, I went there with fellow TOC writer Matthew Lurie, and everybody seemed to be either visiting from elsewhere or part of an office party.
Chicagoan Nikki Bond brought along her friend John Anderson from Colorado. By far the more talkative of the two, Bond explains she chose Kingston Mines because, "My sister said it was the place to go for a Chicago experience." After we gently assure them they aren't getting the most authentic taste at the Mines, they agree to take a cab down south to Lee's Unleaded Blues (7401 S Chicago Ave, 773-493-3477).
Lee's is a top Chicago blues venue, but it lacks the central location and publicity to make it a huge tourist draw. While Kingston Mines is fine for Stevie Ray Vaughan–style "rock blues" (Joanna Connor was covering Jimi Hendrix's version of "Hey Joe" as we were leaving), Lee's is a true chitlin'-circuit blues palace.
Photo: Michael Jarecki
In contrast to the Mines' mainly white clientele, Lee's (which has no cover charge) is dominated by older African-American couples dressed in their Friday-night finest-—men in double-breasted suits, women in sparkly dresses. And while Kingston Mines has a stand near the doorway selling T-shirts and shot glasses emblazoned with the club logo, Lee's has a gentleman in the doorway selling random objects that have nothing to do with the club (buttons, visors and Obama paraphernalia) while Johnny Drummer cruises through a set of down-home Southern soul-blues. The crowd screams when "Miss Peaches" (an occasional Johnny Drummer vocalist) saunters up while another regular, "Ms. Fannie," gets onstage to do her thing-—wiggling her butt and grinding her hips.
The scene impresses Bond and Anderson—even though they loved Joanna Connor back at the Mines, they spent most of her set chatting and Anderson seemed indifferent to the performers. At Lee's , however, he snaps to full attention, laughing and reacting in the moment. Bond agrees: "I have a huge preference for Lee's! We wound up at the Mines by default, because when you don't know about something, you tend to go to the obvious places. Lee's seemed to be about tradition, and that's what makes it more authentic."
Want to live like a tourist for a day? Click here for your chance to win a free pair of tickets to Chicago's hottest tourist attractions.