Dating events for singles
Still searching for your valentine? Happy hunting at these singles mixers. "We really come for the cheap beer."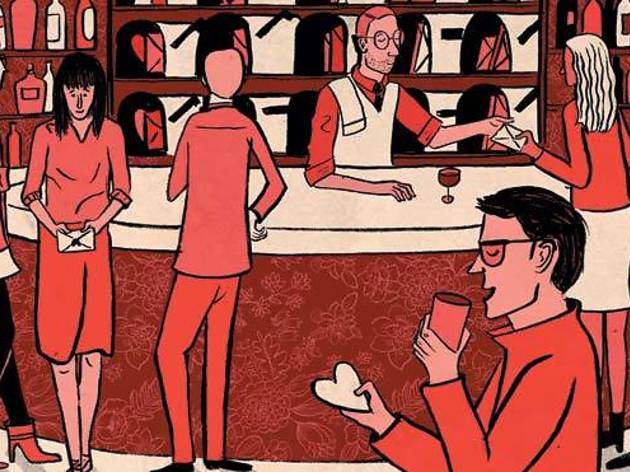 Post Office Thursdays This weekly fixture at Lakeview sports bar Durkin's is either a genius move—channeling all the awkward, lo-fi charm of childhood valentines into one boozy, adult experience—or it's a traumatic flashback to elementary-school rejection.
Every Thursday since 2003, Durkin's has invited patrons to write love notes to that alluring stranger at the end of the bar. Each participant receives a numbered sticker; if someone catches your eye, write a note, put your cutie's number on it and slip it in the mailbox at the front of the bar. Bartender/mailman Aaron Dias puts the notes in envelopes and tacks them to a board.
When I mention that the first time I attended Post Office Thursdays everyone was watching the Blackhawks game, Dias says, "Things get busy around 10, 11pm, when people have had a few drinks in them."
On a recent Thursday, with only an MSU and Illinois game to distract them, bargoers engage with the P.O. process, dropping notes in the box and eyeing one another over drinks. "I came here with my girlfriend, and she got, like, three messages, and I got one," a tall guy says. "We really come for the cheap beer," he adds. (Bud Light products are $2 on Thursdays.)
A binder of laminated pages offers sample lines that fully sober folks wouldn't dare try: "Do you wash your pants with Windex? Because I can really see myself in them" and "Let's bypass this bullshit and get naked."—Tomi Obaro
Post Office Thursdays, Durkin's, 810 W Diversey Pkwy (773-525-2515). 7pm; free.
Mingle Around According to Calvin Chan, 36, having an advanced degree is a mixed blessing when dating. "Recently, I had a younger girlfriend who was very proud I was a graduate from U. of C., and she never missed an opportunity to mention this to people we met, which was rather embarrassing," says Chan, who has a master's in computer science. He says it doesn't matter to him whether his potential mate has an M.A.; it's really the opportunity to hone his social skills that makes him a serial attendee of one of Mingle Around's more niche events: speed dating for singles with advanced degrees.
Founded in 2007 by "third-generation matchmaker" Jill Jackson, the matchmaking and social-events biz hosts mixers for bachelors and bachelorettes around the city. On a rainy winter night, I set out to the Redhead Piano Bar to watch Chan and 21 other singles—a seemingly sane, good-looking group ranging in age from 25 to 45—chat each other up. There are M.B.A.s, an M.D. and two Ph.D.s, but for the most part, the degree-holding merely seems to make for an easy icebreaker: "So what was your major? Oh, nice."
After the event, Chan tells me he ran into a woman he'd met at another Mingle Around event; their one date hadn't gone well. "If you go to enough of these, it happens," he says. "I think some women are embarrassed to admit that they've been here three or four times without making a connection." He adds, optimistically, "I exchanged information with a woman for business purposes."—D.L. Hopkins
Mingle Around's latest event, Love Stinks! Let's Drink, happens Thursday 14 at English, 444 N LaSalle St. 6pm; $20, advance $10.