Deep-fried fair food
These battered foods and beer—yes, beer!—are anything but ordinary.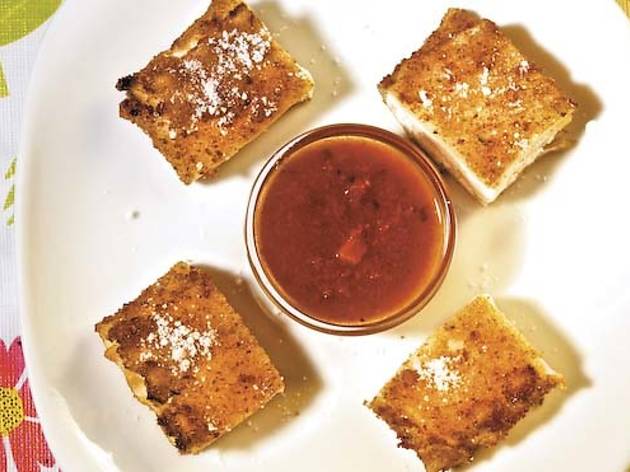 What's frieddough
Get it atNaperville Ribfest (June 29–July 3)
Bojo's Food Service has been serving up hot, crispy elephant ears at suburban summer fests for 25 years. As a kid, owner Tony Angeli perfected the art of stretching and frying dough while working for his aunt's food stand at county fairs across the East Coast. He still uses the same recipe to produce about 15,000 elephant ears during the weekend of Naperville Ribfest, where dough is made fresh on-site, dunked in the deep fryer, slathered in butter and cinnamon sugar and sold for $5.
What's friedeverything
Get it atTaste of Lombard (July 3–7)
Since founding Suzie's Funnel Cakes & Fun Foods 12 years ago, Susan Bacsa has experimented with her share of fair foods, from deep-fried Twinkies and Snickers bars—which she says taste like warm cream puffs and hot fudge—to "tornado potatoes," spiral-cut fried potatoes on a stick. With 30 items on the menu including potato skins and Texas cheese fries, Bacsa says her top seller—with about 12,000 orders expected—is classic funnel cake.
What's friedonions
Get 'em atLake County Fair (July 25–29)
Tidbits Fun Foods started out as retired high-school teacher Allen Feuerstein's summer business—and it's now a full-time gig. He's been serving blooming onions at the Lake County Fair for more than a decade, but it wasn't until he ran out of mix a couple of years back that Feuerstein perfected the recipe by battering the onions in funnel-cake mix instead. "It doesn't have that salty, garlic aftertaste," Feuerstein says. "Before we knew it, people were coming back and saying it was the best blooming onion they've ever had."
What's friedbeer
Get it atWisconsin State Fair (August 2–12)
Head to the Budweiser Pavilion for cold beer…fried inside a square of ravioli. Trademarked as "fried beer," the recipe has been patented by vendor Mark Zable at the State Fair of Texas. Last year, Budweiser Pavilion owners Dave and Leanne Hock sold the food but said even they don't know the secret of how the beer gets injected into the ravioli. "He hasn't told anyone yet," says Leanne Hock, who orders frozen ravioli from Zable's factory operation in Long Island and then fries it on-site. What does it taste like? According to Hock, "a warm pretzel and beer, all wrapped up into one" and served with Wisconsin cheddar cheese sauce for $5.
What's friedvegetables
Get 'em atWisconsin State Fair (August 2–12)
"[The fair is] the time when people go off their diet and splurge for a day," says Richard P. Busse, a former corn-dog vendor who found his true calling when he began deep-frying fresh zucchini, cauliflower, onions, broccoli and mushrooms in a batter reserved for onion rings. In 1982, Busse—who holds a Ph.D. in theology—started Valparaiso, Indiana–based Dr. Vegetable. In the peak months, Busse and his family and a staff of up to 40 people sell fried pickles, fried green tomatoes and buckets of veggie combos for $12 at more than 40 events.
What's friedlasagna
Get it atTaste of Melrose Park (August 31–September 2)
At Italian-heavy Taste of Melrose Park, Mary Esposito turns lasagna into bite-size finger food she calls lasagna frittas. She makes vegetarian lasagna from scratch and puts in the freezer about two weeks before the festival. "It has to be frozen before you can fry it, otherwise it would fall apart," Esposito says. After two minutes in the deep fryer, the frittas are cut into quarters and served with marinara sauce for $2 each. Esposito estimates she sells some 3,000 pieces altogether.