Deep-fried food
What happens when candy bars aren't enough? Throw 'em in the deep fryer.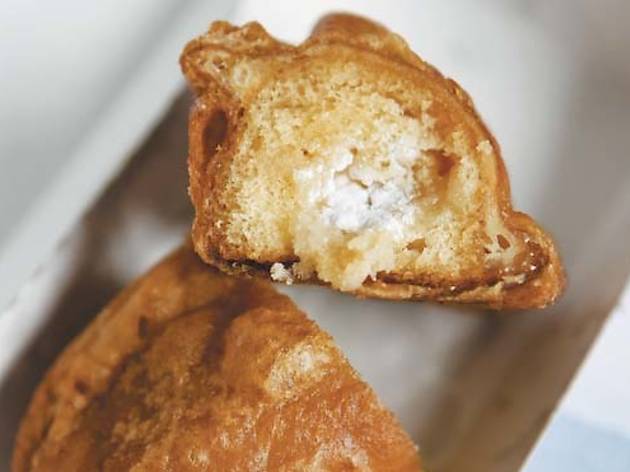 Jay Lane, owner of seasonal food purveyor Montgomery-based Ashley Foods Inc., will deep fry anything if there's enough demand for it. Three years ago, for example, he began battering and bathing Twinkies in the deep fryer. He has since added chocolate to his repertoire: Ding Dongs, Oreos, Snickers, Three Musketeers and Milky Way bars are fried and sold for $3 each at quaint suburban Wood Dale Prairie Fest (Aug 8-11, 2013). The secret to keeping a candy bar from melting? "You freeze it so it's nice and rock solid, then you dip it in batter and dump it in the deep fryer for about a minute," Lane says. Ashley Foods uses funnel-cake mix instead of the traditional pancake mix, "so it's more sugary, and gives it even more fat and calories." Still not satisfied with the calorie count? Top it off with requisite powdered sugar and chocolate syrup.
Runners up
The owner of La Bomba Place in Humboldt Park says people don't mind waiting in line for 15 or 20 minutes for a hot plate of alcapurrias—battered and deep–fried banana dumplings filled with pork—made fresh and fried on a truck at Fiesta Puertorriqueñas (Jun 12-16, 2013). ➡ It may sound like a new sandwich, but the fried bologna and grilled onions between two slices of white bread served up by Siciliano Foods at Taste of Melrose Park (Aug 30–Sept 1, 2013) is a multi–generational Siciliano tradition. ➡ The name of its booth says it all: Frannie's Funnel Cakes at Itasca's Fantastic Fireworks (Jul 4, 2013) specializes in the classic fest fare cakes for $5–$7.