Detox your...body
It's winter and all you want to do is heat up your insides eating soup in a bread bowl. Instead, work up a sweat, and sculpt your bod, at these hot yoga classes.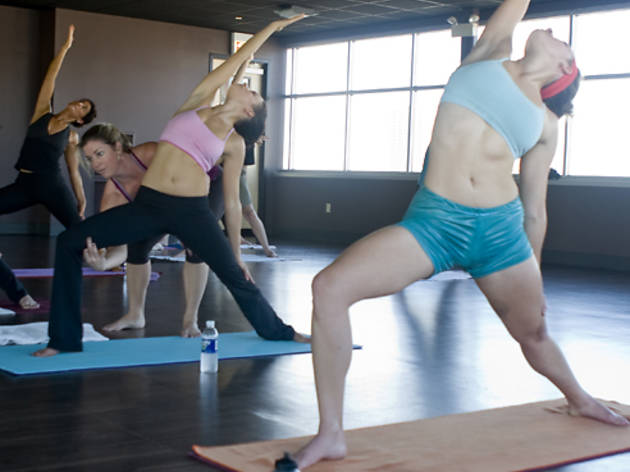 Bikram Yoga Chicago You'll be hard-pressed finding another yoga studio where $29 buys first-timers an entire month of yoga with no strings attached. In true Bikram fashion, the 90-minute classes take place in a 105-degree heated room with 40 percent humidity and go through 26 asanas (poses) plus two breathing exercises. Classes run throughout the day, so you can get your yoga fix any time you desire. 2736–A N Clark St (773-348-9642, 105f.com). El: Brown, Purple (rush hrs) to Diversey. Bus: 22, 36, 76; 1344 N Milwaukee Ave (773-395-9150). El: Blue to Division. Bus: 9, 56, 70. Membership: $15 per class, $111–$150 monthly unlimited.
TruHarmony Yoga The common quandary for those lacking infinite funds: how to afford (and justify) a gym membership and pricey yoga classes. This River North studio just might be your solution. The bootcamp-like Yoga Sculpt won't leave you feeling Zen, but it will whip your body into shape with a weight-lifting—infused yoga class; other options such as Candlelight Yoga fulfill the need for a calming hour. Classes are heated between 95 and 100 degrees, with the exception of Mommy and Me Yoga and Kids Yoga. Come summer, the studio takes one of its stretch and sculpt classes into the park. 900 N Franklin St, fifth floor, suite #508 (312-643-8577, truharmonyyoga.com). El: Brown, Purple (rush hrs) to Chicago. Bus: 29, 36, 66. Membership: $16 per class, $120–$140 monthly unlimited.
CorePower Yoga This ever-expanding franchise combines the heat of Bikram (but never exceeds 100 degrees in temp) with the flowing style of vinyasa yoga. Classes run the gamut from the highly beginner CorePower Yoga 1, where you'll have ample time to learn how to adjust your body to make the most of the poses, to the ultra-challenging Yoga Sculpt, which throws free weights into the mix. The one thing you can count on with every class: a semi-excruciating core-strengthening workout to help you achieve that solid yoga physique. 945 W George St (773-862-9642). El: Brown, Purple (rush hours) to Wellington. Bus: 11, 22; 555 W Roosevelt Rd (312-829-9642, corepoweryoga.com). El: Blue to Clinton. Bus: 8, 12; 12 W Maple St (312-266-9642). El: Red to Clark/Division. Bus: 22, 29, 36, 70; 959 W Webster Ave (773-388-9642). El: Red, Brown, Purple (rush hrs) to Fullerton. Bus: 8, 11, 74; 1704 N Milwaukee Ave (773-227-9642). El: Blue to Damen. Bus: 50, 56, 70. Membership: $18 per class; $165 monthly unlimited.
Om on the Range Think this studio's name is just a cutesy play on words? You're underestimating these folks. In a stroke of luck for this husband-and-wife team, the latter's (that would be Beth) maiden name just happens to be Range. The couple couldn't resist. Class options include Baptiste Vinyasa (a vinyasa flow class in a 95-degree heated room, with a solid focus on mindfulness) and Bikram (only in the Lakeview location and heated between 95 and 105 degrees with 40 to 60 percent humidity). 1834 W North Ave, second floor (773-772-9642, omontherange.net). El: Blue to Damen. Bus: 50, 56, 72; 3759 N Ravenswood Ave, studio #125 (773-525-9642). El: Brown to Irving Park Rd. Bus: 11, 80. Membership: $15 per class, $150 monthly unlimited.
Chicago School of Hot Yoga Variety is the name of the game at this Lincoln Park yoga studio. Try anything from Yoga Bootcamp (yoga-meets-strength-training) to Budokon (a yoga and martial arts hybrid) to Music Flow (a music-driven sequence for all levels of yogis). The room temp ranges between 90 and 95 degrees. 2442 N Lincoln Ave, second floor (773-868-9642, chicagoschoolofhotyoga.com). El: Red, Brown, Purple (rush hrs) to Fullerton. Bus: 11, 74. Membership: $13–$17 per class, $69–$99 monthly unlimited.
Detox your...body | Detox your...diet | Detox your...mind | Detox your...relationship | Sponsored: Detox 2011 checklist | Sponsored: Detox your love life with Josh