Detox your...mind
Between your high-stress work days and your always-double-booked social calendar, your brain needs a break. Clear your mind at one of these Zen dens.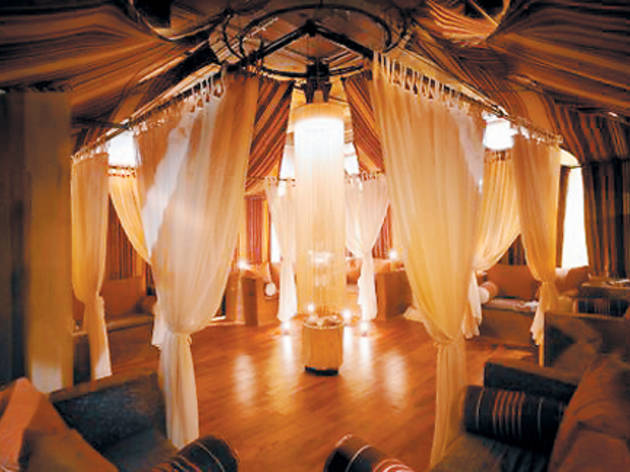 Thousand Waves Spa This Japanese-inspired spa is for women, run by women. Take off your shoes at the door and wind your way around rice-paper screens leading to spa bath facilities. Submit to an herbal wrap, which begins with a dry sauna, eucalyptus steam and Jacuzzi, or try head-to-toe tranquility in the massage therapy room (massage and wraps average $80). Swathed in a kimono, you can put up your feet and sip tea undisturbed (for up to three hours) in the relaxation room. It gets busy, so call ahead on weekends. 1212 W Belmont Ave (773-549-0700, thousandwavesspa.com). El: Brown, Red, Purple (rush hrs) to Belmont. Bus: 77.
Allyu Spa Inside this eco-friendly River North space, you'll find a meditation area made with cob (a building material that utilizes clay, straw, and mud), mesquite flooring, clay walls and reclaimed barn wood surrounding ten treatment rooms where guests can enjoy services such as a Dead Sea Mud Wrap ($125) or an Aromatherapy Sugar Scrub ($90). You can book a massage, too. The pricing structure reflects how a guest can customize the experience. Pricing ranges from $65–$145 depending on how much time and what kind of massage—relaxation, deep tissue, plus others—the client needs. Aestheticians are all trained in Chinese massage techniques, so spa pedicures ($50), which utilize Spa Ritual's organic-only products, incorporate reflexology. Top it off with a workshop space used for classes and an infrared sauna said to boost circulation and intensify detoxification. 600 W Chicago Ave at Larrabee St (312-755-1313, allyuspa.com). El: Brown, Purple (rush hrs) to Chicago. Bus: 8, 66, 156.
The Peace School "Inhale world, exhale peace." This has been the school's mantra since 1972, when Korean founder Grand Master MyungSu Y.S. Kim first came up with his plan to promote world peace through meditation. The school remains active in advancing worldwide peace through large-scale initiatives, and the Lincoln Avenue location, a rambling space that has windows, remains a guiding force for an expanding community of peaceniks. Classes range from yoga to martial arts for women to peace breathing and meditation. 3121 N Lincoln Ave (773- 248-7959, peaceschool.org). El: Brown, Red, Purple (rush hrs) to Belmont. Bus: 9, 11, 77.
SpaceTime Tanks Even if you're not claustrophobic, when climbing into an 8'-by-4'-by- 4', ten-inch-deep saltwater tank that's pitch-black, you might feel a tug in your gut that says, "I don't want to do this." Ignore your gut. Because spending an hour floating in buoyant water in a soundproof booth feels like a controllable and mild acid trip—not that we'd know about that. Not to mention, the potential benefits—anything from decreased stress to improved problem-solving and creativity—are great, too. 2526 N Lincoln Ave (773-472-2700, chicagofloatationtanks.com). El: Brown, Purple (rush hrs), Red to Fullerton. Bus: 8, 11, 74, 76. One-hour session: $50.
Zen Buddhist Meditation Center This Lakeview building started out as a Freemason's temple in 1915, and after being used as a church for many years, returned to its roots in 1994 when the Buddhist Society for Compassionate Wisdom took over. The temple offers a variety of peaceful programs, such as introductions to meditation as well as Zen retreats. The weekly Sunday meditation service (currently held at 9:30am, but call to check time) is open to the public and consists of two, 25-minute sittings, chanting and a Dharma Talk. A $5 donation is suggested, and make sure to wear loose-fitting clothing. The temple also frowns on wearing bright colors and text that could disrupt the quiet, peaceful atmosphere. 1710 W Cornelia Ave (773-528-8685, zenbuddhisttemple.org). El: Brown to Paulina. Bus: 9, 77.
Detox your...body | Detox your...diet | Detox your...mind | Detox your...relationship | Sponsored: Detox 2011 checklist | Sponsored: Detox your love life with Josh