Don't be a brat
Taste the good life on the beaches of Sheboygan, Wisconsin.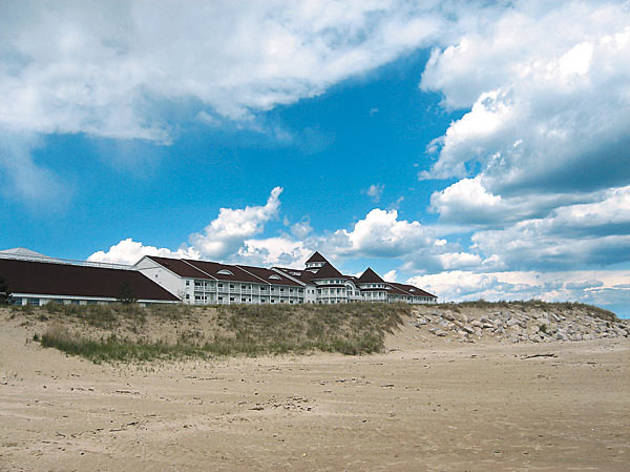 We head north on the Edens one Saturday in a van stuffed with two families and are rewarded by a slow-but-navigable construction zone, thanks to our 8:30am start. The road then opens wide all the way to Sheboygan, making the 150-mile drive surprisingly pleasant. We pass the maroon turrets of Kenosha's iconic Mars' Cheese Castle (2800 120th Ave, 800-655-6147) at cruising speed.
Our destination: Sheboygan's Blue Harbor Resort and Conference Center (725 Blue Harbor Dr, 866-701-2583), home to a kid-friendly indoor water park and "the world's largest hand-blown glass sculpture."
The lobby's fish sculpture is indeed huge—and garish. But what do we care? We're only stepping inside the hotel (a Victorian-style stunner with white curved verandas) to grab keycards for one of 64 waterfront Blue Harbor condos south of the main building.
Our two-bedroom unit sleeps eight; the four-bedroom models house 12. The adults mix the day's first vodka tonics even before our bags hit the leaf-patterned bedspreads; then we retire to a patio not 30 yards from a wide, inviting beach that hosts bonfire gatherings on summer Friday nights.
From here, Lake Michigan looks even more boundless than it does from Chicago. No massive skyline competes with the water, no hazy outline of Gary, Indiana, hems it in. A red lighthouse draws the eye northward while sailboats cross paths with fishing craft dead ahead. Sure, the coal-fired Edgewater power plant mars the sight line to the south, but we can deal.
Speaking of deals, we made this a two-family trek in part because going in on beachfront digs is a great way to vacation on a budget. At Blue Harbor, high-season rates for condo "villas" start at $359.
Be sure you enjoy your compatriots' company, because hitting the highlights of Sheboygan's 8th Street downtown drag and nearby Harbor Centre district won't take long. It's the kind of town that hosts a grill-your-own steak restaurant—Fountain Park Charcoal Grill Steakhouse & Seafood (930 N 8th St, 920-452-2339)—has 10% coupon off meals and sends teens on scavenger hunts in which they snap photos of strangers while inviting them to church.
We note the dueling chocolatiers, Victorian Chocolate Shoppe (519 S 8th St, 920-208-3511) and, if you're feeling more daring, Chocolate Fantasies (631 N 8th St, 920-803-8566).
We're condo-bound when we stumble upon Margaux (821 N 8th St, 920-457-6565), a wine-focused restaurant with a freewheeling global-fusion menu dreamed up by owner/chef Rob Hurrie, a Kendall College culinary grad who's setting up an open-house tasting before hustling his kids to a soccer tourney.
Margaux (Hurrie's 6-year-old daughter, Grace Margaux, proudly informs us the place is named after her) offers a "guest chef experience" in which up to four diners help whip up risotto and other dishes before diving into a meal at the kitchen-side chef's table, all for $200.
We're sampling a pork appetizer with a nice blue-cheese flavor burst when local wine distributor Joe McPherson tips Trattoria Stefano (522 S 8th St, 920-452-8455) as another worthy dinner stop. "It's maybe the busiest Italian restaurant in the state," he says.
We return to Blue Harbor for water-park fun (there's not much beyond the hot tub and a couple of twisty tube slides to entice the over-12 set, but condos come with passes) and some sand-castle building before visiting the resort's Blue Point Wine & Tapas Bar (229 South Pier Drive, 920-453-4000), where the sangria goes down easy with delicious almond-stuffed dates.
The unwinding continues over more drinks at the condo, though if we weren't such slackers we could check out nearby Kohler-Andrae State Park (120 Beach Park Ln, 920-451-4080), with additional miles of Lake Michigan beach undoubtedly worth the $10 daily-access fee. As it is, we barely manage to sate our late-evening munchies with a visit to packed Legend Larry's Wings 'n Things (733 Pennsylvania Ave, 920-453-9672), where the hot garlic chicken wings prove well worth the long wait.
It's a good thing, too, as the Sheboygan brats we order from a hut next to the Piggly Wiggly on the way out of town the next day taste warmed-over. Best to buy a package of encased meats at the Old Wisconsin Sausage Co. Factory Store (2107 S 17th St, 920-458-4304) and cook them up at one of those beach bonfires.