Dream jobs meet reality
The path to some dream jobs proves winding.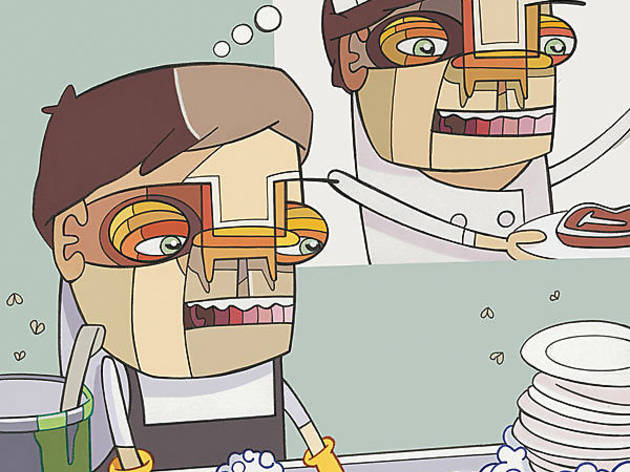 In this economy, landing your dream job is about as easy as catching a mackerel with your bare hands. But does that mean it's time to throw in the towel? To find out, we called Geoff Weathersby, cocreator of Northbrook-based QuietAgent.com, which analyzes your answers to a 140-point questionnaire about skills, experience and desires to help you land a job or see how you stack up in a flooded market. Using the site, Weathersby counseled four job seekers on whether to go for that dream gig—or resort to plan B.
Wanted: finance job
An accountant for several years, Veronica Teitz left the working world ten years ago to stay home with her kids. Now she's looking for full-time employment in the financial industry—ideally auditing. "I have been sending out résumés, calling people I used to work with, applying just about everywhere, but nothing," she says. Teitz wants to stay in Chicago and join a stable company offering a pension, 401k and $50,000 salary.
Skills "I am a loyal worker with excellent verbal and written communication skills. [I'm] great at multitasking."
Plan B? "Her income and benefit requirements are perfectly reasonable," says Weathersby. "But she hasn't worked in ten years." Weathersby found an accounting and auditing job in Palatine that roughly fit her expectations and skills. However, she could increase her chances with more training. "She's worked as an accountant, but she's not listed as a CPA [certified public accountant]. If she gets certified, she'll be open to more jobs," Weathersby says.
Wanted: motorcycle-customizing gig
A trained Chicago artist working in arts administration (we're withholding his name in case his boss reads this) says he's dying to turn his hobby—customizing motorcycles—into steady employment. "I'm not an engineer, welder or mechanic, but with the right mentor [or] training I believe I could excel at fabrication." He's hoping for at least $40,000 a year but doesn't require benefits.
Skills "Good with my hands, strong attention to detail, desire to learn new skills, some proficiency with design software."
Plan B? "He has a very specific desire, so I searched the entire country," Weathersby says. According to the website, which sometimes matches seekers with anonymous employers, the artist's skills qualify him for a job as an "apprentice designer for personal goods with a New York state company," which is likely not in motorcycles and therefore won't satisfy his goals. "He really needs to start [with an] entry-level job in that [general] field," Weathersby says, instead of looking for such a specific niche job. Then he can build up the engineering and mechanical experience he needs to score his dream gig.
Wanted: music-marketing position
Dana Harada graduated in May, and she's looking to enter the field of music marketing and promotions. "Obviously, it is difficult to break into this industry, especially if you don't have connections," Harada says.
Skills "Street-team promotions, organizing press kits, publicizing concerts, familiarity with social-networking sites and editing skills."
Plan B? Harada graduated from the University of Illinois at Urbana-Champaign's College of Business with a bachelor's degree and took advantage of good internships. She matched up with several national employers actively looking to fill a position, including an account manager for a media and entertainment company in Philly. "This is a very reasonable [goal]," says Weathersby, defying Harada's low expectations. If she keeps at it, he says, "she should get really good responses."
Wanted: film-critic job
Blake Goble, a recent University of Michigan grad, wants to be an arts writer for a city publication. "Specifically, hopefully [writing about] film," says Goble, but "competition is ridiculous due to the fact that I'm just another college grad with an 'interesting' résumé."
Skills "Writing, copyediting, Adobe Creative Suite and Final Cut Pro; recently, I've added waiting tables to the list."
Plan B? Out of everyone, Goble has the right skills for the most jobs, but his career prospects are mainly in sales or business development for media companies, rather than writing—which is a very hard career to develop. In fact, when Weathersby created a profile for Goble on QuietAgent.com, as he did for all four job seekers, one company bit. Goal Getters Inc.—a company that builds brands for newspapers—wants to talk to Goble about a position. "Not right up his alley," Weathersby acknowledges. "But it fits his work experience. For a job right out of college, it might be an idea."