Dumpster diving with artist John Airo
The Andersonville artist fuels his Chicago flags with found objects.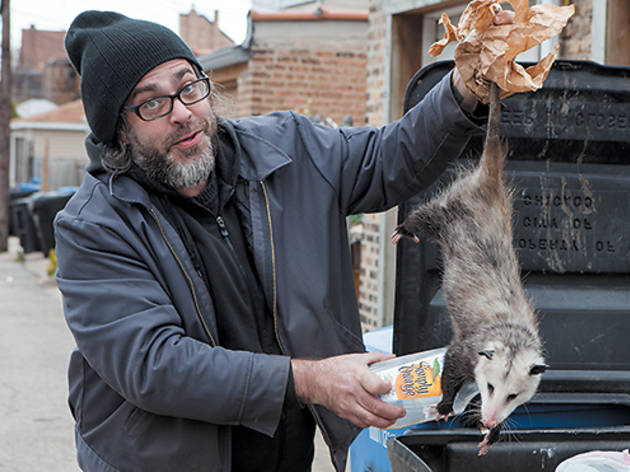 On a recent Monday morning, artist John Airo set out to replenish his supplies. Instead of hopping on the 22 bus and heading to Michaels, he went Dumpster diving in the alleys around his Andersonville home, as is his practice. The last residential trash collection was on Friday, and Airo was salivating over the prospect of a weekend buildup of garbage goodies.
Found scrap wood is the Chicago native's canvas of choice. "Being broke is a big motivator," he likes to say. On the splintering, knotty, uneven boards, he paints warped, weathered-looking Chicago flags—the subject of his new show opening Thursday 15 at Division Street Bar (2525 W Division St, 773-252-2233). (He also currently has work displayed at the Gingerman Tavern, Northdown Taproom, Morseland, Jackalope Coffee, the eyewear boutique Spex, and Right-Brained Studio in Oak Park.)
"It's great when people throw out IKEA furniture because it often has that cheap wood backing," Airo said, making his way down an alley lined with black and blue bins. Some of his flag pieces include other found materials: pay-and-display parking receipts, a decal from a building a new chicago sign. "I want everything to be from the city," he says. He also cobbles together robot heads from junked electronics.
The bespectacled 41-year-old sported a hoop earring and hid his long, gray-streaked hair under a black knit cap as he hoofed down the backstreets. Sticking out of the back pocket of his saggy work pants was a long, flat-head screwdriver, which he would use to pry up nails. Airo looks, in many ways, like what he is: a bartender at the Metro and the club's former head of security. And he has the stories to back it up. "I've got a John Paul Jones signature tattooed on my arm," he said. "I'm blessed."
After nabbing a perfectly good copy of How to Fix (Just About) Everything, Airo walked past a sanitation worker he was trying to stay a couple steps ahead of. They nodded at each other as if to acknowledge their mutual standing as garbagemen of sorts. He salutes scrappers the same way.
Flipping open the lid of a trash can, Airo spotted a tuft of fur among the litter. "This should be cool," he said, grabbing an empty orange-juice container and lightly poking at the hair ball to check for signs of life. The rodent-like beast whipped around, opened its mouth to reveal razor-sharp teeth and hissed at Airo. "It's a possum! I don't want the garbageman to pick it up. Let's see if I can get it by its tail." He used a piece of brown paper as a glove, fished the possum out and set it free down a gangway. Root around in the trash long enough, Airo said, and you'll have all sorts of encounters with urban fauna like rats and raccoons. "I've had squirrels jump out at me," he said. "They're spazzes and they freak."
In the next alley, Airo finally hit pay dirt, coming upon an old headboard. "This is perfect!" he said, taking out the screwdriver and peeling the particle board from the back. His live-in girlfriend isn't always so enthusiastic about his discoveries. "I work in a room of my house. So I have to make sure anything I bring home isn't infested." Another find of the morning, some scrap wood with a "great" nail protruding, was usable, he said, "only if I kick the spider's nest out of it."
Airo's last stop was one of his favorite spots in Chicago, the rear alley of the defunct Edgewater Medical Center. "I'll walk by here when the sun is setting and this is the most gorgeous thing I've ever seen in this city," he said, gazing up at a large, rusty tank. "Imagine if you put a frame around that."