Dzine, artist
Big in pretty much everywhere but Chicago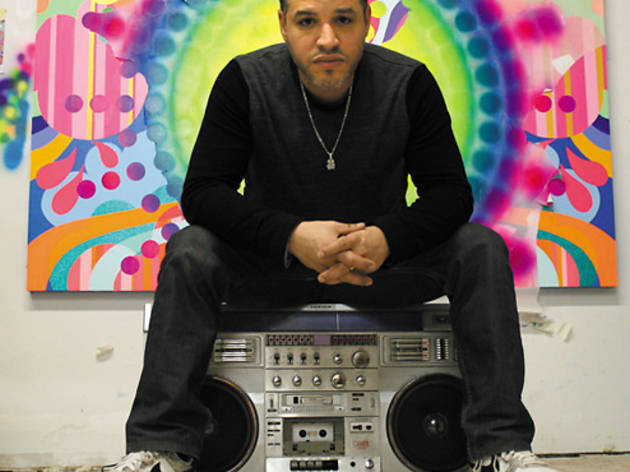 "Chicago is a very conservative city," says artist Dzine as we sit in his studio, where his assistants are preparing for an exhibition in Vienna. The 39-year-old Southwest Side native—born Carlos Rolon—lives in Humboldt Park but hasn't had a Chicago show since 2006.
"I think because of my early career, people have been skeptical about embracing the work," he explains. After making a name for himself as a teen graffiti artist, Dzine abandoned street art for abstract painting. In his twenties, he worked in Paris, making connections in Europe's fashion and music worlds. A project for a French record label brought the artist to Japan, where in 2003 he hooked up with Tokyo gallery SCAI The Bathhouse. He's since had solo shows in Asia, Europe, Africa and Puerto Rico, as well as at the Bass Museum in Miami Beach, Florida, and Deitch Projects in New York.
Though Chicago gallerist Monique Meloche represented him from 2001–06, and his paintings appeared at the Museum of Contemporary Art and the Chicago Cultural Center during that time, Dzine says his pieces only entered "important Chicago collections" after he joined Deitch Projects in 2007. (Reached by e-mail, Meloche responds that her gallery "placed his work in many prestigious private and public collections internationally," including that of the Museo de Arte de Puerto Rico. Meloche and Dzine disagree about who should get credit for this acquisition—his first by a museum.)
According to Dzine, Deitch Projects took him on because of Dnipro, the 18-foot boat he customized for the Ukrainian Pavilion at the 2007 Venice Biennale. One of four non-Ukrainian artists invited to participate in the Pavilion, Dzine transformed the boat into a multimedia installation. Its success inspired a fleet of blinged-out car and bicycle sculptures created with expert fabricators. Earlier this month, local dealer Rhona Hoffman presented a Dzine painting and one of his bikes at Art Chicago. "She's one of only a handful of people [in Chicago] that really understands," laments the artist, whose biggest collector lives in Belgium.
See Dzine's mosaic Time Is the Enemy (Revisited) at the Sedgwick Brown/Purple Line station, and his painting Space Jungle at the Humboldt Park Public Library (1605 N Troy St). Find more at dzinestudio.com.
The Coctails
|
Robert Guinan
|
Laura Caldwell
|
Dzine
|
Liam Hayes (a.k.a. Plush)
|
The Barrett Sisters
|
Chicago exports