Edith Velazquez, 31
Late Bar resident reggae DJ is not a big fan of outdoor music.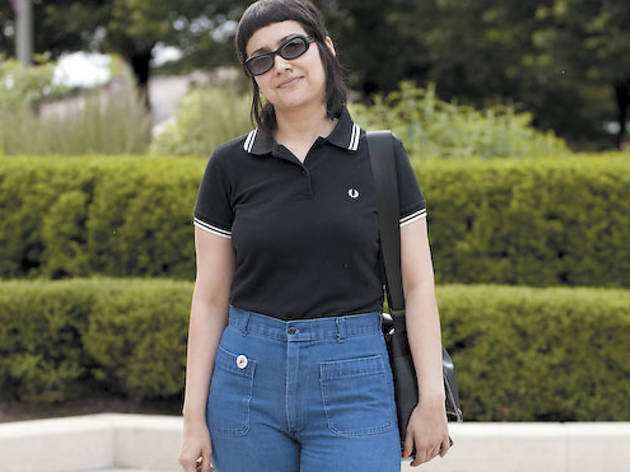 Millennium Park
What's up? I'm here to see Kings Go Forth at New Music Mondays. I've seen them before. I really do like them: contemporary soul music from Milwaukee. Good musicians, good singer.
Do you plan to go to the big music fests this summer? I'm not a huge fan of music outdoors. The last time I went to Lollapalooza was in 1990-something to see Jane's Addiction. I'm just not into it: the crowd, the grass…
The weed or the lawn? Oh, no, no! The grass on the lawn. [Laughs] I can't stand the hippies, either. Too many bare feet! As a DJ, I think music is usually better in a dark club anyway.
Where do you play? Every other month, I deejay the second Friday at Late Bar called Feel the Rhythm: ska, rocksteady, reggae. The next one is July 8. It's all 45s, original pressings.
Are your fingers always dirty from crate digging? Oh, yeah, definitely! I go everywhere. For reggae records in Chicago, it's hard sometimes. You can find soul records and other kinds of records, but for reggae 45s, it's kind of difficult. So I find most of my stuff when I travel to Florida or New York.
Why is reggae particularly hard to come by here? Mostly because Chicago didn't have as many Jamaican immigrants during the '60s and '70s. There is a Jamaican community in Chicago, but not like they have in New York.
What's your Late Bar floor-filler? God, there are a bunch: the Pioneers, the Jamaicans. The Kingstonians' "Hold Down" is one of my favorites. It never fails.