Eight reasons Obama will win in 2012
Relax, liberals. He'll be back.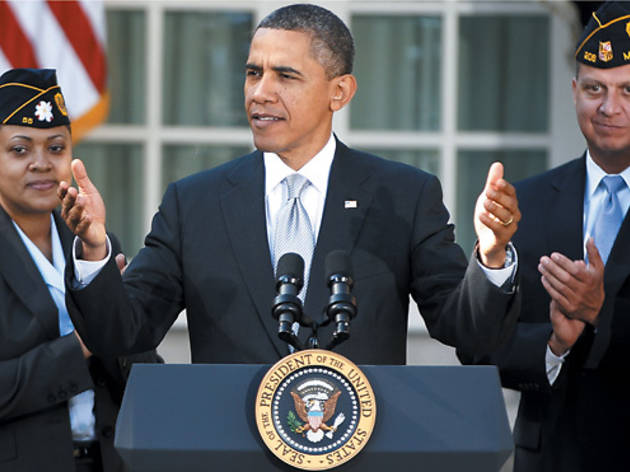 1/9
Photograph: Associated Press/Charles Dharapak
It's midnight, November 6, 2012. You and 100,000 other Chicagoans are in Grant Park, waiting, praying, for the President of the United States to step out onto the stage and once again shout, "Hello, Chicago!" The crowd is tensely silent, like a courtroom in the seconds before the verdict is read. On the Diamond Vision screen, CNN's Wolf Blitzer points at a map where Ohio, Florida and Virginia are colored gray: still too close to call. If Obama wins any one of those states, he will be President for another four years. If he loses them all, the man who was once the nation's greatest hope for change will be a one-term failure, rejected by the American people. At a quarter past the hour, Blitzer makes an announcement: "We have a major call…" You can exhale. While Grant Park will never experience another election night as thrilling as 2008, you won't ride home on the quietest El train of your life, either. Despite the assertion of many election prognosticators that the POTUS is likely heading toward a one-term presidency, Time Out Chicago is here to calm your nerves. Obama will win. Here's why.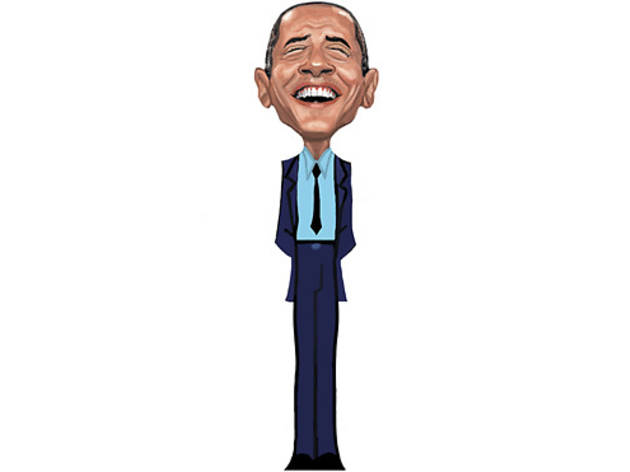 2/9
Illustration: Patrick McQuade
He's the incumbent. In American history, incumbent Presidents' win-loss record is 21–9. A pitcher with that record would win the Cy Young Award. More important for Obama, a President seeking a second consecutive term for his party has lost only once since 1900. That was Jimmy Carter. While Obama may not have lived up to the expectations of Obamamania, we don't have 21 percent interest rates, gas lines or diplomats held hostage in the Middle East, either. An incumbent President gets free network air time and can set the terms of the debate for his re-election. That's why Theodore Roosevelt called the presidency a "bully pulpit." "Obviously, [Obama has] a presence on a daily basis that no one else has," says Louanner Peters, deputy chief of staff and district director to U.S. Rep. Bobby Rush. "Again, it relates to what one does with it. And what the nonincumbent brings to the table. At this juncture, I'm not seeing a lot being brought to the table by the Republicans or other challengers." Which brings us to…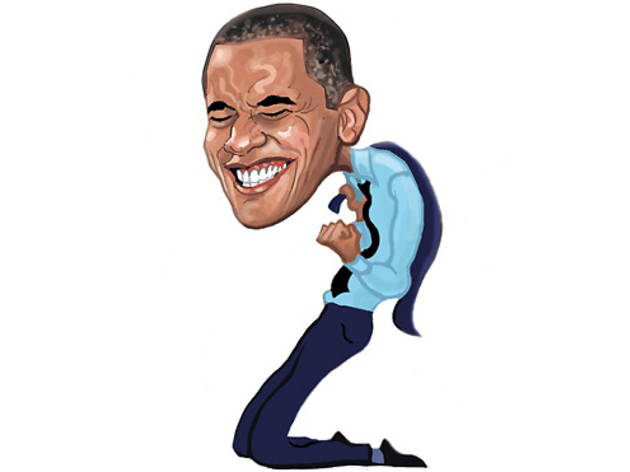 3/9
Illustration: Patrick McQuade
Mitt Romney is a stiff. Republicans tend to nominate the guy who came in second last time. This year, that's likely to be Romney. Romney's problem: He's a certified 1 percenter running in a time of discontent over economic inequality. An elitist who embodies every patrician foible from Nelson A. Rockefeller to Judge Smails, he comes off as the boss who tells you he can't afford Christmas bonuses, then drives off in his Lincoln Town Car. Democratic pollster Greenberg Quinlan Rosner has Obama and Romney tied at 45–45 in a hypothetical election, but has Obama's approval rating at 45 percent, compared to 25 percent for Romney. "I think Romney's going to have a problem of, he's a Wall Street guy, a rich guy whose $12 million house in La Jolla is only a quarter as big as [Romney wants] it to be," says Andrew Baumann, a vice president at the polling firm. "If I had to bet money now, I'd say Obama beats Romney by a narrow margin. Against any other candidate, Obama would win comfortably." The candidates who really excite conservative Republicans—New Jersey Gov. Chris Christie, Florida Sen. Marco Rubio, Louisiana Gov. Bobby Jindal—are waiting for 2016 when they won't have to run against an incumbent.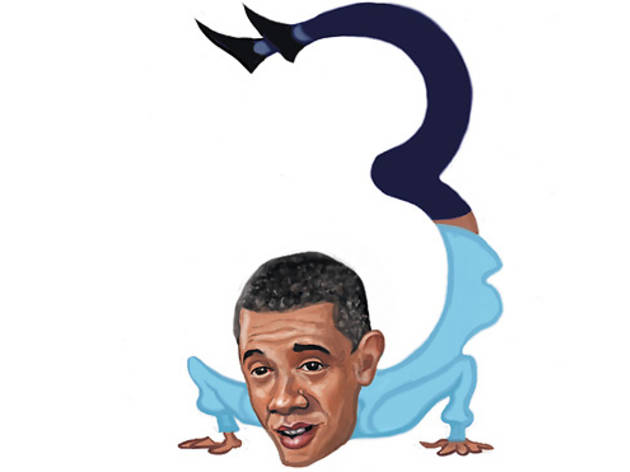 4/9
Illustration: Patrick McQuade
The Democratic Party is united. Ken DeCell is coauthor of the 1992 book The 13 Keys to the Presidency, which predicts elections based on a baker's dozen of factors, including success in foreign affairs, a major domestic policy achievement and economic growth. Obama has turned most of the keys, DeCell says, including the most important one: There is no significant third-party or independent campaign. "If the economy is in recession in the first or second quarter of next year, you may hear rumblings of a third party," DeCell says. But "I don't think there will be. There's just nobody that's emerged." Obama is unlikely to face a challenge from the left because he has (finally) satisfied many liberals with actions such as overturning Don't Ask Don't Tell. "That's a clear measure of equality for LGBT voters," says Bernard Cherkasov, chief executive officer of LGBT advocacy group Equality Illinois. "During his term, he has also accomplished things that were only a dream just four or five or six years ago, such as…the enactment of the Hate Crimes Act." Also, liberals learned their lesson about third-party challenges in 2000, when Ralph Nader's candidacy undermined Al Gore's campaign. "Republicans fall in line and Democrats fall in love," says Kevin Lampe, a Chicago political consultant and executive VP of strategic communications firm Kurth Lampe, who coached Obama before his speech at the 2004 Democratic National Convention. But Democrats will fall in line behind Obama because "if they don't vote, it's a tea party vote."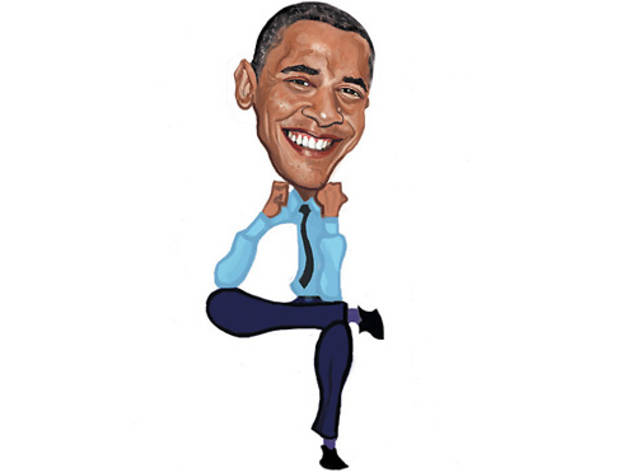 5/9
Illustration: Patrick McQuade
He took out Osama bin Laden. Surprisingly, for a politician who campaigned on domestic issues, Obama's presidency has been more successful outside the United States than at home. As commander-in-chief, he's bringing home troops from Iraq after eight years of war, and his special forces killed Osama bin Laden, Public Enemy No. 1 of the American people. Moammar Gadhafi is now dead, too. Americans have noticed: A November NBC poll gave Obama a 52 percent approval rating on his handling of foreign policy. "Libya to me is an example of President Obama seeing the need for military intervention in a country and saying that the United States will help, but we will not lead," says Illinois Sen. Dick Durbin. "We will be supportive and we'll turn to our NATO allies. It was a cooperative effort with European nations and the Arab League, which is significant." Lampe has worked on political campaigns in Mali, Kosovo, Belgium, England and Mexico in the last two years. Everywhere he goes, he finds the United States held in higher regard than it was during George W. Bush's administration. "As I travel around the world, there's a much more positive assessment of the U.S.," Lampe says. "We elect the leader of the free world. We want to be respected."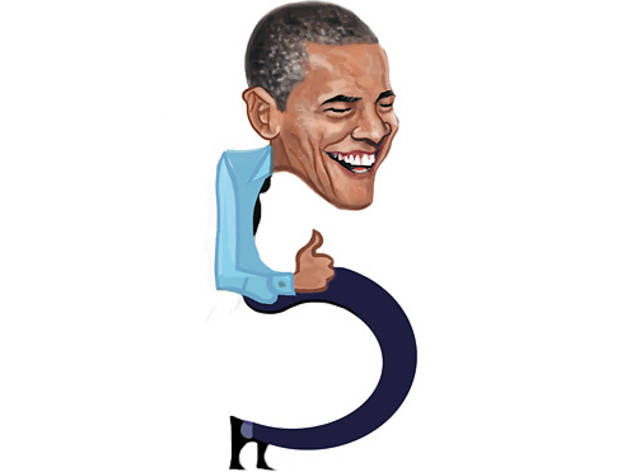 6/9
Illustration: Patrick McQuade
He has demographics on his side. One of the most fascinating statistics from the last election was this: If the country's demographics had been the same as they were in 1972, and every group had voted in the same percentages, John McCain would have won. George W. Bush's Electoral College victory was the last stand of the Republicans' white, small-town and suburban coalition. Obama represented the rise of an urban, multicultural nation. In the last four years, America has come to look even more like the President, and the 2010 Census found an America less white than at any time in its history. Latinos, who went 3–1 for Obama in 2008, are a rapidly growing ethnic group in the swing states of Arizona, Colorado, New Mexico, Florida, Nevada and Virginia. Republicans have offended many of them by passing anti-immigration laws in Arizona and Alabama. "It's not a question on whether or not he will receive the majority of the Hispanic vote," says U.S. Rep. Luis Gutierrez. "But, it is the quantity: how many of them will actually take time out to go and vote. We're talking about the level of enthusiasm and energy, and we still have time to generate that, but he needs to do things on the policy level and on the advocacy level." Gutierrez cites Alabama's anti-immigration legislation as a major issue. To get Hispanics to rally around him, Obama needs to block this legislation, "not just to say the Alabama law is flawed, not just to say it's a violation of people's basic civil rights." Obama also won 96 percent of the African-American vote in 2008. Al Kindle, a South Side political operator and owner of Purfect Elections, Inc., who began working with Obama during his 2000 congressional campaign, says African-Americans will rally around their first President. Republican attacks on Obama, Kindle says, are seen as an attack on the entire community. "They will never match the intensity of 2008," Kindle says. "There will never be as large a volunteer turnout. It was no different than when we elected Harold Washington. We did what we needed to do. We may not be there at every rally, but we'll be there on the most important day." Obama can also count on Jewish support, though it's slipped since 2009, according to a September Gallup poll (his support among Jews is still 13 points higher than the nation at large). "The President has consistently demonstrated his support for what American Jews believe in," says Alan Solow, former chairman of the Conference of Presidents of Major American Jewish Organizations, "which is a two-state solution with the Jewish state of Israel living side by side in peace and with security with an independent Palestinian state."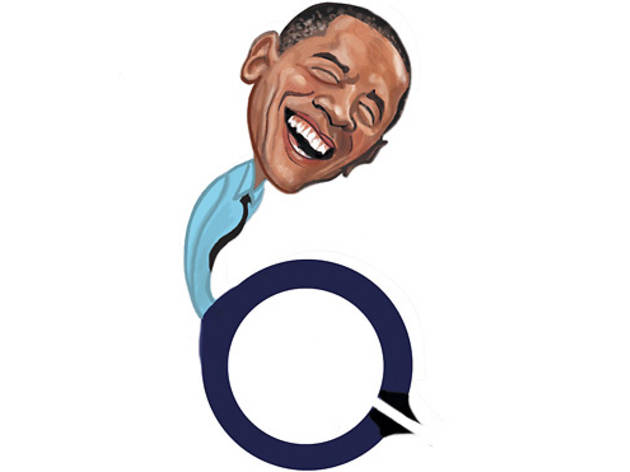 7/9
Illustration: Patrick McQuade
He saved the economy from total disaster. Though the economic picture is by no means rosy now, it was far worse two years ago. The six months between October 2008 and March 2009, which coincided with Obama's election and inauguration, were the economy's lowest point in the post–World War II era. The GDP was shrinking at a 9 percent rate, and the economy was losing 800,000 jobs a month. By bailing out the Wall Street banks and the auto industry, and signing the $787 billion American Recovery and Reinvestment Act, Obama prevented a second Great Depression, says Austan Goolsbee, who served as chairman of the Council of Economic Advisers in Obama's Cabinet from 2010 to 2011, and has since returned to his job as an economics professor at the University of Chicago Booth School of Business. "I believe that historians are going to look back and say, 'We were really close to going into a depression and having a collapse of the entire financial system, and we didn't have that,' and I believe they will look back and say that was quite an achievement that we didn't," Goolsbee says.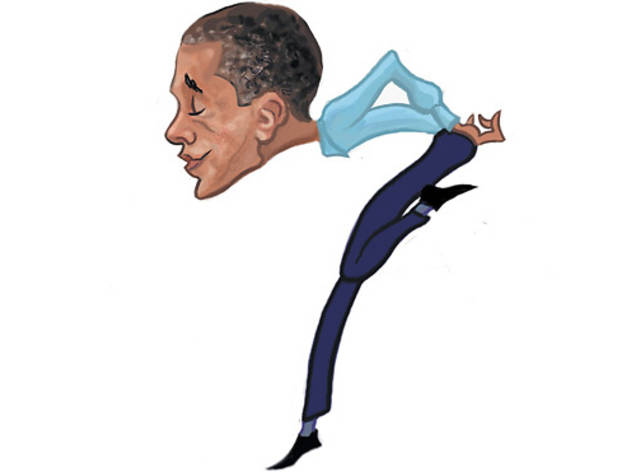 8/9
Illustration: Patrick McQuade
He's (much) more popular than Congress. According to a recent Greenberg Quinlan Rosner poll, only 9 percent of Americans strongly approve of the way Republicans are running the House of Representatives. Obama's "strongly approve" rating was 21 percent. In 1948, Harry S. Truman won by campaigning against the "do-nothing Congress." And that's what Obama tried to do when he challenged the Republicans to pass his American Jobs Act in September. "He has done everything he can to engage the Republicans in a bipartisan effort," Sen. Durbin says. "Look what they've done. Every chance they've had, they have tried to stop it. Too many Republican leaders are afraid that the President will succeed if the economy gets better. I think in the end, the President will be able to handle this issue, because he has a plan; the Republicans do not."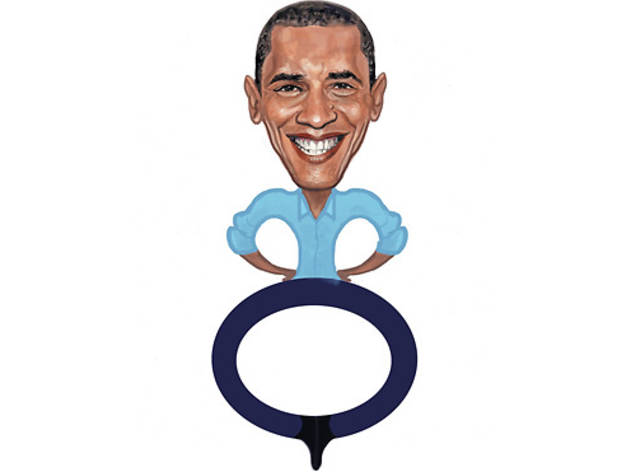 9/9
Illustration: Patrick McQuade
He has the campaign-cash advantage. Obama has raised $155 million through the third quarter of this year. Mitt Romney? Only $32 million. Obama raised $750 million for his 2008 campaign, allowing the man who passed campaign-contribution limits when he was a humble state senator to opt out of public financing. This time, his goal is to raise "north of" his '08 record, possibly becoming the first billion-dollar candidate. And because he doesn't have to spend donor money on a primary this time around (unlike his Republican opponent), all that cash goes to fighting in the main event. The Supreme Court's Citizens United v. Federal Election Commission decision, which lifted bans on corporate spending, was a victory for Republicans and a defeat for Obama, who has pledged not to take money from lobbyists or political action committees. But Obama's support base is broader than the Republicans', consisting of more than a million $10 and $25 donors, who helped him outspend John McCain four years ago. "The Citizens United case will certainly pose problems for us in terms of fund-raising because the President has been very strong, for instance, in not taking PAC or lobbyist money," Solow says. "Nevertheless, I am confident that the President is going to have enough money to run a campaign in every state and that while we may not have some type of overwhelming economic advantage over the total amount of money that will be put in by those who oppose the President, we'll have more than enough money to carry on the fight and prevail in 2012."