Election Day events in Chicago
Six things to do after you vote.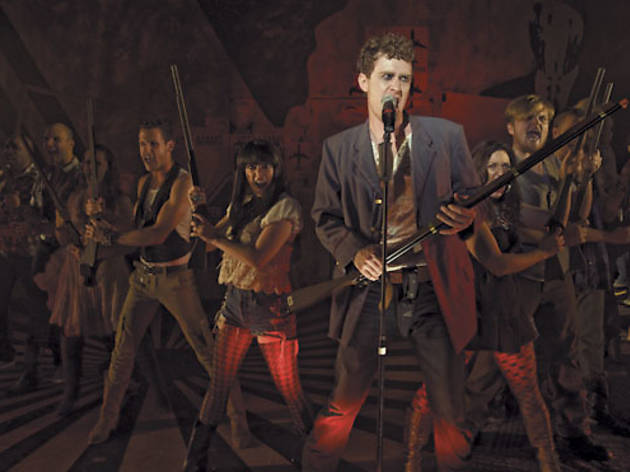 "America/n" During polling hours (7am–7pm), DEFIBRILLATOR gallery hosts two dozen speakers—artists, entrepreneurs, scholars—who will discuss the Constitution. Booze will be served after a talk about the 21st Amendment, which repealed Prohibition. 1136 N Milwaukee Ave (dfbrl8r.org). Free.
Bloody Bloody Andrew Jackson Proof of voting gets you free entry to the National Pastime Theater to see this emo musical about our seventh President. 941 W Lawrence Ave (773-327-7077). 9pm; $25–$30.
Election Night Viewing Party featuring the Statutes of Liberty WBEZ hosts a returns-watching shindig punctuated by a performance from Chicago "freedom rock" ensemble the Statutes of Liberty. BEZ members get a free round of 312 and cheap eats. Schubas, 3159 N Southport Ave (773-525-2508). 7pm; free.
44 Plays for 44 Presidents The Neo-Futurists dedicate a short play to each of America's Presidents—from all-stars like Washington and Lincoln to lesser commanders in chief (sorry, Millard Fillmore!). After the show, stick around to watch the election results with free wine and beer in hand. 5153 N Ashland Ave (773-878-4557). 7:30pm; $20.
Obama Election Night Rally As of press time, there are scant details about gaining entry to Big 'Bama's House on Tuesday 6. But if '08's Grant Park rally is any indication, free tickets to McCormick Place will be offered on BarackObama.com—and likely will disappear as fast as the President's lead after the first debate. 2301 S Lake Shore Dr.
2012 Election Brew Ha Ha: The Final Conflict Mixologists at Maria's Packaged Goods & Community Bar have crafted an "Election Selection" cocktail menu that includes the Oh! Bama, Biden My Time, the Mint Romney and Ryan's Song (each $9). 960 W 31st St (773-890-0588).