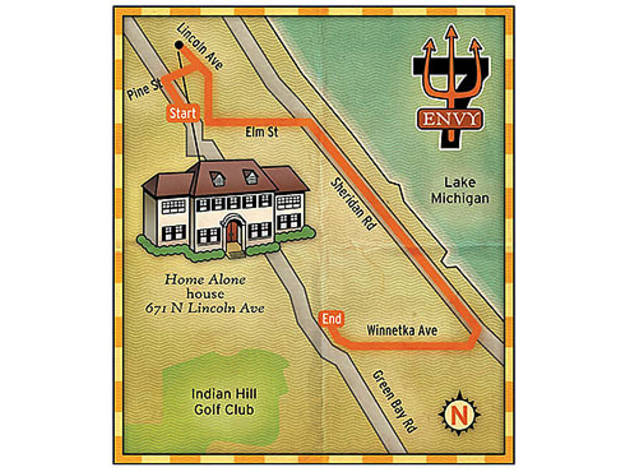 Envy: Hey, jealousy
You'll turn a lovely shade of green while coveting beachfront mansions, lush parks and chic boutiques in a posh North Shore suburb.
Map: Peter Hoey
TIME 55 minutes
START Winnetka Metra station
FINISH Indian Hill Metra station
MILES 2.7
Metra's Union Pacific North line drops you in the heart of downtown Winnetka, just a 35-minute train ride from the Loop. Chicago subway rides usually involve dank caverns where the only wildlife is a lone rat. But when you step off the train in Winnetka, you're on the Green Bay Trail—a verdant, ten-mile wooded path that runs from Wilmette to Highland Park (it's the same trail that snakes past Ravinia Festival). You'll immediately appreciate the serenity: The train tracks and Green Bay Trail are below grade, providing a secluded respite from street noise and traffic. Stroll north on the trail alongside runners, cyclists and colorful flora, then ascend the slightly hidden ramp below Pine Street (your cue is the white overpass above).
Photo: Michael Jarecki
Director John Hughes's films were ubiquitous in the '80s, and any Chicagoan worth their Ocean Pacific muscle tee knows most of his movies were set in Chicago's North Shore. Sure, his characters struggled with "problems" like Saturday detention and parents who forgot birthdays, but they also had nicer clothes, cars and houses than most teens could dream of (remember Jake Ryan's Porsche?). One relic (albeit a less sexy one) resides just blocks away. Walk east on Pine Street, then turn left on Lincoln Avenue until you reach 671 Lincoln Avenue. This handsome, two-story brick colonial was the site of Macaulay Culkin's high jinks in Hughes's 1990 hit, Home Alone.
Photo: Michael Jarecki
Head back south on Lincoln toward Winnetka's tiny downtown, which lends small-town charm to this tony suburb. Stylish, paycheck-blowing threads beckon from unisex boutique Jake (565 Lincoln Ave, 847-501-5253), but keep going past people enjoying lattes and panini under red umbrellas outside Café Aroma (561 Lincoln Ave, 847-881-2601). This walk is about envy, not gluttony. Turning left on Elm Street, you'll spy Conney's Pharmacy (736 Elm St, 847-446-0032) across the street, whose window features a geriatric tableau of Depends, bedpans and a wheelchair. (Note to US Weekly: Rich people crap their pants just like the rest of us!) Up ahead on your left is stylish women's shop Neapolitan (715 Elm St, 847-441-7784), where shelves of exorbitantly priced footwear and handbags remind you you're not just like the rich after all.
Take Elm Street east to Sheridan Road and turn south. You are now entering Chicago's version of The O.C., where blocks of multimillion-dollar homes sit just yards from Lake Michigan. There's an old money vibe (no McMansions in sight), and each house has a distinct style: Tudor, colonial, Georgian, French provincial. Some are historic landmarks, including an Italian Renaissance revival built in 1926 (232 Sheridan Rd) and a brick-and-limestone Mediterranean revival from 1927 (181 Sheridan Rd). What they do have in common are the accoutrements: brick driveways that go on for days, BMWs and Porsches parked out front, and colossal front yards boasting prolific flower gardens, sculptural topiary and boxy hedges trimmed to perfection.
Take Sheridan Road to Winnetka Avenue and turn right. Ahead, a handsome campus catches your eye. But that's no university—it's New Trier High School (385 Winnetka Ave, 847-446-7000), one of the nation's most elite public schools (spending per student is $15,000, nearly twice the national average). Most schools are lucky to have a swimming pool. New Trier has one (where else would the water-polo team and synchronized-swimming club practice?), plus a climbing wall, a 48-track digital recording studio and WNTH, a student radio station that would give 90210's David Silver a perma-boner. Dammit, you could've been somebody if you'd had the opportunities these kids do! For proof, crack open some yearbooks: famous alums include Liz Phair, Rainn Wilson and Lili Taylor. Shake an angry fist at the football field, then take Winnetka Avenue straight to the Indian Hill Metra station (111 N Green Bay Rd) and hitch a ride home.
WHILE YOU'RE THERE
Visit the Schmidt-Burnham log house (1407 Tower Rd, 847-446-0001), the oldest log structure in Cook County (built circa 1837). Originally located on the grounds of Winnetka's Indian Hill Club, it was relocated to Crow Island Woods in 2003 and added to the National Register of Historic Places in 2005.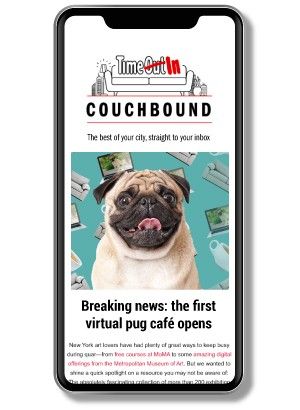 An email you'll actually love
Sign up to our Couchbound newsletter and bring the city to your sofa
Subscribe now