Ethnic festival food
These fests take your taste buds around the world. You might even want to book a hotel room.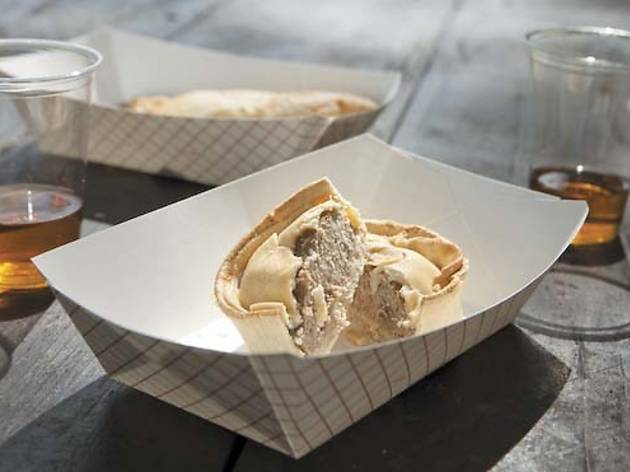 Ethnic fests abound in Chicago, but not many deliver on traditional booze to wash down the classic cuisine. Leave it to the Chicago Scots to bring the best of both worlds for the Scottish Festival and Highland Games (Jun 14-15, 2013) in Itasca. Make the drive, rent a motel room nearby and taste your way through ales and stouts from the 220-year-old Scottish brewery Belhaven. Sip whiskeys from at least eight visiting distilleries, including the Classic Malts, a coalition of six distilleries from distinctly different regions of Scotland, each specializing in single-malt whiskeys. To prevent a massive hangover, pad the stomach with traditional Scottish street food: sausage rolls, handheld shepherd's pies, fish-and-chips and pasties—flaky, meaty, stuffed pastry shells. And because no real-deal Scottish fest would be complete without sheep guts, haggis is in the house. This decidedly non-delicate delicacy combines sheep bits such as heart, lung and liver with seasoned oatmeal and onion, then stuffs the pudding-like mixture into sheep stomachs and simmers until tender. "Most people who try it truly do enjoy it," says Julia Witty, director of programming.
Runners up
Even Willy Wonka couldn't have dreamed up the oddly chewable Turkish ice cream known as dondurma. Bubble-gum-like in color and texture, this orchid ice cream is the star of the Chicago Turkish Festival (May 31-Jun 1, 2013), which sells more than 1,000 gallons of the stuff each year, along with around 10,000 cups of Turkish coffee to stave off the impending sugar crash. ➡ Typically, teriyaki chicken elicits little more than a yawn from us, but at Ginza Holiday Festival (Aug 9-11, 2013) a massive open fire pit fueled by glowing coals sears the garlicky, gingery, soy-spiked marinade onto whole birds for fest food that could support a successful year-round restaurant. ➡ Chicago's Caribbean restaurants are far-flung, so save the gas and hit a handful of the best at African Caribbean International Festival of Life (Jul 4–7, 2013), including Maxine's (don't miss the braised oxtails), West Indies Bakery (the flaky meat patties and "hard dough" bread are stellar) and JFC Jerk & Fried Chicken (the name says it all).