Eureka Springs, AR
Diversity makes road tripping to this mountain village the ideal fall escape.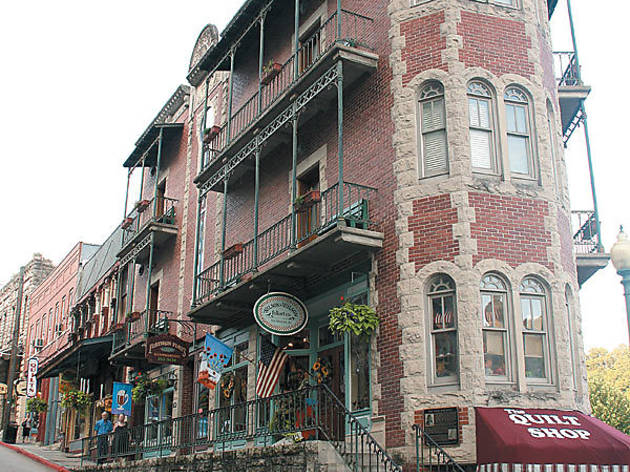 Believe it or not, there's a tiny town tucked away in the northwest corner of Arkansas's Ozark Mountains where hippies and hillbillies, drag queens and dropouts, and bikers and Bible Belters throw caution to the wind and actually (gasp!) get along. Eureka Springs is a hilly enclave of 2,300 people situated along a series of bendy, switchback roads lined with storybook Victorian homes. It's also the kind of place where small-town puffery abounds. It won't take long for you to come across a braggadocios local who gushes about how the entire town is on the national historic registry, that the water was once fabled to possess healing powers—as evidenced by Eureka's superabundance of day spas—and how eye-popping fall foliage makes October and November the best time to visit.
You'll be so over your car after the ten-hour drive, you should do yourself a favor and toddle around town like a rock star. Eureka Springs Limousine (479-244-6320) will shuttle your tired urban ass anywhere within city limits in a stretch limo for just $5 a person. Alternatively, Eureka has its own transit system, a three-route trolley line that runs daily and hits numerous points of interest.
The star attraction in town is the Great Passion Play (pictured; 935 Passion Play Rd, 800-590-4410), America's most attended outdoor drama and a retelling of Christ's death and resurrection (and it's dubbed!). The 4,000-seat theater is just one part of a sprawling evangelical campus that includes the Christ of the Ozarks (pictured below left), a seven-story Jesus that overlooks Eureka Springs and the Museum of Earth History (479-253-9200), an institution that posits, among other things, that the dinosaurs joined Noah on the Ark.
Lodging options are plentiful. Both the Basin Park Hotel (12 Spring St, 479-253-7837; rates start at $141) and the 1886 Crescent Hotel and Spa (75 Prospect Ave, 877-342-9766; rates start at $216) are rumored to be haunted. The former is downtown and built into the side of a mountain— meaning that, technically, each of its seven floors is a ground floor. Many rooms also include hot tubs (a Eureka specialty) smack in the middle of the room. Meanwhile, the regal, if a tad rickety, Crescent sits atop the highest point in town. In terms of its grandeur, handsomely appointed grounds and dazzling observation deck, it has its competitors beat. However, cottages, B&Bs and small inns thrive in this honeymooner mecca. Visit eurekasprings.org for more choices.
A culinary star this town isn't, but what it lacks in top-tier noshing it makes up for in personality. Mud Street Café (22 Main St, 479-253-6732) is a charming dive (literally, it's underground) and about the best place around for brunch. Dig into big fluffy pancakes made from rich sour cream and stuffed with blueberries. Just outside downtown, Sparky's Roadhouse (147 E Van Buren, 479-253-6001) is a bustling retro diner that revels in a beefy list of specialty burgers and milk shakes so thick they cling to the straw. For dinner, allow the ladies at Amore Café (2270 E Van Buren, 479-253-7192) to treat you right. This slow-paced and friendly restaurant serves up no-frills Italian dishes like big, layered lasagnas and silky tiramisu in parfait glasses. Rogue's Manor (124 Spring St, 479-253-4911) is a hushed, candlelit place for romance. Lobster dinners and big lamb shanks are a tad pricey so instead consider having a glass of wine in the lounge where a floor-to-ceiling glass wall reveals a naturally running waterfall.
Speaking of nature, Eureka's best assets are its surroundings. Away from the souvenir shops and art galleries that line downtown, you'll find a ton of outdoor attractions, including the woodsy Thorncrown Chapel (pictured; 12968 Hwy 62 W), an architectural wonder designed by Frank Lloyd Wright protégé Fay Jones. There's also a chain of rivers (pictured below right) and lakes where you can fish, boat or float away on an inner tube, including Table Rock and Beaver Lakes; or White, Roaring and Kings Rivers (eurekasprings.org).
But it all comes back to the colorful locals and visitors, and watching them converge after dark in the hopping saloons is a treat. Eureka Live! (35 N Main, 479-253-7020) boasts the largest dance floor in town. It's a fun place where the Ozarks' finest talent (Such as Tulsa drag queens or comedians from Little Rock) entertain the eclectic masses. At honky-tonk Chelsea's Corner Café and Bar (10 Mountain St, 479-253-6723), a lively joint on the outskirts of downtown, a communal crowd kicks it with live bands on weekends or chills on the terrace, enjoying the crisp autumn air and reflect on another day spent in the weirdest little town in Arkansas.
THE TAB

Two nights, two people
Gas $180*
+ Hotel $350
+ Meals $200
TOTAL $730

*10-hour drive