Every day is Halloween at the Occult Bookstore
The Noble Square spirit shop works its magic.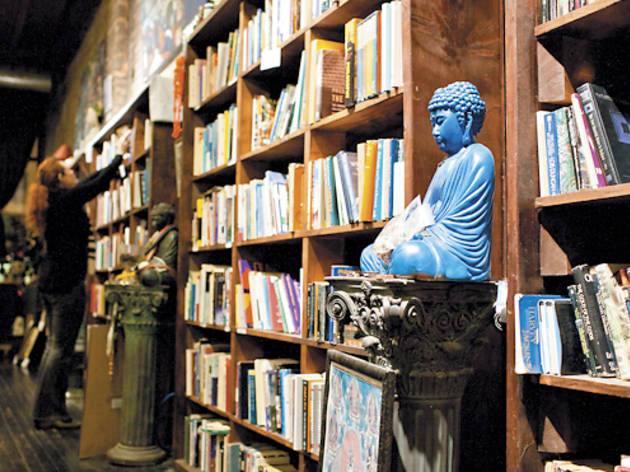 With the season of the witch upon us, it's tempting to think that those drifting from Milwaukee Avenue into the Occult Bookstore are looking for eye of newt and toe of frog. The store's manager, Lisa Delon, says she more often hears a different request from her customers: "They're looking for the end of suffering."
They've come to the right place. Delon says her little shop of horrors in Noble Square has assisted people in their pursuit of snuffing out afflictions ranging from simple lovelessness to hauntings to an inability to cast spells. The storefront's wares can also help dispense a little suffering to one's enemies. At least, that's the claim. Delon asserts her 95-year-old business, which moved from Lakeview to its current location a few years ago, is the oldest spirit shop in the world.
Fall is the Occult Bookstore's busy season. That might be because there are fewer street fests to distract from the supernatural, Delon says, but people seem to experience more unexplained phenomena this time of year. The approach of Halloween, of course, doesn't hurt. In the weeks before the hair-raising holiday, spell books and voodoo dolls fly off the shelves, potions and powders are snatched up, and there's a definite increased interest in mustika pearls. The ritualistic orbs from India and Indonesia purportedly move without being touched, grow more dense as they age and emit a mysterious pulse to the attuned. "They're known as the Pearls of Infinite Price," Delon says. Aptly named, they start at $300.
The books lining the store's shelves are divided into the expected specialty subjects: astrology, paganism, UFOs and prophecies, plus some seemingly New Agey self-help tomes (Now What? 90 Days to a New Life Direction). And then there are the items you won't find in a retail bookstore. The promise of confidence and youthful energy is sold in tiny packets that Delon swears are not cocaine. Products known as Jack Balls—usually a mix of minerals and roots encased in wax and string and worn on the body—boast the ability to deliver psychic powers, a new job or amazing sex. Delon says her husband and co-owner, Louvel, constantly travels the world uncovering mystical and ritual objects to add to the store's inventory.
But the Occult Bookstore's most valuable contribution might not be the merchandise. "We also offer expertise," Delon says. "Everyone who works here is a spiritual practitioner." The clerks regularly address pleas to soothe patrons bedeviled by ghosts and rid spirits from homes; they make haunted-house calls upon request. Wisdom is also shared in classes and lectures. Upcoming topics include fire eating, lycanthropy (human-to-animal transformation) and spiritual jewelry making.
Recently, at the back of the store, patron Katherine Urban huddled with friends awaiting the start of the regular Wednesday "coffee clutch," a roundtable talk "on a variety of metaphysical topics." "I've seen weird stuff my whole life," the 21-year-old Loop resident said of her desire to swap stories about otherworldly experiences. "I get these involuntary astral projections." No one batted an eyelash.
Take a spirit quest at the Occult Bookstore (1164 N Milwaukee Ave, 773-292-0995).