Examining the Chicago Cultural Plan draft
We parse the city's first stab at the new Cultural Plan.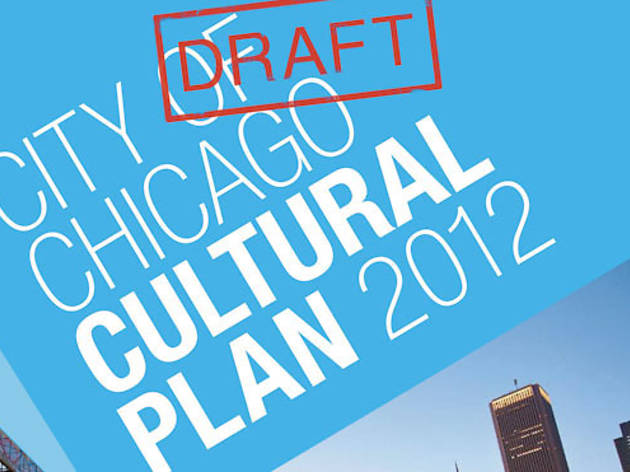 "Make no little plans," Daniel Burnham famously said. Apparently, the Department of Cultural Affairs and Special Events heeded the architect's advice. Four months, 30 citywide public "ground-truthing" sessions and $230,000 paid to Toronto consultants Lord Cultural Resources yielded a 64-page draft of the new Chicago Cultural Plan. (The original arts road map was commissioned in 1985 under Mayor Harold Washington.) Past pages of self-reflexive pomp and consultant-ese such as "Art + Creativity = Innovation," the document's heart is 200 initiatives for improving the city's cultural life: a "Museum Campus South" linking the MSI and DuSable; a "large-scale major cultural festival that attracts global attention"; and "internationally renowned trade shows for music, digital arts, visual arts, performing arts." There's far more beyond these spotlight-stealing showpieces to be discussed in the final two of four town hall meetings on Saturday 28, 10am–noon, at St. Augustine College (1345 W Argyle St) and Tuesday 31, 6–8pm, at the Chicago Cultural Center (78 E Washington St). We took a tour through the draft with the director of the original plan, arts attorney Michael Dorf. A final draft of the new plan is scheduled for release in October.
ONE FOR THE MONEY
In his foreword to the Cultural Plan, Mayor Emanuel makes it clear the administration is salivating over the arts as an economic leveraging tool. "Communicate the benefit of culture towards achieving private sector objectives," reads one recommendation, which involves using artists to lure global corporations to Chicago.
Dorf says "There has never been a government-supported arts program in the U.S. that only valued art for art's sake. Eisenhower spent millions to send our artists abroad. But this was really a Cold War propaganda program in response to the Russians sending the Bolshoi Ballet around."
DEVIL IN THE DETAILS
The plan's Achilles' heel could be its use of general terms like arts, culture and performance instead of discussing particular disciplines. Exceptions include proposals for film-industry grants and "Theater Speed Dating" networking events.
Dorf says "In this second phase, it's up to the people who are passionate about these issues to make the city get specific—or make it explain why it hasn't been specific."
FAULT LINE
Implicit in the plan is an admission you don't typically hear from the city: Its policies are often more of a hurdle than a help to the arts. Red-tape-cutting initiatives set out to streamline licensing, permitting and zoning, including hiring a coordinator to guide arts orgs through the bureaucratic maze. Recommendations prioritizing arts education seem offered as a corrective to Chicago Public Schools budget cuts.
Dorf says "The nice thing is the changes in zoning procedure won't cost much and will be done relatively quickly after just a few hearings in the City Council."
PRY, PRY AGAIN
Other proposals could allow more city meddling. See "aldermanic arts initiatives" and a "dedicated tax for arts and culture." DCASE is also preoccupied with hooking up creatives with private funders—a commingling that could rattle the nerves of those already concerned about the corporatization of culture. The suggestion of "funding collaborations with corporate sponsors" follows "Artist-for-a-Day," a concept in which suits shadow, say, a painter.
Dorf says "When an artist tries to get money from the government or private industry, there's always a chilling effect. If an artist thinks he's not going to get a grant if he doesn't do a safe painting, he's less likely to do something edgy."
REPEAT OFFENDER
In DCASE's proposal for a "dedicated festival site," did it forget the existence of the parks? Other seemingly derivative ideas include calls for installations in vacant areas and for foreclosed properties to be available for cultural purposes—things community development groups and NeighborSpace, a city partner, are doing now. Why not harness what's happening? And the "single pass for multiple events/performances" is available—the five-attraction CityPASS (though, presumably, the proposed pass would be broader).
Dorf says "You do a plan in part to coordinate. Things exist, but do they exist in a vacuum or as part of a comprehensive plan?"