Explore Washington Park
The South Side neighborhood boasts a new arts space and an old architectural favorite.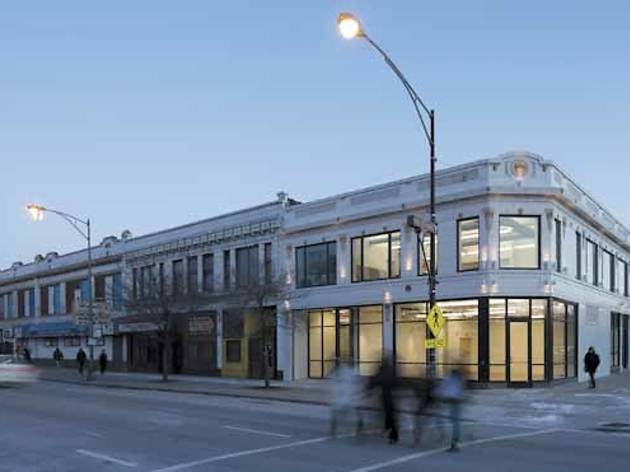 University of Chicago Arts Incubator
Part arts studio, performance space, classroom and community center, Arts Incubator—the latest brainchild of multitasking artist Theaster Gates—officially launches Friday 8. Tour the rehabbed building during the open house, which features music from artist-in-residence and former Wilco member LeRoy Bach, as well as the artwork of Cauleen Smith, whose silkscreens also adorn the surrounding buildings. 301 E Garfield Blvd. Fri 8, 3–6pm; free.
Ms. Biscuit
Before the Arts Incubator's open house (or the morning after), head a few blocks east for brunch at this neighborhood favorite, where the portions are huge and the namesake biscuits are especially good. 5431 S Wabash Ave (773-268-8088). Open daily, 5am–2pm.
Schulze Baking Company Plant
Cross the street to check out this historic plant. Erected in 1913, the building once housed one of Chicago's largest commercial bread bakeries. (In 1914, its founder, Paul Schulze, notoriously suggested wives were killing their husbands by baking bread in ovens that weren't hot enough.) The structure has been boarded up since 2004, but the elegance of its Louis Sullivan–inspired exterior remains. 40 E Garfield Blvd.
DuSable Museum of African American History
Help bolster the flagging attendance at the nation's oldest black-history museum, located in the nabe's eponymous park. It recently created its first travelling exhibit, "Geoffrey & Carmen." 740 E 56th Pl (773-947-0600). Tue–Sat 10am–5pm, Sun noon–5pm; $10, students and seniors $7, kids ages 6–11 $3, kids 5 and under free; Sundays free; $2 discount for Chicago residents.
Fountain of Time
Further south, on the Midway Plaisance, make time for Lorado Taft's 126-foot-long sculpture. Completed in 1922, it's one of the city's largest public works of art. At the corner of Payne and Best Drs.