Fear factor
From the heart-pounding to the stomach-churning, here are 20 ways to scare yourself silly this Halloween.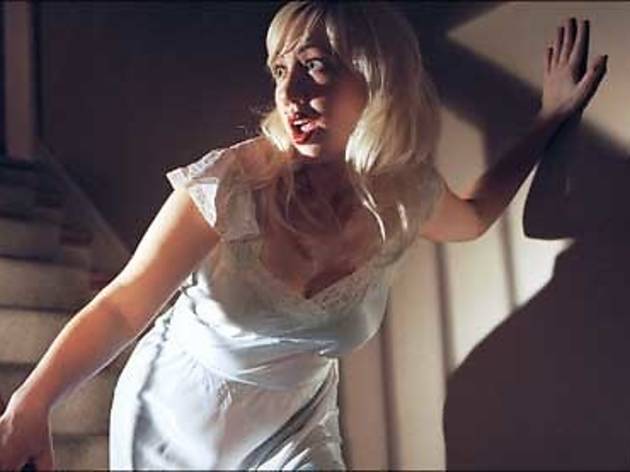 Belly up to a bloodcurdling bar
If you feel someone getting a little handsy at Ole St Andrew's Inn (5938 N Broadway, 773-784-5540), it might not be the lech on the next bar stool. Fights have broken out over a hand that won't stop rubbing a knee under a table, or won't stop pounding on the men's room door. It's largely accepted that the hand belongs to a ghost named Frank, a regular who was found dead in the bar in 1964. And you don't have to be in the bar to get harassed: A mother who lived in an apartment upstairs had to move because her son was being taunted by a female entity.
The ghost at the Red Lion Pub (2446 N Lincoln Ave, 773-348-2695) is a little more benevolent—owner Frankie Janisch initially believed it was the spirit of comedy legend Del Close. Turns out the ghost—who rearranges things and sometimes appears as a "shadow of a face" on a wall—is really that of a pornographer who was killed with a shotgun while making a flick in the building in the early '70s.
They say the more you talk about a spook, the stronger it gets. Maybe that's why the folks at Sea of Happiness (640 N Wabash Ave, 312-787-2721) are so tight-lipped about theirs. All we know is their ghost was once such a good customer that his photo is somewhere on the bar's walls. Unfortunately, your chances to meet this specter are running out—this charming bar will close on Nov. 7.—David Tamarkin
Catch a frightful flick
Few moviegoing experiences are as terrifying as watching John Carpenter's 1978 Halloween alone in a dank suburban basement. But this Halloween, Doc Films (U. of C., Ida Noyes Hall, 1212 E 59th St, 773-702-8575) may do just the trick. There are two screenings on Tuesday 31, at 7 and 11:59pm; the later performance will be followed by a costume contest.
Relatively few people are killed in Carpenter's modern classic, but the omniscient, unkillable Michael Myers has a habit of dropping in without warning during even seemingly innocuous scenes. The most unnerving touch is the way the camera subtly blurs the line between Michael's point of view and ours. And that scene where a young Jamie Lee Curtis comes into the bedroom and finds all of her friends dead, one lying under a gravestone? That still freaks us out.
If you prefer laughs to scares, check out LaSalle Bank Cinema's (4901 W Irving Park Rd, 312-904-9442) Saturday 28 twofer of Mark of the Vampire (1935) and House of Frankenstein (1944). Mark is directed with hilarious ineptitude by Dracula's Tod Browning, while the competent-by-comparison House finds Boris Karloff playing a mad scientist who resurrects Dracula, the Frankenstein monster and the Wolf Man.
Meanwhile, 1978's Dawn of the Dead (Delilah's, 2771 N Lincoln Ave, 773-472-2771, Sat 28) suggests that if you ever need to escape a horde of zombies, there's no place safer than a mall. Also showing is 1971's Psychomania (Delilah's, Sun 29), about a gang of bikers who kill themselves en masse because they think being undead is cool.—Ben Kenigsberg
Take in some deathly drama
Cackling cartoon witches in green makeup might freak out kiddies, but if you want crap-your-pants-scary theater, the storefront mind-fuck brewed up by Oracle Productions makes for a wicked alternative. About a dozen patrons at a time are herded into Oracle's cramped, musty performance space (claustrophobes, you've been warned) for a 15-minute shocker titled Disturbed. And disturbed you will be, when you're forced to stand against a wall in the pitch-black room while the action weaves in and out of six doors. Multimedia-savvy Oracle integrates a barrage of other shock treatments as well into the three vignettes touching on women's fears of being stalked, men's fear of warfare and everyone's fear of being enclosed in a tiny space. The show incorporates violent video imagery, strobe lights, creeping fog and loud sound effects for an all-out sensory assault.
Carotid-artery spewing also factors heavily into two other spectacles. The resurrected Annoyance Theatre has reanimated its late-'80s gore-a-thon, Splatter Theater, a parody of teen slasher flicks. Be sure to take along a plastic sheet. And Collision Theatre plumbs an erotic vein in Mac Wellman's underground-cabaret spin on Dracula. Director Chris Garcia Peak says his treatment offers "madcap, wild, campy fun" and keeps Wellman's signature bizarro, poetic dialogue intact.
•Disturbed runs Fri–Sun 8–11pm (every half hour) through Tue 31 at Oracle Theatre, 3809 N Broadway (773-244-2980). $8.
•Mac Wellman's Dracula runs Fri 27 and Sat 28 at 11pm at Angel Island, 731 W Sheridan Rd (312-281-8041). $15, students $10.
•Splatter Theaterruns Fri, Sat at 10:31pm through Nov 4, and Tue 31 at 8:01 and 10:31pm at Annoyance Theatre, 4840 N Broadway (773-561-4665). $13.—Craig Keller
Get freaky with the freaks
You know what's really scary? Watching Dennis Rodman's inexorable decline from NBA superstud to, well, what he's doing now: On Friday 27, he'll be hosting a costume ball at Enclave (220 W Chicago Ave, 312-654-0234). It could be fun or interesting (in a let's-do-a-dozen-kamikaze-shots way). But those who don't want to mix pathos with their Halloween fun should head to rednofive (440 N Halsted St, 312-733-6699). On Friday 27, the club will feature DJ Evalicious (a.k.a. French supermodel Eve Salvail), who will undoubtedly be looking frighteningly hot for rednofive's Vampire's Ball. Whether she's dressed as a fanged vampiress, a horny devil, or perhaps wearing nothing at all, one thing's for sure: Savail has little need for a costume—the giant dragon tattooed on her noggin suffices just fine.
But rednofive's not-so-inked bartenders and staff will have a professional makeup artist transform them into a pack of blood-thirsty vampires, so leave the stakes, holy water and garlic at home if you want a drink. And with prizes for the best Vamp outfit, it's really worth unleashing your inner Dracula, too. Just don't get caught dancing and neck-nibbling too far into the morning; remember, you're allergic to sunlight. For more Halloween-oriented nightlife events, see Eat Out and Clubs.—Jake Malooley
Bust some ghosts
Spirits are friendlier than people think, claims Michaelynn Cece, cofounder of Chicago Ghost Investigations. Easy for her to say—this isn't the first time she stood in a dark, gutted apartment, praying the ghost doesn't tell you it's going to follow you home. (Because, you know, they will do that.)
CGI's whole shtick is locating spirits via a scientific approach, and we were pretty spooked at the first site—an apartment at Taylor Street and Ogden Avenue. Cece says electric impulses course through our bodies, and when our "shell" dies, that energy remains as an invisible force. This energy can be detected by temperature sensors, electromagnetic detectors, some thingamajig that translates electromagnetic waves into sound and divination rods (old-school spirit feelers that quickly became our faves).
Armed with these gewgaws, we located three male beings in different rooms—one group member said a spirit hissed his name into his ear, at which point we were ready to get the hell out of there. We spent two more hours clomping around the house, then we visited the alley behind the former Iroquois Theater (now the Oriental Theatre) where hundreds died in a 1903 fire, and Holy Name Cathedral, where mobster Hymie Weiss was gunned down in 1926. But after almost four hours, the scariest thing became wondering if our bladders would hold until we could find a bathroom. Still, having found sweet relief in the State Street 24-hour McDonald's, we couldn't help but get all jumpy when the toilet autoflushed. Visit www.ghostsofchicago.com or call 773-935-6332 for more information.—Cecilia Wong
Play a killer video game
We know what you're thinking. "Dude, Xbox? It's just a stupid video game. I'm not 14." Go ahead, keep thinking that. Fire up Manhunt ($19.99 at www.amazon.com). Here's what awaits you.
You're James Earl Cash, a condemned murderer who's rescued from death row. Your savior? Snuff-film director Lionel Starkweather (voiced by Brian Cox, who played Hannibal Lecter in Michael Mann's Manhunter), who keeps you alive so he can watch you navigate through the urban hell of Carcer City.
You start moving around the abandoned city—no problem, right? You'll feel a little less serene after you're attacked by a screaming maniac whose chest is covered with the scrawl "Drug Slut." Or you're chased through an empty zoo by a gang toting guns and machetes. And when they catch you? Trust us—it's not pretty.
But it's not just the blood-splattering gore and skin-crawly music—at one point, the only background noise is the tinkling of a piano and the pounding of a heartbeat—that make Manhunt so terrifying. There's this charming little wrinkle: When you sneak up behind someone, you can just kill them. But the longer you remain hidden, the more violent you can make the execution. So you can just impale someone with a crowbar. Or, if you're especially savvy, you can ram it into his eyeball and step away as blood sprays across the screen. Happy Halloween, indeed. The Internet is swirling with rumors of an imminent sequel, but Rockstar Games—the same people who brought us the controversial Grand Theft Auto franchise—is suspiciously silent.—Joel Reese
Go for a ghostly stroll
Chicago's Rosehill Cemetery (5800 N Ravenswood Ave) offers parklike grounds, beautiful architecture and impressive statuary. But around Halloween, you've also got a good chance of scoring some cheap, spooky thrills—or at least checking out some colorful historical monuments.
First, navigate your way through the cemetery to find the plot of the Hippach family: The two children perished in the 1903 Iroquois Theater Fire, then in 1912 the parents went down with the Titanic. Talk about bad luck.
Some of Rosehill's permanent residents were buried following unusual instructions: When Michael Kamm had his leg amputated, for instance, he gave it a full burial at Rosehill, complete with a casket and its own headstone. Ten years later, the rest of his body joined his missing limb. Charles Daniels, on the other hand, will never be quite anatomically complete; at his request, half of him is buried here, and half rests under his department store in Denver.Don't miss the grave of Lillian Florence Jennings, who made the mistake of dying penniless, leaving a bitter ex-husband to arrange for her burial. His "arrangements" included a monument with a distinctly phallic design.
And make sure to take a few moments and stop by the beguiling white statue of Frances Pierce and her infant daughter. Encased in glass, the mother and child lie side by side, asleep. But on certain nights, some say the glass case fills with a hazy white glow and the Pierces rise to greet you. Shiver. Rosehill closes at 5pm. Of course, it would be easy to get lost among the acres of gravestones and stay later. We're just saying. If you're too law-abiding (or chicken) to pull that off, go in the late afternoon. Sunset is a little after 4:30pm this time of year. Grab one of the easy-to-follow maps provided by the cemetery.—Will Clinger
Check out a scary parade of horrors
To some Chicagoans, North Halsted Street already is a scary place where sinful homosexuals engage in a constant display of libidinous debauchery and carnal pleasures—okay, that's not entirely inaccurate. You can imagine the horror these timid folks experience on Halloween night, when Boystown blasphemers don their outrageous best and throw the North Halsted Halloween Parade. Men dressed as women, women dressed as men—and would you believe that the Northalsted Area Merchants Association promotes this as an event for the entire Lakeview community, families and all?
But for the majority of us, who will either be partaking in the revelry or ogling from the sidelines, the fear factor is still high. Is anyone really prepared to see some gay dude dressed as Ann Coulter vomiting outside Sidetrack at 2am? Scary too is the prospect of wintery temps, freezing our nipples solid (remember when it snowed two weeks ago?) or an inclement downpour that drags our costumes and makeup down with it—all in the name of one last party outside before May. So if you want to stay inside, you can watch the festivities on TV at Hydrate (3458 N Halsted Ave, 773-975-9244) while drag bizarros Teri Yaki and Vanity Fair emcee an evening of retro music and cheap drink specials. The ROTC, Chicago's all-male Righteously Outrageous Twirling Corps, will entertain Hydrate's fans with its big batons. Registration begins at 5:30pm at Spin Nightclub (800 W Belmont Ave, 773-327-7711), and the procession kicks off at 7:30pm outside the club.—Jason Heidemann
Read a bloody good book
You should follow certain rules if you're going to crack open The Unblemished (Earthling Publications): Don't read it at night. Don't read it if you scare easily. Don't read it by yourself. Don't read it if your roommate is around and your roommate is kind of a wuss. But you should read it, regardless.
From the opening pages, Brit novelist Conrad Williams gets under your skin and freaks you out. Protagonist Bo meets a man in a pub, and after a few drinks the guy hands over a curse to Bo that he's been carrying for ages. Not the best way to make friends, but who believes whiskey-soaked sots can pass along curses, anyhow? A legion of freaky, slithery monsters believe they can, and Bo is now their boy.
The streets of London appear deserted, and Bo, whose palm is mysteriously weeping "lymph and blood" enters the House of Flies, a house full of black flies intent on flying down his throat. Bo wakes up the next day thinking it was a dream—until he starts vomiting fly carcasses and there's a guy outside his window chewing on a dismembered hand.
Williams has built a whole mythology, one that makes the book feel like a cobwebbed relic from another time. Dust it off, if you like. Just do it at, say, ten in the morning. In a crowded room. In a military compound.—Jonathan Messinger
Crunch a cockroach
You could go all Fear Factor to slake your own curiosity on how it feels to eat a cockroach. Or you could do it to avoid the lines at Six Flags Great America's Fright Fest—it has a new promotion that lets you cut to the front of a queue if you chomp on a big ole bug. Here's how I managed to munch a plump, three-inch-long Madagascar hissing cockroach (which is one of the largest of the species).
Ignore the naysayers discouraging you with, "That thing can survive a nuclear holocaust," and "Did you know cockroaches can live headless for a week?" (Both of which are true.)
Next, forget finesse. I simply threw that sucker headfirst into my mouth and chewed as fast as I could; the quicker it stopped squirming and hissing, the faster those thick yellow bug guts were off my taste buds. The texture and taste of cockroach is not unlike a stale peanut shell injected with a combination of motor oil from an old Dodge and thick flu phlegm.
If you're able to fight through the heaves—I found chugging Coke really helps—and swallow, congrats: You've instantly won over more adoring 15-year-old fans than most suburban pop-punk bands could ever dream of. This weekend is the last time you can go to Six Flags Great America (542 N Rte 21, Gurnee) until next spring. Fright Fest hours are Fri 5–11pm; Sat 10am–10pm; Sun 10am–9pm.—Jake Malooley